2019 Joie de Vivre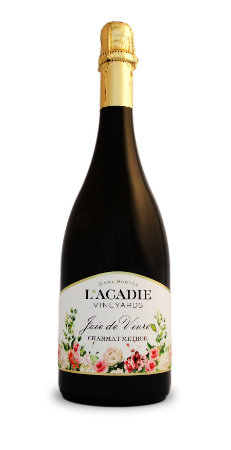 Available mid June - fingers crossed! Tanks en route from Northern Italy
Charmat method is a famous Italian sparkling style of second fermentation occurring in specialized pressure tanks to produce natural bubbles the same way that Prosecco is made. This complements our diverse Traditional Method sparkling portfolio and offers a new sparkling that is fresh, vibrant, fruity, and dry.
This ambitious project has been three years in the making and answers calls from Nova Scotia restaurants, NSLC and other wine trade for a fresh early-release sparkling. It has a relatively brief time in charmat tank to complete second fermentation and to keep wine fresh and fruity, compared to traditional methods of aging in bottle on its yeast lees for 2+ years.
The pandemic delayed our tank fabrication in hard hit northern Italy by over a year. We just received news (April 15th) that our tanks have been loaded on a container ship, Nova Scotia bound! We are so grateful and happy to be closer to planning the release of this beautiful new sparkling.
Suitable for a vegan diet.
Wine Specs
Appellation
Annapolis Valley
Harvest Date
October 9, 2019
Wine Profile
Tasting Notes
Dry with enhanced minerality from estate grapes on ancient seabed soil of schist and sandstone gravels. Concentrated citrus and tropical flavours and long creamy finish.
Vineyard Notes
85% L'Acadie blanc from our estate, 15% Seyval blanc from Falmouth
Winemaker Notes
Charmat second ferment May 2021
Food Pairing Notes
Suitable for vegan diets. Stir fry, pasta in rosé sauce, butternut squash, barbecued vegetables, and potato and pasta salads
Other Notes
Certified Organic by Pro-Cert