The Lure of Nova Scotia
We've lived and worked in many wine regions, but we felt the tremendous lure of Nova Scotia's sparkling potential, and a growing desire to raise our family here. Pauline's roots in Nova Scotia go deep, with nine generations of family farming.
On our many visits to Nova Scotia to visit family we got to know the region's signature grape variety, L'Acadie Blanc, and we'd talk long into the night about whether and how we could make it into a world-class sparkling wine.
So we moved our young family to Nova Scotia in 2004 and founded L'Acadie Vineyards. It was a gutsy move, leaving a successful winemaking career in British Columbia's Okanagan Valley, trekking across the country with three kids under seven years old and a beloved Newfoundland dog...
An ideal home for grapes, kids and a dog
We discovered our 30 acres of paradise in the heart of Gaspereau Valley, choosing the north-facing side of the valley hills for its well-drained, warm schist and sandstone, a highly mineralized ancient seabed. And the potential for sparkling wine..
Our kids grew up picking grapes in the fall and sledding down our slopes in the winter..
We released the region's first traditional method sparkling wine in 2008, our first commercial release after experimenting with small lots going back to 2004. Our Prestige Brut received a Gold and was Top Scoring Sparkling at the leading 2010 Canadian Wine Awards. Only three sparkling wines had ever achieved gold in the history of the competition. At the prestigious Effervescents du Monde competition in France, our 2007 and 2010 Prestige Brut were awarded silver medals. International, national and regional awards and recognition have been significant in our success.
"Bruce Ewert released Nova Scotia's first Champagne-method sparkling wine back in 2008. The local industry owes much to his foresight" -Beppi Crosariol, Globe and Mail
"French champagne has traditionally been the benchmark for sparkling wines, but Nova Scotia is carving out a niche for itself through the efforts of traditional-method, bottle-fermented sparkling wine pioneers such as Bruce Ewert of L'Acadie Vineyards in the Gaspereau Valley"
– Bruce Erskine, Chronicle Herald
I'm very proud to be known as Nova Scotia's most experienced and awarded sparkling winemaker, and to be recognized as a pioneer for sparkling in our flourishing wine industry. I enjoy sharing my passion with winery visitors, the wine trade and through teaching winemaking courses at great campuses across Canada, including Nova Scotia Community College.
Experience
30+ years' experience at a variety of small and large wineries in British Columbia, Ontario, California, Australia and Nova Scotia.
Head winemaker at Summerhill Pyramid Winery, See Ya Later Ranch and Peller Estates, responsible for 200,000 cases and more annually
Degree in Bio-Resource (Agriculture) Engineering from the University of British Columbia, University of California, Davis
One last note….
We farm our vineyards organically to protect the enhanced terroir and its living soils, but also so that our kids and future generations can live in a healthier environment. We're committed to terroir authenticity and product integrity, and we adore the boutique, ultra-premium, hands-on winemaking of our family business.
We believe Small is Beautiful and invite you to tour and taste with us at our home in the vineyard. Find winery season and hours here.
Bruce & Pauline
---
Our Vineyard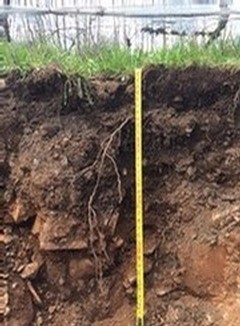 Sparkling wine from ancient seabed soils
Our Team

We are proud of our team at L'Acadie Vineyards.