Throughout the 1600's, French settlers farmed the land in the Gaspereau Valley, cultivating the ancient, mineral-rich, sea-bed soil.

Customers and international judges say that they can taste a hint of saline in our crisp, dry estate wines.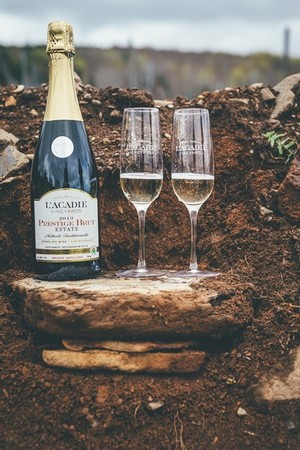 The earth - terroir- is essential to the flavour of grapes and the wines that come from them, The terroir is what ultimately gives every wine its body, its character, its sense of place.
The roots of our vines reach deep into the sea-bed soil, giving complex mineral flavours to our food-friendly wines.
Our hillside vineyard drains through slope, schist and sandstone to keep roots dry and warm, which creates concentrated flavour and ripeness -a stressed vine makes good wine.
We actively promote a healthy, natural ecosystem with no animal inputs so we can avoid pesticides for a truly organic, natural clean flavour and finish.
We tend our soil's natural microbial health which results in better, truer terroir flavours.
Here is news on a collaboration with Saint Mary's University to better understand our microbial terroir,
Researching microbial terroir and its impacts on wine flavour
SMU Clarissa Sit V2 from Saint Mary's University on Vimeo.
Climate
We match the climate of the Champagne region of France with grape-growing conditions that are the envy of sparkling winemakers around the world.
Nova Scotia's climate, our northwest facing orientation and the Bay of Fundy breezes create a cool climate for long slow ripening, resulting in naturally balanced sugar levels, good acid retention and moderate alcohols.
Our hills have ridges that retain heat for plentiful frost-free days and an extended, luxurious growing season.
Organic and Sustainability
We are the first organic vineyard and winery in Nova Scotia, certified by Pro-Cert since inception. Our updated list of organic wines is on the Pro-Cert website
We are the first winery and farm in North America to be certified to the strict Biocyclic Vegan Standard of not using animal inputs in the vineyard and winery. More information of our veganic approach from soil to glass to produce vegan wine is on our blog
We are fully committed to organic farming practices, because the living soil enhances the flavour of our wines and because we want our children and future grandchildren to live in a sustainably healthy environment


Simply Ideal
"Arcadia" was the unspoiled, pastoral home of the Greek god Pan, the name means refuge, or idyllic place. After travelling, studying, and working around the world, we have found the ideal home for our family, our passion, and the grapes for our customers' favourite fine, fragrant, crisp and elegant wines.
The perfect grape from the ideal terroir deserves a meticulous process of old world care.
Method
L'Acadie Vineyards sparkling wines are Traditional Method and Charmat Method, both produced with natural secondary fermentation for persistant bubbles.
Traditional Method is the process of natural fermentation in the bottle - the same bottle you buy.
Charmat Method bubbles are from natural fermentation in specialized charmat tanks imported from northern Italy.
We pursue a perfect balance of traditional methods, best modern practices, the art of winemaking, the science of microbiomes, environmental enlightenment, and respect for the future of both palates and planet...to create the very best wines we're capable of creating for our customers
Our grapes are carefully handpicked and pressed whole cluster, in keeping with this method.
The art of blending with an experienced winemaker palate to foresee future development
For traditional method, aging in the bottle, on yeast sediment, slowly over time, produces complex, toasty flavours, a fine, persistent mouse, and a creamy texture recognized in the world's most loved sparkling wines.
Our wines are hand-riddled, and hand disgorged to remove sediment, preserving the natural, clean flavour