L'Acadie Vineyards Blog
Welcome to the L'Acadie Vineyards blog and winery news


We were honoured to receive the Lieutenant Governor's Award of Excellence in Wine today for 2014 Prestige Brut Estate!

And so surprised and thankful for recognition during the ceremony by the Honourable Arthur J LeBlanc for its international award at Decanter World Wine Awards with 92 Points.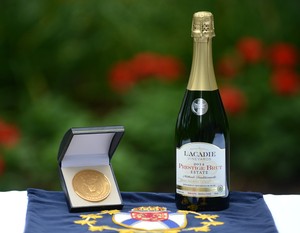 Here's the 30 minute live FB broadcast. The Lieutenant Governor presentation starts arounds 5:15 and mentions our International Decanter Award at 9:30..much to our surprise and delight!

The real beauty of our Gaspereau winery is not only the incredible valley views but also what you don't see. Here are several unseen underground assets that are a part of our sustainable, natural and environmentally-friendly ethos, and could make your wine tastings or wine tours even more special!
Geothermal Cooling, Heating and Hot Water
Summer temperatures are off the charts and we are very thankful for our winery geothermal heating and cooling system that we installed when we built in 2007. As you drive into our parking lot you might not know that deep below you is a network of coils that keeps us warm in winter and cool in summer, and give us hot water. At this time of the year the heat pump moves heat from the winery, wineshop and tasting room to dissipate 6 feet underground - very efficient cooling using a fraction of power compared to other methods.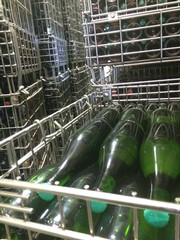 Tirage Cellar
Our tirage cellar for aging sparkling wine is half underground to keep a more constant temperature, critical for our internationally awarded wine quality. Energy efficient construction is also highlighted with insulated concrete form walls, north orientation and an infrared reflecting roof.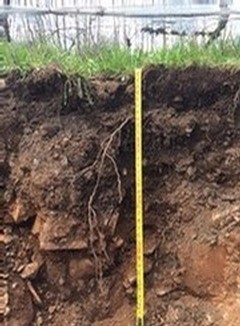 Living Soils
Encouraging a living soil around our vine roots is our main farming goal. Our organic vineyard is grown without conventional pesticides, with natural fertilizers to preserve the ecosystem. Biodiversity is our life blood and organisms live symbiotically with the vine helping it absorb nutrients and, perhaps even more intriguing, terroir flavours from schist, slate well-drained soil.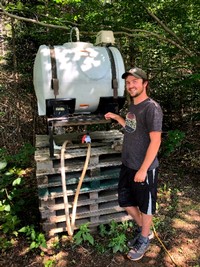 Hello, my name is Matt and I am the Clean Leadership summer intern at L'Acadie Vineyards. Throughout the summer I have learned a lot about growing and maintaining our certified organic Gaspereau vineyard, and how to preserve its natural ecology - which fits well into my recent degree in Biology from Dalhousie University.
One of the many projects I have been working on is the production of grape pomace nutrient tea. The purpose of this tea is to extract the beneficial microorganisms and micronutrients from composted grape skins (pomace) that are composted after each harvest, as well as from forest soils behind the vineyard. After steeping and aerating the mixture, we apply it to our vineyard to help crowd out potentially harmful microorganisms and pathogens with the beneficial ones in the tea. This all-natural, vegan and organic nutrient boost helps to preserve natural ecology of our vineyard including living soils and emphasizes terroir flavours in our grapes.
It has been an amazing 15 weeks here at L'Acadie Vineyards and I am very grateful that I was given the opportunity to work here this summer. I look forward to what the future brings to the Wolfville vineyard and what new and exciting projects will be implemented.


Have you tasted terroir? A true sense of place in the glass is a moment you rarely forget. It's a moment of reestablishing a connection to the earth, of tasting the relationships of the soil origin, microclimate, microorganisms, and grape variety.
However, wine trends are moving away from terroir. It happened in California's celebrated wine regions decades ago -a movement towards a beverage concept where terroir is over shadowed by winemaking manipulation, blending for uniformity and marketing/packaging.
We at L'Acadie Vineyards have embraced terroir and will not let go! Our practices of organic farming encourage living soils and microbial terroir shines in our Pet Nats and Orange wines, all estate grapes. Also try our new release 2020 Estate L'Acadie and 2014 Prestige Brut Estate. Flavours of the schist and slate well-drained soil are dominant with slight saline from an ancient seabed origin. I invite you to taste our vineyard. Our Gaspereau winery has wine tours and wine tastings daily - book an appointment.


A frequent question since we released our first Tidal Bay a month ago is why did we wait so long? It was introduced 10 years ago according to the Wines of Nova Scotia website with first releases in 2010. The answer is slightly complicated and involves some history of wine standards in Nova Scotia.
First of all, Tidal Bay is a brand of the Wine Growers of Nova Scotia, a voluntary association of wineries, and a winery has to be a member to produce it. We recently rejoined the association after taking a hiatus since 2012 and that makes it possible for us to have a Tidal Bay.
So why did we leave the association? Wine standards were not being followed and it was affecting our business. Specifically, artificially carbonated wines were first produced at the same time that we released the first traditional method sparkling for the province in 2008, confusing the important milestone with misleading labels. Wine standards state that sparkling wines have to declare the production method on the label, in the case of artificially carbonated wines - "Carbonated Method". Some wineries do declare this, providing transpareny to consumers, but most label their carbonated wines as white wine, not sparkling, and don't declare the method. In our opinion, this is potentially damaging to our emerging region's image for sparkling wine - but other wineries and the association did not agree with us, so after repeated attempts to educate and convince, we left.
What changed? New wine standards are coming that protect traditional method and charmat method sparkling wine, both natural fermentations to produce bubbles. We were involved in writing these tighter standards and the industry and association agree with them. And that is why we rejoined and produced our first Tidal Bay.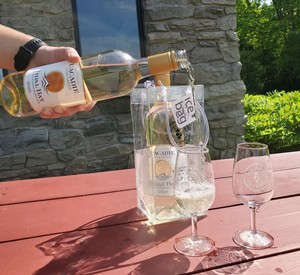 We are celebrating the launch of 2020 Tidal Bay from wineries in Nova Scotia with fun offers from Wine Growers of Nova Scotia! Purchase 6 bottles of our organic wine including at least one bottle of Tidal Bay before the end of June from our website for shipping or curbside pickup to get the following offers,
Receive a voucher for a wine tasting experience for two at our Gaspereau winery. We hope to be opening for tastings in late June in Phase Two of Nova Scotia`s Reopening Plan and our employees have been vaccinated for at least two weeks.
Also receive a Wine Growers of Nova Scotia Ice Bag with shipped orders or two branded wine glasses with curbside pickup orders. While supplies last.
Free Shipping for 6 bottles or more in Canada until end of June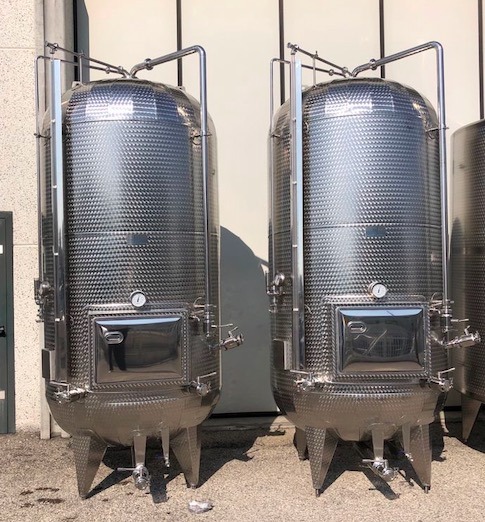 We are excited to announce that we will be releasing Joie de Vivre, a new sparkling style this summer - Charmat Method! The second fermentation will occur in specialized pressure tanks instead traditional method bottles to produce natural bubbles the same way that Prosecco is made.
Joie de Vivre: noun [zwahduh vee-vruh] joy of living; a delight in being alive. We can all use more Joie de Vivre moments in our life and this wine embodies that philosophy, at a price that encourages more life enjoying moments!
This ambitious project has been three years in the making and answers calls from Nova Scotia restaurants, NSLC and other wine trade for a fresh early-release sparkling. Charmat method has a relatively brief time in tank to complete second fermentation and to keep wine fresh and fruity, compared to traditional methods of aging in bottle on its yeast lees for 2+ years. Fresh, creamy persistent natural bubbles and certified organic.
"Charmat method" will be the declared production method on front labels and assures you that it is not produced by artificial carbonation like many wines on our market. It complements our diverse Traditional Method sparkling portfolio and offers a new sparkling that is fresh, vibrant, fruity, and dry.
Charmat tanks are very specialized and our tanks are presently being shipped from the heart of the Prosecco region in Veneto, Italy, where Prosecco charmat production is famous.The project was delayed with the pandemic in hard hit northern Italy but we are thankful for their extra efforts. This specialized sparkling style requires experience and expertise, and winemaker Bruce Ewert worked with the style in Ontario early in his career.
Expected release of Joie de Vivre is June, in time for your barbecues, outdoor living and restaurant patio sipping.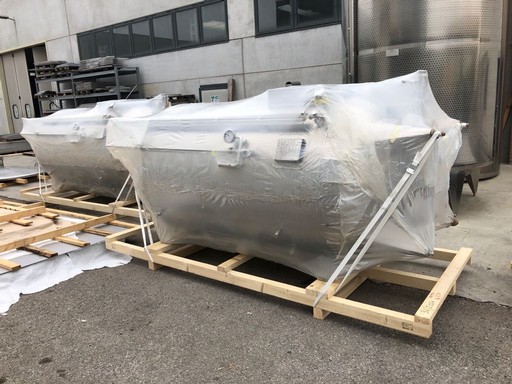 There are high hopes that the 2021 tourist season will be better than 2020. Will we have the famous Atlantic Bubble again or will it be mainly staycations within the province? We don't know, but we are planning on optimism and have many compelling reasons for you to visit our Gaspereau winery this year.
Wine tours of wineries in Nova Scotia are very popular. We are a family run organic vineyard in Gaspereau Valley and our Wolfville winery offers wine tastings, vineyard tours and even encourages visitors to bring their own picnic for food and wine pairings. We are the birthplace of traditional method sparkling wine and offer one of the most diverse sparkling wine portfolios of all the Nova Scotia vineyards and the most certified organic wine. Visit our wineshop and bring a bottle home to relive your day in the heart of wine country.
Wine Tasting and Tour Options – Season starts late May (date to be announced)
All tastings and tours are by appointment, Visit our website to book your tasting now: /Visit-Us
Sparkling Tasting – Four of our sparkling wines including wineshop exclusives, production methods and suggested food pairings
L'Acadie Tasting – an exploration of our diverse organic wines with three still wines and a choice of traditional method sparkling wine
A la Carte Tasting – you decide which wines that you would like to taste
Vineyard Tour – taste three focussed terroir wines while learning about our vineyard practices, organic ethos, terroir and sense of place.
Learn more about our tours and tastings on our website.
Industry partnerships are a valued component to our wine tour program and we are pleased to work with five tour companies in 2021. They also offer custom winery tours in the Wolfville area, so just ask them to include us and they will!

We have used cork closures for our organic wines since we established our Wolfville winery L'Acadie Vineyards in Gaspereau Valley. They fit our organic ethos of natural, sustainably harvested and recyclable. They also provide a small measured dose of oxygen to cellared bottles for ideal aging, and our library releases of 10 year old sparklings and whites have reflected that care, rewarding our customers with complexities and unique experiences. But there has always been the spectre of possible cork taint caused by a chemical produced by natural cork microbes, TCA (trichloroanisole). Cork taint affects about 2-3% of bottled wine on average according to Wine Folly, lower if you purchase high end corks like we do, but new technologies are lowering that number even more for TCA free wines.
Our cork supplier, Amorim Cork, revealed their new anti-TCA technologies early this year and we couldn't be more excited. They produce about half of all the corks in the world and have introduced thermal, pressure and carbon dioxide processes in parallel with effective screening to claim that their TCA levels are less than the sensory threshold of 0.5 nanograms per litre (ng/l) wine. In fact the production batch being shipped to us now has been tested at 0.05 ng/l !! This is good news for us and our customers as we start another bottling season and prepare to disgorge a special 10-year tiraged sparkling for our wine club members.
Watch this video shared by #TastingClimateChange on the regenerative aspects of corks, Amorim Cork, a sustainable option
Wines not intended for aging theoretically do not need a natural cork for their evolution. We have decided to use screwcaps this year for Rose and our first release of Tidal Bay. Several considerations went into this decision and our first most important question was answered with approval from our certified organic inspector. These are early-release Nova Scotia wines and Rose has been selling out every year and we expect Tidal Bay to be as popular. We are joining a family of Tidal Bays from other wineries in Nova Scotia and most are using screwcaps for ease of opening and re-sealing between sips.