L'Acadie Vineyards Blog
Welcome to the L'Acadie Vineyards blog and winery news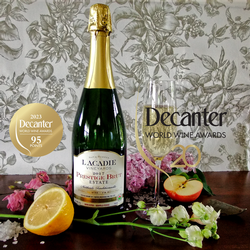 Our wine region is based on hybrid grapes, grape varieties originating from plant breeding programs that blended the winemaking characteristics of European varieties called vinifera with North American varieties known for winter hardiness and disease resistance. An example of vinifera is Chardonnay and a local hybrid is L'Acadie Blanc, Nova Scotia's signature grape variety. Many hybrid varieties were pulled out in other warmer regions of Canada in the 1980's and replanted with vinifera, almost all grapes in BC and less in Ontario, and they were known for high cropping and a quality level that suited consumer preferences of the day – I was in BC at this time in my early winemaking career making Hochtaler and Baby Duck. Myth and stigma continues for hybrid grapes but wines in cool climates like our region are high quality from excellent viticulture and turning heads, and we have to learn to market them without making excuses.
L'Acadie Vineyards recently earned a Gold medal and 95 points at Decanter World Wine Awards in London for a 100% L'Acadie Blanc sparkling wine called Prestige Brut Estate. It has been three months since the announcement and our Gaspereau winery is having an enjoyable ride of media coverage and sales. After a period of reflection my opinion is that Decanter's take on the win is similar to when a California wine first won at this prestigious European wine competition in the 1970's, dramatized in the film Bottle Shock. Very much appreciate their words about us, but the focus is tilted towards hybrids,
"Canada is a cool climate region that knows a thing or two about the benefits of hybrid grape varieties, and for the first time a single varietal L'Acadie Blanc, a hybrid crossing of Cascade and Seyve-Villard, was awarded a Gold medal in its rendition as a sparkling wine for L'Acadie Vineyards, Prestige Brut 2017 from Gaspereau Valley in Nova Scotia. A noteworthy first-ever Gold for the region too." Olivia Mason, Decanter June 7, 2023.
They focussed on a hybrid grape winning but isn't the real news, the "bottle shock", that Nova Scotia won? Or our winery, our organic wine. It's feeding the myth of less quality hybrids but with notable exceptions like this one bubbling up from the bottom now and then. If a wine from Portugal's Douro Valley appellation won a similar award would the news be about a relatively obscure regional varietal like Gouveio, Malvasia Fina, Rabigato, and Viosinho or would it simply be the Douro region? I think the latter and much better for marketing the region especially since they rarely label their wines by varietal. And what if a Tidal Bay wine won a big international award? Would the focus be on the hybrid varieties in the blend? Much better marketing for our region would be to promote the appellation wine and Nova Scotia.
How do we change the narrative? Let's start close to home. I have heard it so many times from wineries in Nova Scotia,
"we have the hybrids pruned and now starting the viniferas"
"how much do you pay for hybrids?"
And more recently, "congratulations on your Decanter gold, especially since it is for a hybrid"
Let's start talking about varieties as just that, varieties, without categorizing them into a class system. Each variety has unique winter hardiness and disease resistance and we even saw an exception to the myth rule this past winter after the polar vortex - Riesling fared better than New York Muscat.
There has been much effort to plant vinifera varieties in the last 10 years under the impression that wine trade will take our region more seriously if we produce varietals such as Pinot Noir and Chardonnay. The polar vortex was a sobering call and perhaps it's time to change our mindset, and change wine trade's narrative. And there are individuals in wine trade that are already our "freedom riders",
"I'd rather have a ripe Marechal Foch than an underripe Pinot Noir", well known local wine lover Jeff Pinhey

We ship to wine club members in May, August and November. Here is the exciting lineup of organic vegan wine that members are getting this month.


Gold for Vintage Cuvee 92 points!
New release 2020 Vintage Cuveé recently won a gold award with 92 points from Wine Align, the National Wine Awards of Canada! This award marks the fourth year in a row of 90 points or more for our Vintage Cuvée and we are very proud of this long-time favourite.
Here's what the judges are saying:
"Surprising amount of fruit in this Blanc de Blancs based on L'Acadie Blanc with (13 percent) Seyval Blanc. Fine aromatic grip surrounds a mix of stone and also green fruit but what is most special here is the intensity of the bubble and fine purity of the lees. Would never see this as autolytic, oxidative or yeasty but only in terms of salty, marine airy excitement. Oysters are an ideal match. Drink 2023-2029."
~Michael Godel
"Fresh white floral aromatics with an umami lean on the nose. The wine communicates refreshment on the palate with bright, crunchy acidity. Tasty wine, not terribly complex. There is a lot of talk about hybrids these days with climate change and a great example of how the bar is being raised every vintage with these varieties."
~Jenna Briscoe
This top-selling Nova Scotian traditional method sparkling wine is a premium blend of organic Estate L'Acadie Blanc & Seyval Blanc. With characteristic aged brioche from 2 years on the lees, this organic wine displays fine bubbles from natural fermentation in the bottle. Crisp apple & juicy orange with lemon zest on the finish. Pairs well with our famous maritime seafood and as a celebration on its own!
Available for purchase at our Gaspereau winery wineshop & online, as well as at Bishop's Cellar, Harvest Wines, Liquid Assets & select NSLC stores.
Available by the glass in Wolfville at Juniper & Troy, and in Lunenburg at the Grand Banker & Old Fish Factory.
Cheers!

"Zoomed in" to sparkling wine masterclass at Kingston International Wine Festival by Savvy Wine
Winemaker Bruce Ewert talks about our winery, terroir, organic and vegan practices, and why Nova Scotia's climate is ideal for sparkling wine.

If you look at our website you'll notice that we use the term "organic" often, and only when we reference our certifying body do we say "certified organic by Pro-Cert". We can say "organic", and we do many times because all of our wines are organic, but we can not say "certified organic" by itself, according to the current Canada Organic standard. We disagree with this requirement.
Canadian Food Inspection Agency (CFIA) regulates the Canada Organic standard and have a draconian regulation that restricts organic operations like our winery to not use the term "certified organic" unless we say who we are certified by. I'm even inviting an official non-compliance letter from them for writing this blog with that term. Why do they have this regulation? They argue that it sounds like a higher level of organic status compared to someone claiming organic. And here is where it gets even more unfair – a non-organic operation can claim organic on their website and other marketing media as long as not where their product is sold. Here's an example of a website for an imaginary conventional winery not making organic wine: "We follow organic practices in our grapegrowing to make quality wine. Buy our wine here". They don't sell grapes, so no offence there. They sell wine, but are not claiming that the wine is organic, so no offence there either.
We need changes at the five year review of the Canada Organic standard this year so that we and other organic producers can use the term "certified organic". We are certified, not merely making a general claim, and deserve to use the term to stand out in a crowded and noisy marketplace. We spend many dollars every year to have rigorous inspections, traceability audits and mass balance audits all to prove to CFIA that we follow the organic standard. Organic operations in United States are allowed to use the term. It's time to update the Canada Organic standard so we can use it as well.
Read more about the benefits of choosing organic wine,
Transparency and Sustainability:the benefits of choosing organic and vegan wine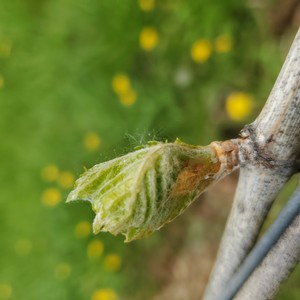 The world of fungi is amazing. I always credit kombucha's yeasty cloudy popularity to wine lovers' rapid acceptance to similarly cloudy Pet Nats. And Hollywood's portrayal of "mind-controlling" fungus in Last of Us has further vaulted fungus to rock star status, a sinister version in this case. Another fungus, a beneficial one, called mycorrhiza lives in soil and has a critical symbiotic relationship with roots to help vines access water and nutrients especially during drought and other climate extremes. This is a true rock star.
When plants made that difficult evolutionary step from a nutrient-rich marine environment to a relatively harsh soil home, they had to make an alliance with microbes in the soil to survive. Mycorrhizal fungi grows into root cells to access carbohydrates from the vine, and in exchange, root zone influence of the vine expands to 3-10 times with a complex network of fungus filaments. I call this microbial terroir. Water, nutrients and "flavours" in soil are more accessible for the vine.
Organic practices at our Gaspereau vineyard encourage this living soil, rather than the conventional approach of ignoring microbes and following a regime of feeding vines directly with readably accessible synthetic fertilizers. They seem to know – decreasing their relationship with the roots, almost sensing that they are not needed to cycle nutrients for the vine. Same outcome with animal manures. Other practices that kill fungi are tilling excessively between vineyard rows rather than using a constant cover crop and using herbicides like glyphosate (Roundup). We make plant-based compost teas, a veganic approach, to inoculate vines with beneficial fungi – crowding out disease organisms on leaves and inoculating roots. It's why we are Biocyclic Vegan
Strengthening our microbial terroir helps our vines be more resilient to climate change. Accessibility to nutrients and water is enhanced and that's especially important with extreme weather events.
Here's an article about research in Portugal,
The microbes that could grapevines from climate change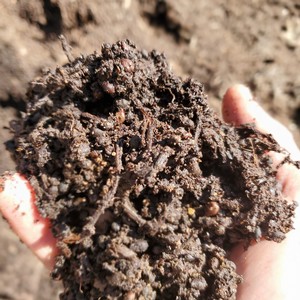 Introducing our 2022 Tidal Bay!
This is our third vintage of this appellation wine that eloquently showcases our province's unique ocean-influenced terroir: we chose to highlight our estate-grown L'Acadie Blanc which displays minerality & subtle saline reminiscent of the sea, thanks to our ancient sea-bed soil. Our terroir is displayed cleanly & prominently, largely due to the fact that we are organic and foster a living soil.
We are the first organic vineyard & winery in Nova Scotia and the first Biocyclic Vegan farm & winery in North America. Our Earth-friendly practices follow through from soil to glass. The first pick for this wine in September was from vines traditionally sourced for our Prestige Brut Estate, with a deeper layer of humus-rich topsoil that brings our Tidal Bay a fresh acidity & crisp citrus flavours. A later pick in October from a different vineyard block complements the freshness with richer tropical notes such as mango.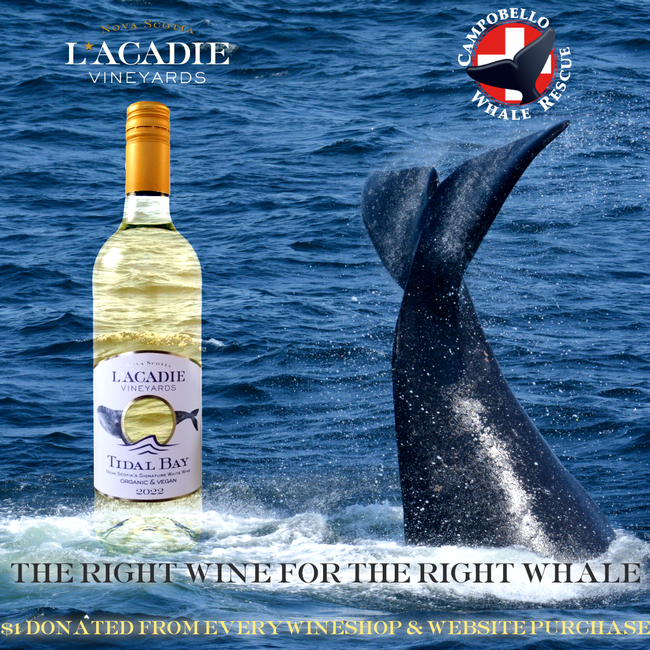 Our wine industry, and subsequently the Tidal Bay appellation, could not exist as it does without our ocean-influence from the Bay of Fundy. This year we have decided to help restore balance in our local marine ecosystem by partnering with the Canadian Whale Institute & Campobello Whale Rescue Team to help save the severely endangered North Atlantic right whale. $1 from every bottle of Tidal Bay sold in our wineshop & on our website will be donated to the Campobello Whale Rescue Team of the Canadian Whale Institute.
"The Campobello Whale Rescue Team of the Canadian Whale Institute is an organization of fishers, scientists and conservationists. They have firsthand knowledge of maritime waters, fishing gear and whale behaviour. Team members are trained in the use of specialized equipment to disentangle large whales from fishing gear, and to work with weir owners to release entrapped whales. The CWRT is licensed and permitted by Fisheries and Oceans Canada (DFO) to disentangle whales in the Maritimes, Gulf of St. Lawrence & Quebec. They work in coordination with DFO, the Marine Animal Response Society (MARS), and the Réseau Québécois d'urgences pour les mammifères marins (RQUMM) in partnership with Équipe de Desempêtrement du Golfe (EDG)."
Pick up a bottle for the weekend & enjoy a glass of wine for a good cause! Order Tidal Bay

We chatted with Portia Clark on CBC Information Morning about our Gold medal win for Prestige Brut Estate at Decanter World Wine Awards. Listen to CBC Info Morning segment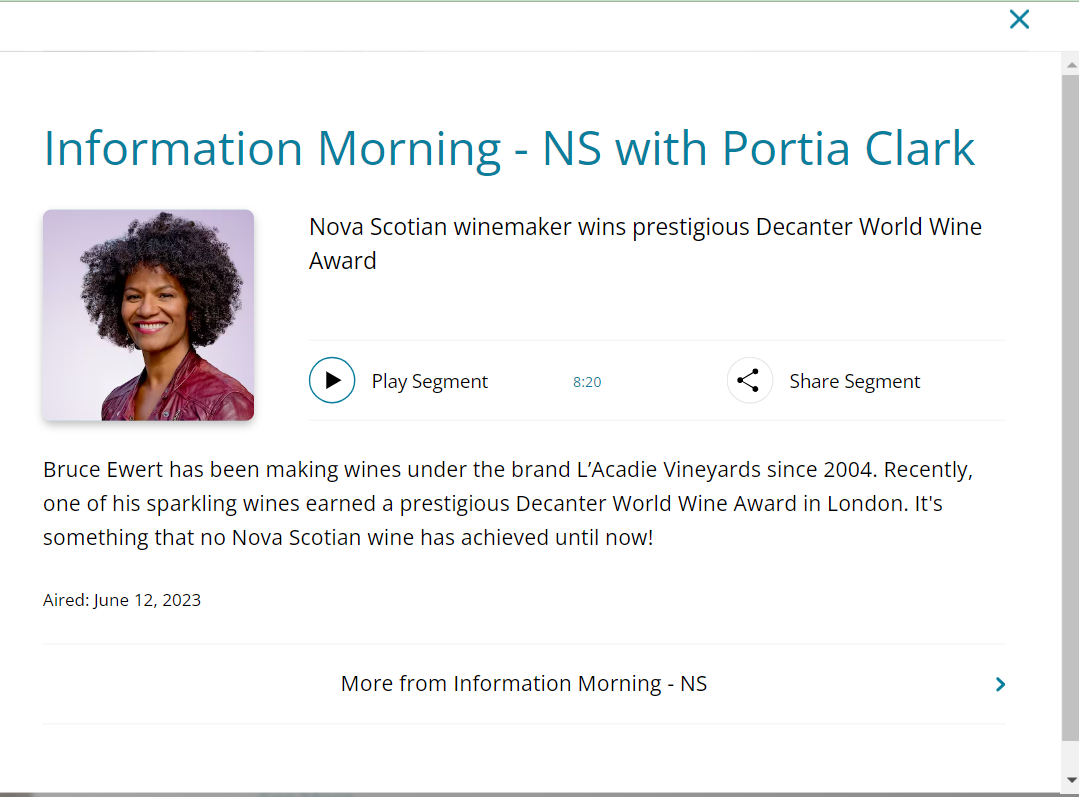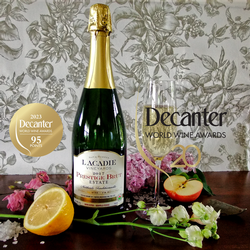 We are proud to announce that Prestige Brut Estate 2017 was awarded Gold and 95 points at Decanter World Wine Awards in London this week. First-ever Decanter gold for Nova Scotia! It is the fourth consecutive vintage of Prestige Brut Estate to win awards at Decanter, adding to a prestigious list of international awards including early vintages winning at Effervescent du Monde in France.
Decanter:
"Canada is a cool climate region that knows a thing or two about the benefits of hybrid grape varieties, and for the first time a single varietal L'Acadie Blanc, a hybrid crossing of Cascade and Seyve-Villard, was awarded a Gold medal in its rendition as a sparkling wine for L'Acadie Vineyards, Prestige Brut 2017 from Gaspereau Valley in Nova Scotia. A noteworthy first-ever Gold for the region too."

Judges' comments:
"Pretty and attractive, with white fruit, honey melon, chalky green apple and lifted floral aromatics lead through to a palate of vibrant acidity, citrus curd and a fine, saline finish."
Bruce Ewert, winemaker, co-owner L'Acadie Vineyards:
"We bought our 30 acres of paradise in Gaspereau back in 2004 inspired by the potential for sparkling wine with its soil and location. It is very exciting to earn international awards for our organic vegan sparkling wines that are rooted over a metre deep into rocky well-drained living soils."
This organic vegan wine is available direct from winery and website in late June. We are waiting for gold medal bottle stickers!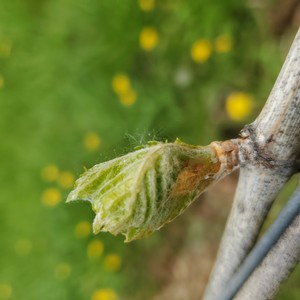 On February 4, 2023 temperatures dropped to -25C in the Annapolis Valley, a polar vortex event in an otherwise mild winter. See CBC news video
We knew that our Gaspereau vineyard would be impacted and the effects are starting to show as we proceed through budbreak. We pruned lightly and left more canes for growth and are seeing a reasonable budbreak so far. The above image is Leon Millot. Even though there are shoots emerging we stll don't know how much crop we will get for 2023...and expect it to be less. Same for L'Acadie blanc.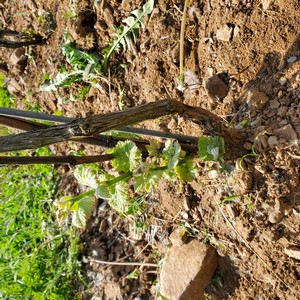 The next image is Chardonnay that is only showing shoots at the trunk so far. Pinot noir is similar. Fingers crossed that there will be some viable buds on the upper canes. It's expected that our only goal with these two sensitive varieites will be to grow new trunks for future years and skip cropping grapes this year.