L'Acadie Vineyards Blog
Welcome to the L'Acadie Vineyards blog and winery news


Gold for Vintage Cuvee 92 points!
New release 2020 Vintage Cuveé recently won a gold award with 92 points from Wine Align, the National Wine Awards of Canada! This award marks the fourth year in a row of 90 points or more for our Vintage Cuvée and we are very proud of this long-time favourite.
Here's what the judges are saying:
"Surprising amount of fruit in this Blanc de Blancs based on L'Acadie Blanc with (13 percent) Seyval Blanc. Fine aromatic grip surrounds a mix of stone and also green fruit but what is most special here is the intensity of the bubble and fine purity of the lees. Would never see this as autolytic, oxidative or yeasty but only in terms of salty, marine airy excitement. Oysters are an ideal match. Drink 2023-2029."
~Michael Godel
"Fresh white floral aromatics with an umami lean on the nose. The wine communicates refreshment on the palate with bright, crunchy acidity. Tasty wine, not terribly complex. There is a lot of talk about hybrids these days with climate change and a great example of how the bar is being raised every vintage with these varieties."
~Jenna Briscoe
This top-selling Nova Scotian traditional method sparkling wine is a premium blend of organic Estate L'Acadie Blanc & Seyval Blanc. With characteristic aged brioche from 2 years on the lees, this organic wine displays fine bubbles from natural fermentation in the bottle. Crisp apple & juicy orange with lemon zest on the finish. Pairs well with our famous maritime seafood and as a celebration on its own!
Available for purchase at our Gaspereau winery wineshop & online, as well as at Bishop's Cellar, Harvest Wines, Liquid Assets & select NSLC stores.
Available by the glass in Wolfville at Juniper & Troy, and in Lunenburg at the Grand Banker & Old Fish Factory.
Cheers!

Tips for serving traditional method and charmat sparkling wine,
Opening
Keep your hand on the cork! Release the cage with one hand and keep the other hand on the cork. Hold it and twist the bottle until you feel the pressure pushing it out. Get the perfect "pffftt" like a master sommelier, or a crowd pleasing "pop!" by letting it come out slower or faster. This video from our friends at Taste of Nova Scotia is a good primer on opening a bottle of sparkling,
Pouring
Always chill sparkling wines to fridge temperatures (4C) to enhance retention of bubbles. A flute is ideal but larger glass bowls better coax the aromas from well-aged wines like Prestige Brut Estate . Make sure the glass is clean and doesn't have soap residue. A full serving is 4 ounces (120ml) and to enhance enjoyment of aromas only fill to 1/3 to 1/2 full....and fill more often. Pro tip: tilt the glass and gently pour to preserve bubbles. No need to swirl - the bubbles will bring the toasty aromas to your nose.
Storing
Use a champagne stopper that secures onto the glass ring of the bottle, the same area that the wire cage held onto.....avoid expanding-style of stoppers - they can become rockets if too much pressure builds. Should keep for 3-5 days in fridge.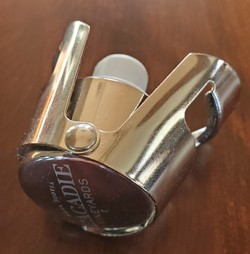 Champagne stopper available in our wineshop
Food Pairings
Many seafoods pair well with sparkling wine - "what grows together, goes together" is a favourite maritime expression. Think mussels, lobsters and oysters. But don't stop there - consider any food that has a salty component like potato chips and popcorn. Of course mild chesses are always a hit with guests, especially an assortment of soft cheeses. For curried and spicy dishes, choose our most aromatic sparklings like Rose Brut, or consider trying our traditional method cider, Duncanson Brook Cider
Visit our Recipe page for ideas such as Vegan Carbonara paired with Joie de Vivre charmat sparkling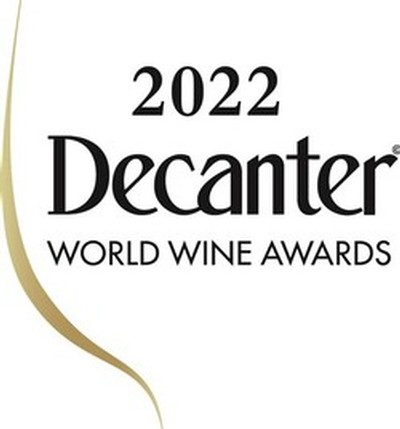 We are pleased that our 2015 Prestige Brut Estate earned a bronze and 88 points at the 2022 Decanter World Wine Awards held in London, England. Scoring in the top 15 sparkling wines in Canada at this prestigious wine competition, this is the third vintage in a row for our organic and vegan Prestige Brut Estate to be awarded. Grapes are from the same block of our organic and vegan estate vineyard planted with L'Acadie blanc in 2006 on ancient seabed soil of schist, sandstone and slate gravels.
"We bought our 30 acres of paradise in Gaspereau back in 2004 inspired by the soil and location potential for sparkling wine. It is so satisfying to earn international awards for our sparkling wines that are rooted over a metre deep into organic living soil.", Bruce Ewert, co-owner and winemaker L'Acadie Vineyards.

Great timely article by sommelier and wine judge Janet Dorozynski on Canadian sparkling wine. 2014 Prestige Brut Estate, our organic and vegan wine, is recommended!! Especially significant considering the world shortage of sparkling wine this season. Choose local wine, from wineries in Nova Scotia.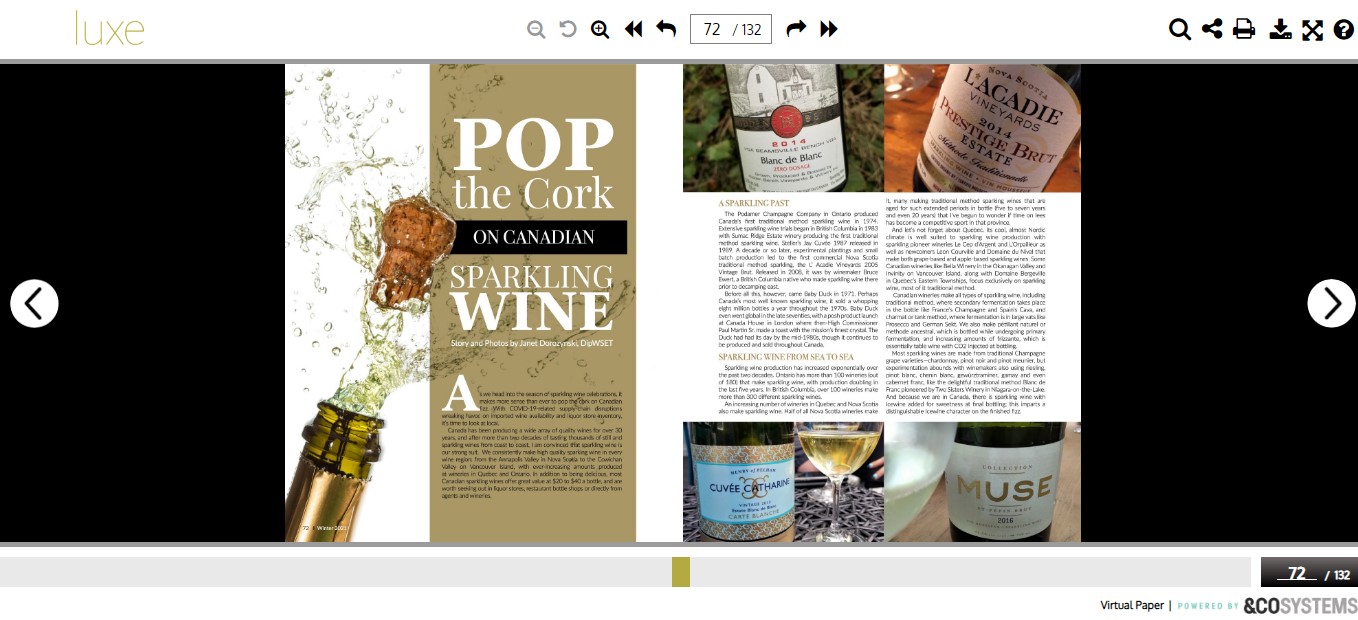 Here's her wine review when 2014 Prestige Brut Estate was released last year,
"The 2014 Prestige Brut Estate from @lacadiewine is a thrilling and elegant traditional method #fizz made from 100 % L"Acadie Blanc that is aged sur lie for 69 months (long aging is a competitive sport among sparkling winemakers in Nova Scotia [🥂] ). Intense citrus, flinty and saline aromatics with a touch of toastiness. Bone dry and lively, with well defined and integrated acidity and fine bubbles. A perfect #sparklingwine for lovers of Brut Nature or zero dosage with 2g/litre residual sugar. If the 2014 is anything like past vintages I've tasted it will continue to develop and improve for a decade and then some. Certified #organic by Procert and #veganfriendly. Well done Bruce and team!"

She is a wine critic on Wine Align and rated it 94 points, and it also received 92 points at Decanter World Wine Awards. 2021 award winner of the Lieutenant Governor's Award of Excellence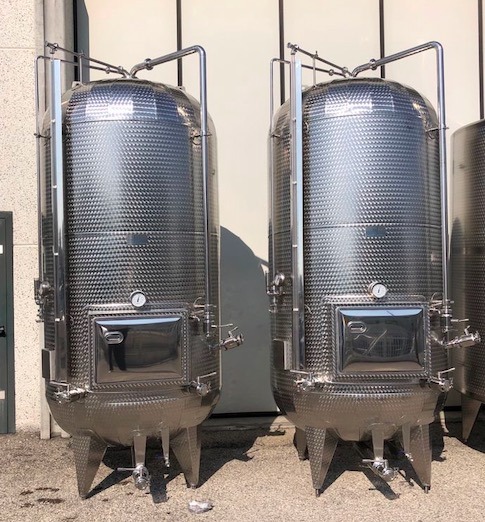 We are excited to announce that we will be releasing Joie de Vivre, a new sparkling style this summer - Charmat Method! The second fermentation will occur in specialized pressure tanks instead of traditional method sparkling bottles to produce natural bubbles the same way that Prosecco is made.
Joie de Vivre: noun [zwahduh vee-vruh] joy of living; a delight in being alive. We can all use more Joie de Vivre moments in our life and this wine embodies that philosophy, at a price that encourages more life enjoying moments!
This ambitious project has been three years in the making and answers calls from Nova Scotia restaurants, NSLC and other wine trade for a fresh early-release sparkling. Charmat method sparkling wine has a relatively brief time in tank to complete second fermentation and to keep wine fresh and fruity, compared to traditional methods of aging in bottle on its yeast lees for 2+ years. Fresh, creamy persistent natural bubbles and certified organic.
"Charmat method" will be the declared production method on front labels and assures you that it is not produced by artificial carbonation like many wines on our market. It complements our diverse Traditional Method sparkling portfolio and offers a new sparkling that is fresh, vibrant, fruity, and dry.
Charmat tanks are very specialized and our tanks are presently being shipped from the heart of the Prosecco region in Veneto, Italy, where Prosecco charmat production is famous.The project was delayed with the pandemic in hard hit northern Italy but we are thankful for their extra efforts. This specialized sparkling style requires experience and expertise, and winemaker Bruce Ewert worked with the style in Ontario early in his career.
Expected release of Joie de Vivre is June, in time for your barbecues, outdoor living and restaurant patio sipping.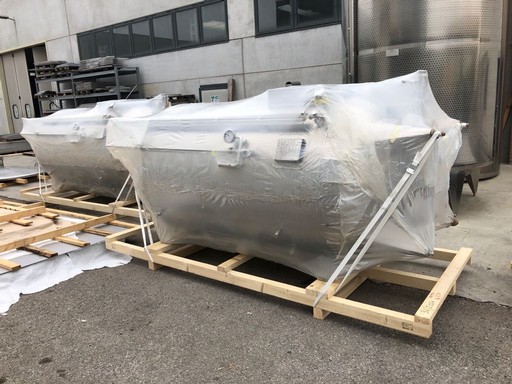 Have you ever imagined that those playful bubbles in your glass of sparkling wine are like stars? Dom Perignon thought so too. He was the blind French monk that is credited with the discovery of fermenting wine in the bottle and was quoted as saying, "I'm sipping stars!". And they have been the iconic symbol of Champagne ever since, including sparkling wines from other regions.
We associate stars with our sparklings based on these traditions. And our relationship with the style is strong: an experienced sparkling winemaker from British Columbia, the first release of traditional method sparkling in Nova Scotia and the province's first international awards. We were honoured when Beppi Crosariol wrote in the Globe and Mail, "Bruce Ewert released Nova Scotia's first Champagne-method sparkling wine back in 2008. The local industry owes much to his foresight" Our present logo boasts one proud star, and our first logo back in 2008 had five stars.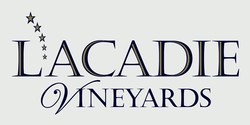 You'll recognize this logo on our road sign at the winery as a continuing homage to sparkling wine and our commitment to its craft in Nova Scotia.



L'Acadie Vineyards: Nova Scotia's Sparkling Stalwart
I'm intrigued (and inspired) by winemakers who really do 'push the envelope.' And Bruce Ewert is one of those winemakers. Ever since Ewert left BC for Nova Scotia to make wine in Nova Scotia's Annapolis Valley I've been following his progress—and, in particular, L'Acadie Vineyards' success in sparkling wine.
Born in Prince George, and a graduate of UBC, Ewert cut his viticultural teeth working across the country in various winemaking capacities for Andrés Wines. He started out in Port Moody, BC, before heading to Winona, Ontario and Truro, Nova Scotia. Along the way he worked vintages in Australia and California and returned to BC in 1995.
In those early days Ewert consulted to Sumac Ridge and Hawthorne Mountain (now SYL Ranch) and went on to explore sparkling wine at Summerhill. His wife, Pauline Scott, hails from Nova Scotia. Hence, he says, when it came to looking for affordable land on which to launch L'Acadie Vineyards (in 2004), then still emerging Annapolis Valley was an obvious choice.
Ewert was determined to follow the mantra "the right grape for the right site." In this case he felt strongly that the right grape was l'Acadie Blanc. It's a Canadian, cold-hardy hybrid of Seibel and Villard which is now widely planted in Nova Scotia. And he knew that the ancient seabed of the Gaspereau Valley—defined by schist and sandstone—was the perfect site.
Bruce Ewert
The winemaker was also drawn to L'Acadie Blanc's higher acid, less fruit-driven profile. Noting at the time that nobody in Nova Scotia was making bubble he was convinced it would make "a wonderful sparkling wine." Moreover, when it came to sparkling, Bruce was definitely bullish on Annapolis Valley rather than the Okanagan. There he reckoned (even over a decade ago) that consistently higher sugars were proving too challenging for sparkling.
As it turned out, he was likely witnessing the early signs of what we have now come to understand more urgently as climate change. On an already brief cycle of the vine, no one is immune to its impact, he notes. "Bud break now sometimes comes later than usual, and first frost possibly earlier. And even though winters may be getting milder, it's not a certainty."
Overall, though, his observation that Nova Scotia has considerably less heat units more than paid off in terms of consistently seeing more moderate sugar levels and good acid retention. And the L'Acadie grape has adapted, he says, "amazingly well, shortened its cycle through flowering and veraison, and still ripens for sparkling."
In conclusion, it's truly rewarding to see L'Acadie Vineyards making a name for itself—especially building the reputation of Canadian Traditional Method sparkling. It's surely one of our most under-appreciated styles with plenty of potential—and sites not yet explored.
L'Acadie Vintage Cuvée 2017 (Annapolis Valley)
[L'Acadie Vineyards Vintage Cuvée 2017]
This blend of 92% estate-grown L'Acadie Blanc with 8% Annapolis Valley Seyval Blanc is certified organic and aged on the lees for before its first disgorging in June 2019. Here the L'Acadie and its suitability to sparkling truly shines through. Forward citrus, apple and toasty notes with anise hints, a stream of fine bubbles with persistent mousse, quite creamy and citrus on the palate with mineral undertones, excellent structure and zesty notes to close. Excellent now but also should evolve nicely in the bottle. 92 pts. $30.26 (winery). Also at some BC private stores.
L'Acadie Vintage Cuvée Rosé 2017 (Annapolis Valley & Cape Breton)
[L'Acadie Vineyards Vintage Cuvée Rosé 2017]
A blend of L'Acadie Blanc (36%) and Marechal Foch (55%), with 7% Leon Millot and 1% Luci Kuhlman from Cape Breton, plus 1% Seyval. Pale to medium salmon coloured with inviting, vibrant red berries and some sage and earthy hints. Fine bubbles and a gentle mousse lead to a crisp palate wrapped in appealing acidity, with rhubarb, strawberry and cherry notes, with some minerality in the background and that lively acidity—which just keeps on going, makes it very food flexible. Certified organic. 90 pts. $30.26 (winery). Also at some BC private stores.
Prestige Brut Estate 2014 (Annapolis Valley)
[L'Acadie Vineyards Prestige Brut Rosé 2014]
Made entirely with estate fruit from the initial 2005 plantings on schist, sandstone and sand, the soils really come through on this very Champagne-like sparkling wine, which lures with definite brioche, almond and toasty notes before a textured, mouth-filling palate of stonefruit and apple, above mineral undertones. Almost six years on lees delivers impressive but elegant heft and full-bodied character through a lengthy end. Certified organic. 91 pts. $43.30 (winery) BCLS (2013) $55.99.
[The Ewert family]
The Ewert Family
Full article click here

Making sparkling wines on the fringe of possibility has its rewards and risks. On the positive side of the equation is world class sparkling wine with ripe grapes at enviable acid levels and moderate sugars. We are right on the cusp of not being able to do what we do, but grapes seem to react to the stresses and reward us with our signature cool climate flavours. It's been 15 years since planting our estate vineyard with L'Acadie blanc and we have seen remarkable adaptation and resilience to the rigours of a cool climate. And those risks are many – winter damage if temperatures dip below-20C , frosts on either end of the growing season and attaining enough heat units to ripen in our short growing season.
But is our region being affected by global warming? Is it getting easier? That's a question posed to me recently by a wine writer. My answer: A guarded yes. Yes, when you look at how our climate has warmed over the last 50 years when research scientists at Agriculture Canada in Kentville determined it was too cold in Nova Scotia to support a wine industry. And yes, to the possibilities of vinifera growing here. But our region's cooler personality can still rear it's ugly head, like the 2018 spring frost, or described by many as a spring freeze. Temperatures dropped to -2.8C at our estate on June 4 and damaged 80% of our young primary shoots. This was a first for the region's relatively young grape industry and affected some crops levels severely. We had a second bud burst in late June and those secondary shoots made up for lost time and showed remarkable growth, racing to achieve flowering and verasion at the historical benchmarks and ripening grapes for sparkling wine. An amazing adaptation to a 120 day season compared to our normal 180 frost free days. Crop levels were low, which was beneficial for future growth considering the stresses that the vines endured. We had to adjust distribution for our small production of 2018 still wines and NSLC was accommodating to allow us to restrict their shelf space for a year, so that we could sell direct.
So should we expect more fluctuations in weather, more extreme events? Is that the compromise to the benefits of a warming trend? A look at historical harvest information for sparkling – dates, sugars, acids, is an interesting exercise to see the effects. Champagne has heaps of data for this type of analysis and they have shown that harvest dates have been getting earlier to achieve optimal balance of moderate sugars and enough acidity in their warming climate. I experienced this when I was making sparkling in BC's Okanagan Valley where the sugar accumulation outpaced ripening in +35C heat and I had to pick before sugars were too high and acid dropped out. But unripe grapes are not ideal for quality sparkling wine and just picking earlier in not always the answer. We've had enviable ripeness at our estate for 10 years, including last year. The seeds are lignified, brown, and there are ripe flavours. And harvest dates don't seem to be trending earlier significantly, as shown in the 10-year harvest record below. And not major fluctuations either. It's a small sample set compared to Champagne's 100+ years of data, but significant for our emerging region. Hopefully these enviable quality indicators will continue for many future vintages, in our "cooler climate".