L'Acadie Vineyards Blog
Welcome to the L'Acadie Vineyards blog and winery news

Thanks Onboard Hospitality for featuring our Gaspereau winery in a sustainability article about international sparkling wine and our organic sparkling wine and recent vegan wine certification. Read Guilt Free Bubbly

Great article about our environmental efforts to produce organic and vegan wines!
"L'Acadie's supplier of corks for its bottles of sparkling and still wines has calculated that the Gaspereau Valley winery was responsible for the sequestration of "a whopping" 10 tonnes of carbon dioxide in 2022 because it uses only natural cork."
Full story on Saltwire by Bill Spurr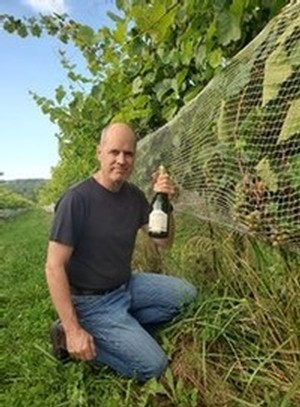 Honoured to receive this award from Amorim Cork, our cork supplier. A whopping 10 tonnes of carbon dioxide sequestered from our use of cork in 2022!
We are proud to give you this honor and please feel free to share with your team or customers your carbon retention number! This number has been independently validated by Pricewaterhouse Coopers and/or Ernest and Young. The findings, are the only ones to date that underwent a multi-closure comparative peer review, indicating when considering sequestration by the ecosystem made feasible by the cyclic extraction of cork, a retention capacity up to 288 grams of CO2 is associated with every natural cork stopper and as much as 562 grams with a sparkling wine stopper, in stark contrast to the CO2 emissions to each plastic stopper (up to 14.8 g/sealant) and to aluminum caps (up to 37.2 g/cap). To find out more about the sustainability studies and on going efforts Amorim is making on your behalf please visit the following link here.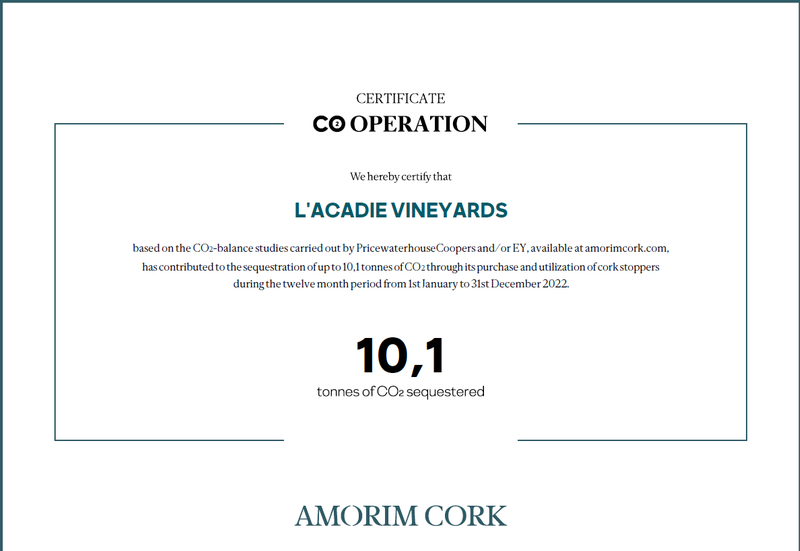 Thanks Daily Hive and Allison Wallace for including us in 8 Bucket-List Wineries You Need to Visit in Canada
Visit us in Gaspereau Valley, Nova Scotia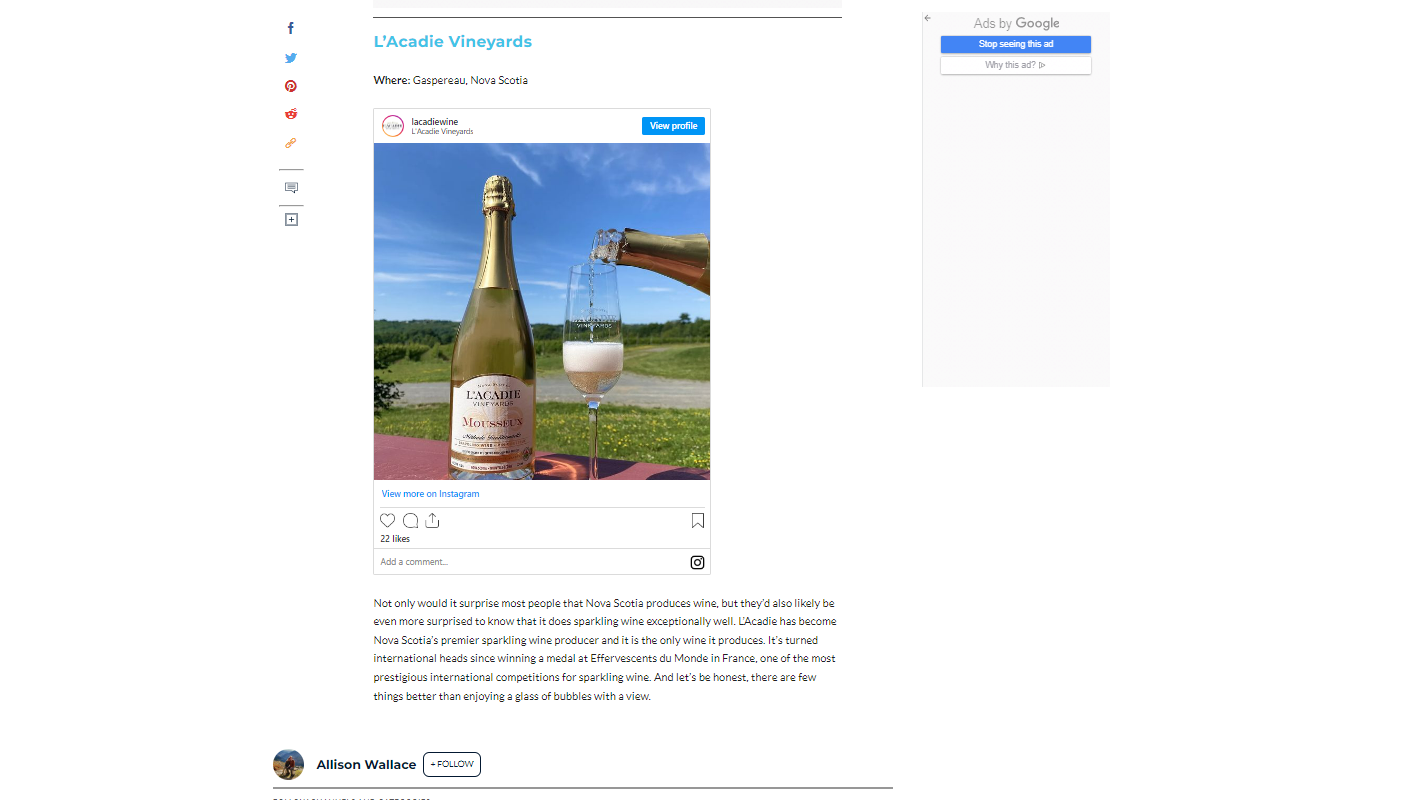 Results from the 2022 National Wine Awards of Canada

Pleased to share that Joie de Vivre was awarded Gold and 92 points at the 2022 National Wine Awards of Canada in the prestigious and competitive sparkling category! This charmat method sparkling has been very popular since first release in 2021. Certified organic and vegan wine.

2019 Vintage Cuvee was awarded silver and 90 points. Read about the 2019 growing season and why you should be searching out this vintage of traditional method wines from Nova Scotia. Continuing a legacy of highly awarded vintages with a trifecta of 90, 92 and 90 points for 2017, 2018 and 2019.
Both are available online and in our Gaspereau wineshop. Wine tastings available, appointments highly recommended. Book here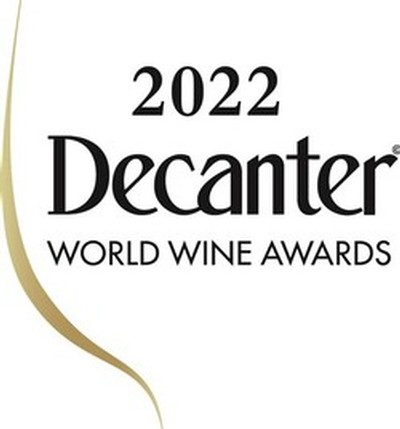 We are pleased that our 2015 Prestige Brut Estate earned a bronze and 88 points at the 2022 Decanter World Wine Awards held in London, England. Scoring in the top 15 sparkling wines in Canada at this prestigious wine competition, this is the third vintage in a row for our certified organic and vegan Prestige Brut Estate to be awarded. Grapes are from the same block of our organic and vegan estate vineyard planted with L'Acadie blanc in 2006 on ancient seabed soil of schist, sandstone and slate gravels.
"We bought our 30 acres of paradise in Gaspereau back in 2004 inspired by the soil and location potential for sparkling wine. It is so satisfying to earn international awards for our sparkling wines that are rooted over a metre deep into organic living soil.", Bruce Ewert, co-owner and winemaker L'Acadie Vineyards.

2021 National Wine Awards of Canada results
2018 Vintage Cuvee
Gold medal, 93 points, results

Wine critic and judge Michael Godel,
"Brilliant autolysis in sparkling wine that speaks in the glacial till vernacular of Nova Scotia bubbles. A cogent yet balanced stick of Annapolis Valley dynamite, cumulative of salinity, fruit and bitters. Last tasted blind at NWAC2021, October 2021.
From the frost year (June 5th), a blend of l'acadie and seyval blanc in a sparkling wine that shows the formers's resilience, having raced out to meet bloom, veraison and harvest dates. In a 30 per cent crop but vines that bounced back the following year for a full yield out of harvest. A wine that meets the LV twain, somewhere between the fruit first sparklers and those of the longest tirage. The length of this is more than surprisingly impressive from a wine that looks for a new slate in every vintage. A wine of trials, investigations and experiments. Not at the toast ceiling but consistently malolactic and in that 8-12 g/L dosage. Truly a Brut style and middle of the road in the most complimentary way. Drink 2022-2026. Tasted September 2021."
Wine critic and judge Michell Bouffard,
"Rich and toasty on the nose and the palate with notes brioche and lemon rind mingling. Tangy acid with chalky texture. Very good. Dosage well integrated."
Bronze medal, 89 points, results

Wine critic and judge Michael Godel,
"Just about properly picked early to preserve acidity and not allow the soft, cloying and flabby nature of a late harvested l'acadie to gain traction. Expressive of the intense nature of the early ripened grape so that fruit remains, vitality persists and balance hangs in the mid-palate. What still l'acadie can be though picking just a day or two earlier would have really sealed the deal. Drink 2021-2023. Tasted blind at NWAC2021, October 2021."
National Wine Awards of Canada Judges. Penticton, British Columbia. October 2021

Great timely article by sommelier and wine judge Janet Dorozynski on Canadian sparkling wine. 2014 Prestige Brut Estate, our organic and vegan wine, is recommended!! Especially significant considering the world shortage of sparkling wine this season. Choose local wine, from wineries in Nova Scotia.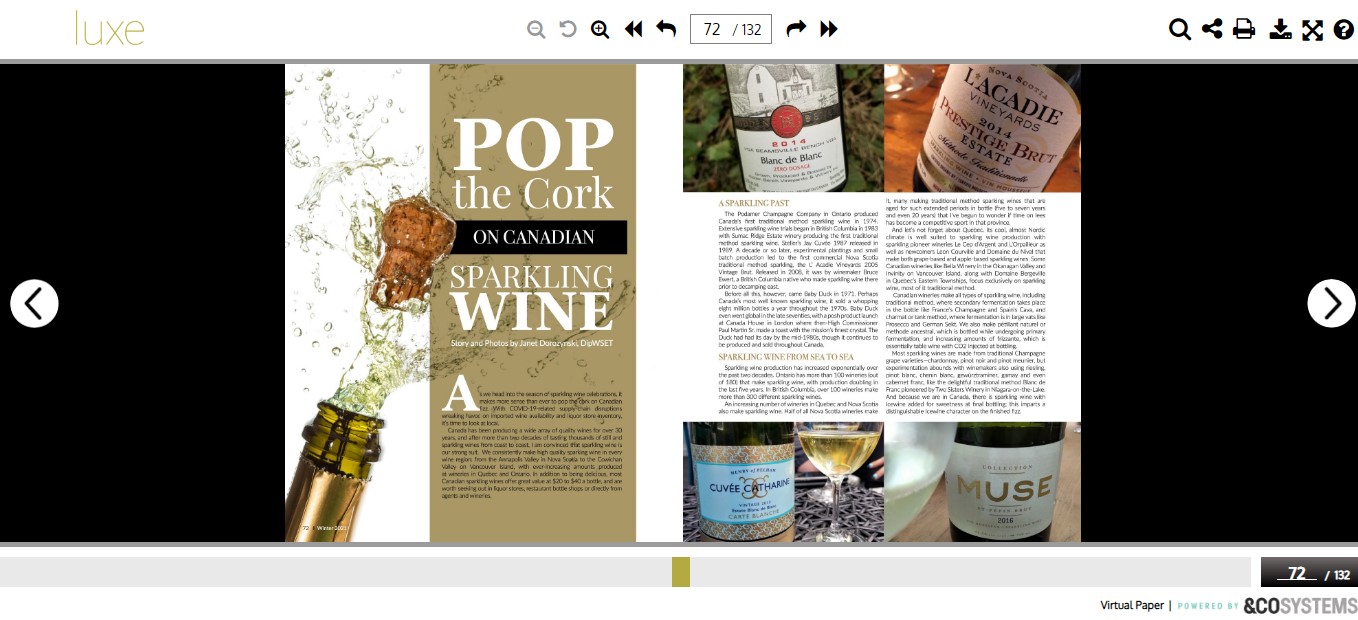 Here's her wine review when 2014 Prestige Brut Estate was released last year,
"The 2014 Prestige Brut Estate from @lacadiewine is a thrilling and elegant traditional method #fizz made from 100 % L"Acadie Blanc that is aged sur lie for 69 months (long aging is a competitive sport among sparkling winemakers in Nova Scotia [🥂] ). Intense citrus, flinty and saline aromatics with a touch of toastiness. Bone dry and lively, with well defined and integrated acidity and fine bubbles. A perfect #sparklingwine for lovers of Brut Nature or zero dosage with 2g/litre residual sugar. If the 2014 is anything like past vintages I've tasted it will continue to develop and improve for a decade and then some. Certified #organic by Procert and #veganfriendly. Well done Bruce and team!"

She is a wine critic on Wine Align and rated it 94 points, and it also received 92 points at Decanter World Wine Awards. 2021 award winner of the Lieutenant Governor's Award of Excellence


L'Acadie Vineyards: Nova Scotia's Sparkling Stalwart
I'm intrigued (and inspired) by winemakers who really do 'push the envelope.' And Bruce Ewert is one of those winemakers. Ever since Ewert left BC for Nova Scotia to make wine in Nova Scotia's Annapolis Valley I've been following his progress—and, in particular, L'Acadie Vineyards' success in sparkling wine.
Born in Prince George, and a graduate of UBC, Ewert cut his viticultural teeth working across the country in various winemaking capacities for Andrés Wines. He started out in Port Moody, BC, before heading to Winona, Ontario and Truro, Nova Scotia. Along the way he worked vintages in Australia and California and returned to BC in 1995.
In those early days Ewert consulted to Sumac Ridge and Hawthorne Mountain (now SYL Ranch) and went on to explore sparkling wine at Summerhill. His wife, Pauline Scott, hails from Nova Scotia. Hence, he says, when it came to looking for affordable land on which to launch L'Acadie Vineyards (in 2004), then still emerging Annapolis Valley was an obvious choice.
Ewert was determined to follow the mantra "the right grape for the right site." In this case he felt strongly that the right grape was l'Acadie Blanc. It's a Canadian, cold-hardy hybrid of Seibel and Villard which is now widely planted in Nova Scotia. And he knew that the ancient seabed of the Gaspereau Valley—defined by schist and sandstone—was the perfect site.
Bruce Ewert
The winemaker was also drawn to L'Acadie Blanc's higher acid, less fruit-driven profile. Noting at the time that nobody in Nova Scotia was making bubble he was convinced it would make "a wonderful sparkling wine." Moreover, when it came to sparkling, Bruce was definitely bullish on Annapolis Valley rather than the Okanagan. There he reckoned (even over a decade ago) that consistently higher sugars were proving too challenging for sparkling.
As it turned out, he was likely witnessing the early signs of what we have now come to understand more urgently as climate change. On an already brief cycle of the vine, no one is immune to its impact, he notes. "Bud break now sometimes comes later than usual, and first frost possibly earlier. And even though winters may be getting milder, it's not a certainty."
Overall, though, his observation that Nova Scotia has considerably less heat units more than paid off in terms of consistently seeing more moderate sugar levels and good acid retention. And the L'Acadie grape has adapted, he says, "amazingly well, shortened its cycle through flowering and veraison, and still ripens for sparkling."
In conclusion, it's truly rewarding to see L'Acadie Vineyards making a name for itself—especially building the reputation of Canadian Traditional Method sparkling. It's surely one of our most under-appreciated styles with plenty of potential—and sites not yet explored.
L'Acadie Vintage Cuvée 2017 (Annapolis Valley)
[L'Acadie Vineyards Vintage Cuvée 2017]
This blend of 92% estate-grown L'Acadie Blanc with 8% Annapolis Valley Seyval Blanc is certified organic and aged on the lees for before its first disgorging in June 2019. Here the L'Acadie and its suitability to sparkling truly shines through. Forward citrus, apple and toasty notes with anise hints, a stream of fine bubbles with persistent mousse, quite creamy and citrus on the palate with mineral undertones, excellent structure and zesty notes to close. Excellent now but also should evolve nicely in the bottle. 92 pts. $30.26 (winery). Also at some BC private stores.
L'Acadie Vintage Cuvée Rosé 2017 (Annapolis Valley & Cape Breton)
[L'Acadie Vineyards Vintage Cuvée Rosé 2017]
A blend of L'Acadie Blanc (36%) and Marechal Foch (55%), with 7% Leon Millot and 1% Luci Kuhlman from Cape Breton, plus 1% Seyval. Pale to medium salmon coloured with inviting, vibrant red berries and some sage and earthy hints. Fine bubbles and a gentle mousse lead to a crisp palate wrapped in appealing acidity, with rhubarb, strawberry and cherry notes, with some minerality in the background and that lively acidity—which just keeps on going, makes it very food flexible. Certified organic. 90 pts. $30.26 (winery). Also at some BC private stores.
Prestige Brut Estate 2014 (Annapolis Valley)
[L'Acadie Vineyards Prestige Brut Rosé 2014]
Made entirely with estate fruit from the initial 2005 plantings on schist, sandstone and sand, the soils really come through on this very Champagne-like sparkling wine, which lures with definite brioche, almond and toasty notes before a textured, mouth-filling palate of stonefruit and apple, above mineral undertones. Almost six years on lees delivers impressive but elegant heft and full-bodied character through a lengthy end. Certified organic. 91 pts. $43.30 (winery) BCLS (2013) $55.99.
[The Ewert family]
The Ewert Family
Full article click here