L'Acadie Vineyards Blog
Welcome to the L'Acadie Vineyards blog and winery news

The real beauty of our Gaspereau winery is not only the incredible valley views but also what you don't see. Here are several unseen underground assets that are a part of our sustainable, natural and environmentally-friendly ethos, and could make your wine tastings or wine tours even more special!
Geothermal Cooling, Heating and Hot Water
Summer temperatures are off the charts and we are very thankful for our winery geothermal heating and cooling system that we installed when we built in 2007. As you drive into our parking lot you might not know that deep below you is a network of coils that keeps us warm in winter and cool in summer, and give us hot water. At this time of the year the heat pump moves heat from the winery, wineshop and tasting room to dissipate 6 feet underground - very efficient cooling using a fraction of power compared to other methods.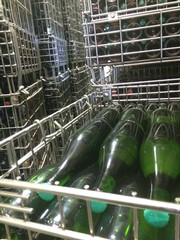 Tirage Cellar
Our tirage cellar for aging sparkling wine is half underground to keep a more constant temperature, critical for our internationally awarded wine quality. Energy efficient construction is also highlighted with insulated concrete form walls, north orientation and an infrared reflecting roof.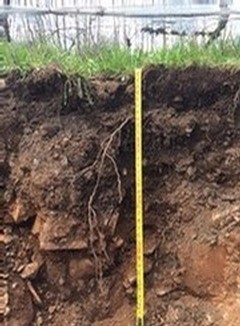 Living Soils
Encouraging a living soil around our vine roots is our main farming goal. Our organic vineyard is grown without conventional pesticides, with natural fertilizers to preserve the ecosystem. Biodiversity is our life blood and organisms live symbiotically with the vine helping it absorb nutrients and, perhaps even more intriguing, terroir flavours from schist, slate well-drained soil.


Have you tasted terroir? A true sense of place in the glass is a moment you rarely forget. It's a moment of reestablishing a connection to the earth, of tasting the relationships of the soil origin, microclimate, microorganisms, and grape variety.
However, wine trends are moving away from terroir. It happened in California's celebrated wine regions decades ago -a movement towards a beverage concept where terroir is over shadowed by winemaking manipulation, blending for uniformity and marketing/packaging.
We at L'Acadie Vineyards have embraced terroir and will not let go! Our practices of organic farming encourage living soils and microbial terroir shines in our Pet Nats and Orange wines, all estate grapes. Also try our new release 2020 Estate L'Acadie and 2014 Prestige Brut Estate. Flavours of the schist and slate well-drained soil are dominant with slight saline from an ancient seabed origin. I invite you to taste our vineyard. Our Gaspereau winery has wine tours and wine tastings daily - book an appointment.


A frequent question since we released our first Tidal Bay a month ago is why did we wait so long? It was introduced 10 years ago according to the Wines of Nova Scotia website with first releases in 2010. The answer is slightly complicated and involves some history of wine standards in Nova Scotia.
First of all, Tidal Bay is a brand of the Wine Growers of Nova Scotia, a voluntary association of wineries, and a winery has to be a member to produce it. We recently rejoined the association after taking a hiatus since 2012 and that makes it possible for us to have a Tidal Bay.
So why did we leave the association? Wine standards were not being followed and it was affecting our business. Specifically, artificially carbonated wines were first produced at the same time that we released the first traditional method sparkling for the province in 2008, confusing the important milestone with misleading labels. Wine standards state that sparkling wines have to declare the production method on the label, in the case of artificially carbonated wines - "Carbonated Method". Some wineries do declare this, providing transpareny to consumers, but most label their carbonated wines as white wine, not sparkling, and don't declare the method. In our opinion, this is potentially damaging to our emerging region's image for sparkling wine - but other wineries and the association did not agree with us, so after repeated attempts to educate and convince, we left.
What changed? New wine standards are coming that protect traditional method and charmat method sparkling wine, both natural fermentations to produce bubbles. We were involved in writing these tighter standards and the industry and association agree with them. And that is why we rejoined and produced our first Tidal Bay.

We have used cork closures for our organic wines since we established our Wolfville winery L'Acadie Vineyards in Gaspereau Valley. They fit our organic ethos of natural, sustainably harvested and recyclable. They also provide a small measured dose of oxygen to cellared bottles for ideal aging, and our library releases of 10 year old sparklings and whites have reflected that care, rewarding our customers with complexities and unique experiences. But there has always been the spectre of possible cork taint caused by a chemical produced by natural cork microbes, TCA (trichloroanisole). Cork taint affects about 2-3% of bottled wine on average according to Wine Folly, lower if you purchase high end corks like we do, but new technologies are lowering that number even more for TCA free wines.
Our cork supplier, Amorim Cork, revealed their new anti-TCA technologies early this year and we couldn't be more excited. They produce about half of all the corks in the world and have introduced thermal, pressure and carbon dioxide processes in parallel with effective screening to claim that their TCA levels are less than the sensory threshold of 0.5 nanograms per litre (ng/l) wine. In fact the production batch being shipped to us now has been tested at 0.05 ng/l !! This is good news for us and our customers as we start another bottling season and prepare to disgorge a special 10-year tiraged sparkling for our wine club members.
Watch this video shared by #TastingClimateChange on the regenerative aspects of corks, Amorim Cork, a sustainable option
Wines not intended for aging theoretically do not need a natural cork for their evolution. We have decided to use screwcaps this year for Rose and our first release of Tidal Bay. Several considerations went into this decision and our first most important question was answered with approval from our certified organic inspector. These are early-release Nova Scotia wines and Rose has been selling out every year and we expect Tidal Bay to be as popular. We are joining a family of Tidal Bays from other wineries in Nova Scotia and most are using screwcaps for ease of opening and re-sealing between sips.

We are releasing our first Tidal Bay in May! Joining a legacy of almost 10 years of previous releases from our Nova Scotia vineyard friends. And we couldn't be more excited about our inaugural blend and new label. If you're a lover of wineries in Nova Scotia you know what I'm talking about, if not, here is a Tidal Bay primer on the Wines of NS website
Why have we not joined the bandwagen in the past? We were not members of the winery association for the past seven years and Tidal Bay is an association initiative. We left the association because of issues with other winery board members in their refusal to protect our region's traditional method sparkling wine image from the growing number of artificially carbonated wines. We wanted better wine standards, they didn't. There are now new government-led wine standards being developed that will protect the image of sparkling wine, resulting largely from our lobbying.
We have built our winemaking reputation on sparkling wine with the first releases for the province and many international awards and accolades. Prestige Brut Estate was even shipped to the embassy in Moscow recently...for the second time! We are a winery that didn't set out to be everything to everybody. But we have been quietly researching and experimenting new styles beyond sparkling, always with the ethos of sustainability and suitability to our climate. Releases that have reflected those efforts are appassimento reds (Passito) and dessert wines, carbonic maceration red, and wines fermented with wild yeasts such as Pet Nat and Orange wine. And we have been doing the same meticulous planning and trial ferments for our new Tidal Bay program.
Our approach - dry and organic. To make sparkling wine you first have to be talented with making base wines that have a sense of place. Our many years of releases of Estate L'Acadie and Prestige Brut Estate show my winemaking style of showcasing our terroir - dry and clear. We planted predominantly L'Acadie blanc on our estate because we were impressed early with its flavours on our many investigative trips to Nova Scotia, Pauline's home province, and saw the potential of matching the unique gravelly terroir of our Gaspereau vineyard with Nova Scotia's signature variety. In fact, enhanced minerality and slight saline from schist, sandstone, an ancient seabed, is our own terroir signature, and getting stronger each year as the roots reach deep, over a metre presently. We approach Tidal Bay with the same lens - dry and the blend is predominantly L'Acadie from our estate.
Organic viticulture has been practiced at our Wolfville winery since inception and our Tidal Bay is a certified organic wine. The blend also has 15% organic Seyval blanc from the Windsor area on typical heavier soils- clay, loam. We are familiar with it from years of blending with Vintage Cuvee and it brings acidity and citrus flavour to the blend, fully complementing the richer tropical notes from L'Acadie. Living soils are prominent in both vineyards, a foundation of organics, with fungal populations helping the vine accentuate its uptake of not only nutrients but also flavours from the soil. A perfect match for a terroir-based wine like our Tidal Bay.
Releasing May 1 on our website and later in May in our wineshop.
UPDATE: As of May 1 you can buy Tidal Bay here

Is wine vegan? Yes, all L'Acadie Vineyards wines are vegan and organic, and we also follow vegan viticulture. So what can makes other wines not vegan? We all know that wine is grown in the vineyard, that practices and weather can play a significant role in ultimate wine quality. So let's start there.
Vineyard management varies depending on varieties, vineyard location and philosophy. Our location is deeply rooted in Gaspereau, Nova Scotia and we grow several varieties - L'Acadie blanc, Leon Millot, Chardonnay, Sauvignon Blanc and Pinot Noir. Click here for more about our terroir. The latter varieties are in the vinifera family and are more sensitive to disease so require more attention. Strategies include hilling the trunks in winter, leaf removal next to clusters and shoot positioning for air circulation, periodic sulfur applications on the leaves and plant residue teas. That brings us to philosophy, which really has two camps - conventional and organic. We have been organic since first planting our estate in 2005/2006 and our nutrient management includes beet extracts for a nitrogen source rather than animal manure. Synthetic inputs are not allowed in organic systems and these include petroleum-based fertilizers, glyphosate weed killer, and a host of systemic and contact pesticides that ultimately make it into your wine.
Winemaking is the more direct source for non-vegan inputs. The most prevalent is gelatin, derived from animal slaughtering. It is a protein fining agent that is routinely added to hard press juices to reduce the bitter tannins that were squeezed from the skins. And there are other proteins used to similarly reduce bitterness and astringency in wines - egg whites for barrel aged reds, casein (cow milk) for correcting oxidized wine, and isinglass from fish bladders. So what do we use? Bentonite is a clay that has amazing clarification and stabilization benefits, and a riddling aid to help the yeast slide down the bottle for traditional method sparkling. For tannin management, we only make reds when the season gives us ripe tannins and phenolics(don't bother looking for 2018 and 2019 vintages), and after careful maceration techniques and aging in barrels we don't need to reduce astringency.
Organic winemaking is low intervention. And as Heather Rankin at Obladee Wine bar in Halifax said it once, "You have to know a lot to do a little". So very little inputs and essentially nudging the wine along its evolution path to become what it was meant to be in the vineyard, a wine with soul and transparency. Organic certifiers audit our grape sources and all our inputs, and the Canada Organic logo on our bottles is your assurance.
Join our organic wine clubs! Click here for more information

Top 2021 Wine Trends compiled by Natural Merchants - Family Produced Organic Wines
https://naturalmerchants.com/organicwines/top-2021-wine-trends/?fbclid=IwAR2Y2wlDWyALXkA8t44w2hO6qzCT4lQaWHHoluOUxL2Di_ut-eNpPzq1BNA
Timely article by Natural Merchants that points to many aspects of our own wine portfolio. I never thought I'd be saying that we are trendy, we've been at this too long to suggest we are bandwagon jumpers, but our wines check the boxes on many of the trends mentioned:
"Sparkling wine, and Prosecco in particular, has spearheaded the diversification of wine's consumption occasions. The category has steadily moved away from its one-dimensional image as a special celebratory drink to align with more regular occasions, such as the aperitivo hour."
"As a result of the pandemic, the importance of sustainability has been reinforced in the minds of consumers. In tandem with increasing the focus on environmental concerns, the pandemic has amplified the trend towards health and wellness. Together, these issues have acted as major drivers of the organic, biodynamic, and low-intervention wine movement."
Bio-hacking: "In the wine world, this refers to wines that are low in sugar and alcohol that can be incorporated without dire effects into a diet such as Paleo or Keto. The wines have low-enough sugar (under 1 g/l) and alcohol to keep the body from going out of Ketosis, when consumed in moderation." ~Nova Scotia wines are naturally lower alcohol, and we don't add sugar to sweeten our still wines - all are under 1 g/l
"Online sales will continue to boom, up for small wineries by 154% in 2020." ~We launched our new online store in August 2020!
"To put it simply, rosé has exploded in popularity in the last few years, but it also has a lot more versatility and seasonal range than most people realize," ~ Check our rose wine lineup - Rose, Vintage Cuvee Rose, Sparkling Rose, Rose Brut.

Ferments are finishing and vintage is winding down, making this a good time to review vintage through a winemaker's lens. Vintage 2020 was a shining star in contrast to the dismal pandemic backdrop, and Nova Scotia winemakers needed it after the 2018 June frost and very cool 2019 season. A mild winter and record heat units in 2020 made it a growing season to remember, the most grapes we have had from the Estate. Many days shattered the 30C window and it was dry, but with enough well-timed rain for our established blocks of L'Acadie and Leon Millot. These 10 year old vines have worked hard over the years to extend their roots metres deep in well drained gravels of schist and sandstone, depths that show fair resistance to drought conditions. In contrast, new blocks of two year old Chardonnay, Sauvignon blanc and Pinot Noir needed irrigation almost every two weeks.
We pruned sparkling blocks to 20-24 buds/vine last winter and yields were 8 tonnes/hectare…if you are comparing us to Champagne (which we happily encourage) their yields are up to 10 tonnes/ha. A hurricane forecast jump started harvest on September 17 but luckily we were not affected, and we continued the sparkling pick for four weeks with an awesome group of local pickers, many that have been with us since the beginning. During that time acids only decreased minimally in true Nova Scotia fashion and the happy result is that we have many tanks of diverse sparkling bases to create our sparkling blends – some with steely acidity, some richer with more of a citrus direction. As always, seeds were brown and lignified, physiologically ripe, and bragging rights to other sparkling wine regions We pruned other blocks for Estate L'Acadie and picked ripe golden sun exposed grapes before Thanksgiving and either crushed for skin contact, or pressed whole cluster for a Tidal Bay blend, our first! The blend will be about 15% Seyval from one of our growers in Falmouth on heavier soils. Appassimento techniques for a small amount of red continue in the cellar and we expect to finish pressing this week. Yields were low in the Leon Millot block and birds outsmarted our netting - wish we had more. Be prepared to be wowed with Nova Scotia 2020 reds, released in a couple of years. It was a pleasure to have an intern from the NSCC Cool Climate Wine and Viticulture program with us for vintage -she helped with small lots, did most of the lab work and press loading and emptying. Very passionate about wine and a keen learner...expect to see more of her in our industry in the future.
Vineyard activities will continue into December with Caitlin busy rock picking and hilling the lower blocks, turning the soil under the L'Acadie and starting to prune. You might have noticed us renewing our cover crop if you visited this year. Timothy was chosen for its shallow roots and compatibility, and we will continue planting it every other row in the spring. Organic principles are to avoid bare soil for extended periods and cover crops are significant. Vegan agriculture is a part of our certified organic ethos and excludes all commercial livestock, harming of animals and inputs of animal origin. Stay tuned for more blogs about that!

The grapevines that grow at L'Acadie Vineyards would tell you that they've had to work hard to get where they are today and that they are extremely proud of the flavours that they extract from the warm, dry, rocky, sometimes inhospitable conditions that they grew up in. Now in their 15th year their roots reach over a metre deep and the deeper they go the more minerals, flavours and water they can access that give our Estate wines their unique character. Helping them along the way is a complex ecosystem of fungi, worms and bacteria that our organic practices have been carefully managing and nurturing. It is this link between terroir and organics that the best wines of the world are based on.
We chose our site for the rocks back in 2004. I had been making traditional method sparkling in Okanagan for years, and before that in Ontario, California and Australia, and we were looking for a site to produce the first sparkling wine for Nova Scotia. And we wanted to do it organically after my head was turned, and my path changed, at Summerhill Pyramid winery in Kelowna, an organic winery. As head winemaker, I saw the better flavours from grapes farmed organically, after many years working with conventional grapes. Our Nova Scotia vineyard search started in the 90's on working vacations returning to Pauline's home province of 9 generations. The Annapolis Valley was the focus with it's climate moderated by the Bay of Fundy, and the Gaspereau Valley sub-appellation was intriguing for both it's proximity to the bay, and shelter with the Wolfville ridge. The mantra at the time was "south slope, south slope…" but we found a ribbon of ancient seabed along the base of the south mountain, facing north west, that was calling to us. The south-facing other side of the valley had clay loam, typical for Nova Scotia, but I thought a better soil for sparkling was rocky and well drained, making it warmer in the spring and mineral rich from the fractured schist and sandstone deposits. Another plus was that the property had been fallow for decades, used for grazing horses, and we could skip the usual three year transition to be certified organic.
Plants weren't always on land -their origins are in the sea being bathed in nutrients constantly, a nice gig. When they made their hardy evolutionary step to land they had to form an alliance with soil organisms to survive, a symbiosis. In exchange for a small amount of nutritious sap, the organisms living around their roots help them breakdown and make all sorts of nutrients and minerals available to the vines. But these microbes are delicate and the rise of pesticide-focused agriculture in the 1950's reduced their populations significantly. The result is dead soil where the plants have to be fed fertilizers directly… an old adage in organic farming, "in organics you feed the soil, in conventional farming you feed the plant" But with this conventional approach the vines are also unable to extract flavour from the soil, resulting in wines with less terroir flavours, less sense of place, less soul.
We have farmed our site organically from inception, largely to promote a living soil for better terroir flavours. We planted with cuttings propagated in an organic mixture of peat moss, alfalfa and lime, and to decrease weed competition, used a dead mulch of wood shavings and later a living mulch of clover under the vines. Composts teas are brewed in our 300 litre brew tank with composted pomace from the winery, managed with aeration to encourage a fungal-dominant compost. An organic inspector once told me that they were convinced that compost tea and kelp foliars are all a plant needs to thrive in a living soil, by both stimulating growth and encouraging a healthy soil. Foliar teas also help disease control by crowding out opportunistic disease organisms on the leaves and clusters with beneficial organisms. Our recent participation in a three year provincial Terroir Study helped us understand more about our soil- prompting us to renew our cover crop of fescue with cultivation. Benefits are aeration and nutrient release and we are investigating new cover crops to match our terroir. Further studies with several universities are qualifying the types of organisms present in our soil, on our leaves and clusters, and in our wild ferments.
There are transitions to organics happening around the wine world, recently from British Columbia's gigantic Mission Hill and their growing list of winery holdings, and large French wineries such as Roederer. A quote from their winemaker about the iconic, and expensive, champagne Cristal, " At that price, I just don't feel comfortable not being organic." The organic practices at L'Acadie Vineyards encourage the terroir signature of our estate – minerality and slight saline flavours from schist and sandstone, and I am confident that future generations of our family will be producing estate wines such as Prestige Brut Estate and Estate L'Acadie with those flavours for years to come.

Making sparkling wines on the fringe of possibility has its rewards and risks. On the positive side of the equation is world class sparkling wine with ripe grapes at enviable acid levels and moderate sugars. We are right on the cusp of not being able to do what we do, but grapes seem to react to the stresses and reward us with our signature cool climate flavours. It's been 15 years since planting our estate vineyard with L'Acadie blanc and we have seen remarkable adaptation and resilience to the rigours of a cool climate. And those risks are many – winter damage if temperatures dip below-20C , frosts on either end of the growing season and attaining enough heat units to ripen in our short growing season.
But is our region being affected by global warming? Is it getting easier? That's a question posed to me recently by a wine writer. My answer: A guarded yes. Yes, when you look at how our climate has warmed over the last 50 years when research scientists at Agriculture Canada in Kentville determined it was too cold in Nova Scotia to support a wine industry. And yes, to the possibilities of vinifera growing here. But our region's cooler personality can still rear it's ugly head, like the 2018 spring frost, or described by many as a spring freeze. Temperatures dropped to -2.8C at our estate on June 4 and damaged 80% of our young primary shoots. This was a first for the region's relatively young grape industry and affected some crops levels severely. We had a second bud burst in late June and those secondary shoots made up for lost time and showed remarkable growth, racing to achieve flowering and verasion at the historical benchmarks and ripening grapes for sparkling wine. An amazing adaptation to a 120 day season compared to our normal 180 frost free days. Crop levels were low, which was beneficial for future growth considering the stresses that the vines endured. We had to adjust distribution for our small production of 2018 still wines and NSLC was accommodating to allow us to restrict their shelf space for a year, so that we could sell direct.
So should we expect more fluctuations in weather, more extreme events? Is that the compromise to the benefits of a warming trend? A look at historical harvest information for sparkling – dates, sugars, acids, is an interesting exercise to see the effects. Champagne has heaps of data for this type of analysis and they have shown that harvest dates have been getting earlier to achieve optimal balance of moderate sugars and enough acidity in their warming climate. I experienced this when I was making sparkling in BC's Okanagan Valley where the sugar accumulation outpaced ripening in +35C heat and I had to pick before sugars were too high and acid dropped out. But unripe grapes are not ideal for quality sparkling wine and just picking earlier in not always the answer. We've had enviable ripeness at our estate for 10 years, including last year. The seeds are lignified, brown, and there are ripe flavours. And harvest dates don't seem to be trending earlier significantly, as shown in the 10-year harvest record below. And not major fluctuations either. It's a small sample set compared to Champagne's 100+ years of data, but significant for our emerging region. Hopefully these enviable quality indicators will continue for many future vintages, in our "cooler climate".