L'Acadie Vineyards Blog
Welcome to the L'Acadie Vineyards blog and winery news

A new report from the Canadian Centre for Substance Use and Addiction has found that any more than two drinks a week is a health risk. This is sharply reduced from the past 10-15 drinks per week guideline.
https://www.cbc.ca/news/health/alcohol-cancer-risk-warning-1.6715769
https://www.theglobeandmail.com/canada/article-one-of-the-sociologists-behind-the-new-drinking-guidelines-explains/
This could lead to mandatory alcohol warnings on wine bottle labels, a good step towards transparency, and has me thinking of other label declarations that would benefit consumers.
I welcome transparency much like we are transparent with our certified organic wine and vegan wine traceability. Consumers have a right to know where their food is from, how it was produced and, yes, health risks involved. The responsibility has always been on organic producers to prove their integrity with inspections and audits, but shouldn't non-organic farmers be required to provide a list of carcinogenic pesticides like Round-up, a widely used herbicide, recognized by WHO (World Health Organization) as a probable carcinogen. I have worked for large wineries and was always amazed seeing the same pesticides used in the vineyard always show up on the pesticide analysis of bottled wine.
Another level of transparency for consumers in GMO labelling. Genetically modified food does not have to be declared on labels in Canada or the USA, but are required in EU.
Will this new alcohol consumption report and possible label warnings affect wine sales? Wine is different than other alcoholic beverages and it's possible that its alignment with food, lifestyle and moderation might give it more resilience. Nova Scotia wines in particular have lower alcohols than warmer wine regions – Tidal Bay, the region's signature white blend, must be less that 11.0 % alcohol.
Give consumers information they need and let them make wise choices.

Research on microbial terroir and its impact on wine flavour
~a collaboration with Saint Mary's University on indigenous microbe populations in our Gaspereau estate vineyard and the resulting flavour of our Pet Nat and other organic wines
SMU Clarissa Sit V2 from Saint Mary's University on Vimeo.
More blogs about our certified organic vegan vineyard: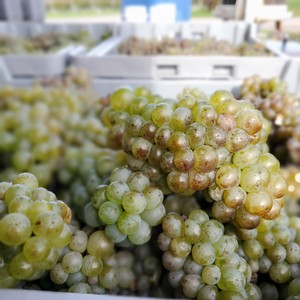 Vintage 2022 is now complete and amid these record-breaking warm November temperatures it is time to reflect on how climate change is affecting our wine region and our Gaspereau winery. But first, let's compare another wine region, the Okanagan Valley in British Columbia.
I made sparkling wine in the Okanagan as head winemaker at See You Later Ranch winery and then Summerhill Pyramid winery for eight years before we moved back to Nova Scotia in 2004. It's hot there. Quite often 40C hot. I had to make many compromises to produce sparkling wine in that heat, quite often having to pick grapes early to avoid too much sugar accumulation, to not have boozy alcoholic base wines. But the problem was the flavours weren't always there yet – the seeds were green.
We moved to Nova Scotia to eventually release the province's first traditional method sparkling wines and I felt like we had found sparkling paradise. Compromises were in my rear-view window – I bragged to my winemaking friends in BC about the moderate sugar levels, acid retention and perfectly ripe grapes, with lignified brown seeds. These are ideal conditions for a world-class sparkling region!
There is a warming trend in Nova Scotia, especially since 2020, and we have been watching grape acidity levels more closely and harvesting earlier for perfect freshness. Vintage 2022 was the warmest season in three years and we picked early, in September, but it's important to note that our characteristic flavours from our unique terroir didn't change. A potential impact with a shorter growing season that we are not seeing yet.
Other Effects
Other effects of climate change in our wine region can be viewed as negative, and sometimes cautiously positive. Hurricanes can damage fragile grapevine shoots and even break trellis posts, especially is they occur when there is full foliage acting like a sail in the wind. Droughts can cause vine stress for our non-irrigated farming systems. Extreme weather is scary. Milder winters can allow more insects to survive, and there are new vineyard pests on our doorstep that could flourish.
It is hard to pull benefits from global warming, but milder winters and more heat units in the growing season could allow Nova Scotia to grow more sensitive grape varieties such as Chardonnay.
So How Can We Adapt?
We planted Chardonnay, Pinot Noir and Sauvignon blanc in 2019 on our Gaspereau Valley estate, and made sure to use drought resistant root stocks as much as possible. These are planned for sparkling wine styles with expected higher acidity retention, and wouldn't it be great to produce a racy Sancerre-style still wine in the warm years.
We invested in a very ambitious charmat sparkling project in 2019 and after pandemic-related delays with equipment delivery from Italy we released Joie de Vivre in 2021. It complements our iconic traditional method sparkling line-up with an earlier-release, fruitier sparkling wine. Very popular. And adaptable to future warmer growing seasons.
Certified organic production, and now also certified Biocyclic Vegan from soil to glass, gives us more resilience to drought and pest pressures. Our practices of encouraging living soils with high fungal composted grape pomace, coupled with cover crops to keep carbon in the soil and encouraging biodiversity sets up a favourable environment for extreme weather. In this way, we are also doing our part to not add to global warming by producing organic wines and vegan wines.

Making Compost Tea
Compost tea is an important part of our veganic practices, for organic and Biocyclic Vegan wine. Here is a little video.
we compost our grape pomace, no animal manures
Benefits: manage our living soil=better terroir flavours in wine, better disease resistance, micronutrients that activate positive plant responses
For more videos on winemaking and grape growing, see our winemaker's Youtube channel Professor Bubbly

New Releases and a Word from our Winemaker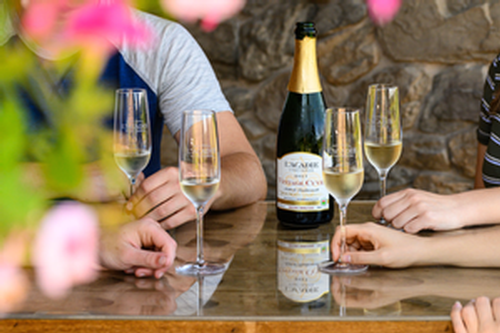 Wineshop and Tastings
Welcome to a new season of local wine! We are excited to greet visitors again with our award winning sparkling and still wines!! Certified organic and vegan, from soil to glass!!
Our open-air tastings and tours are by appointment again this year to ensure COVID-safe and intimate experiences. Masks are required in the wineshop.
Hours: Monday-Saturday 10:30-5pm, Sundays 12-4pm
New Releases
2021 Tidal Bay - we join other wineries of Nova Scotia in presenting our style of Tidal Bay: crisp and dry with enhanced minerality from our rocky ancient seabed terroir. Certified organic and Biocyclic Vegan wine, from soil to glass. Have a vertical tasting at home while our library of 2020 Tidal Bay lasts!
2021 Rose - all of our 2021 vintage wines have the Biocyclic Vegan certifying logo on the label. This year's organic vegan Rose is dry with strawberry and lime aromas.
2021 Star - It's back! We haven't released Star for several years, and many will remember this past award-winning white wine. Rich and weighty from skin contact of the ripest vegan and organic grapes from 2021. Winery and website exclusive
2020 Joie de Vivre - our newest sparkling wine, charmat method! A huge crowd pleaser and perfect for spring entertaining with many vegan food pairing options such as fresh salads and cold pasta dishes.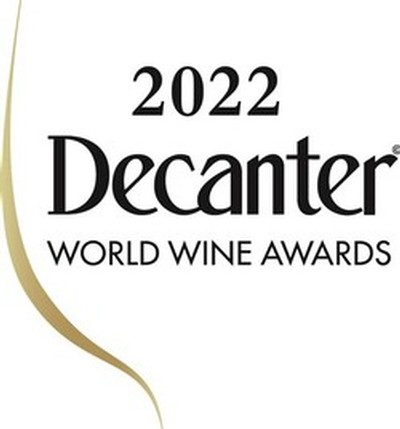 2015 Prestige Brut Estate wins Bronze at Decanter World Wine Awards 2022
We are pleased that our 2015 Prestige Brut Estate earned a bronze and 88 points at the 2022 Decanter World Wine Awards held in London, England. Scoring in the top 15 sparkling wines in Canada at this prestigious wine competition, this is the third vintage in a row for our certified organic and vegan Prestige Brut Estate to be awarded. Grapes are from the same block of our organic and vegan estate vineyard planted with L'Acadie blanc in 2006 on ancient seabed soil of schist, sandstone and slate gravels.
Wine club members have been getting first bottles and expected full release will be July 2022 at the winery.
"We bought our 30 acres of paradise in Gaspereau back in 2004 inspired by the soil and location potential for sparkling wine. It is so satisfying to earn international awards for our sparkling wines that are rooted over a metre deep into organic living soil.", Bruce Ewert, co-owner and winemaker L'Acadie Vineyards.
A Word from our Winemaker Bruce Ewert
I would like to share with you why retail prices have increased on our wines. The primary reason for this increase is because of the $0.52 per bottle excise tax imposed by the federal government going into effect on July 1. This tax is the result of an Australian government trade challenge on the wine industry's previous exemption that the Canadian government was unable to successfully defend. There are also mandatory price increases by NSLC for our listed wines that affect all retail locations.
On a positive ending note, the 2022 growing season is going well and the vines are starting to flower - you can smell it!. Our viticulture team has been working hard removing suckers from the trunks, controlling weeds with a tractor-mounted grape hoe, and tying canes.
Local ~ Organic ~ Vegan ~ Excellence
.----------------------------------------------------------------------------------------

Both names start with "bio" and there are other similarities, but Biodynamic and Biocyclic Vegan practices diverge when it comes to animal use.
Our winery in Gaspereau, Nova Scotia is certified Organic, grape growing and winemaking, and recently also certified Biocyclic Vegan from soil to glass. Our reasons for following these standards are that organic vegan wine is good for the planet, animals and people. Most people are familiar with Organic farming but may not have heard of Biocyclic Vegan or Biodynamic farming. Let's compare all three.
Pesticides
There are many pesticides allowed for grapes, surface and internal acting. Grapes are listed as one of the dirty dozen, a list of heavily sprayed fruits and vegetables published by the Environmental Working Group. Hybrid grapes are fairly disease-resistant but more and more disease-susceptible vinifera grapevines are planted in Nova Scotia every year. Organic production follows the Canadian Organic Standard, the practice of producing food without synthetic pesticides, herbicides or genetically modified organisms (GMO), and certified organic is required to be able to certify your winery to Biodynamic or Biocyclic Vegan Standards.
Living Soil and Fertilizer
All three practices promote healthy microbial life in the soil. The concept is that the farmer manages the soil so that it can provide for the vine, rather than the conventional approach of feeding the vine directly with synthetic fertilizers. Biocyclic Vegan and Biodynamic farming both rely on enriching cover crops between the rows to hold carbon (regenerative agriculture) and to transfer atmospheric nitrogen to the soil. Compost teas, either plant residue or animal manure-based, are used to grow beneficial organisms to increase and stimulate life in the soil and on the vine. This is the first diverging practice - Biocyclic Vegan prohibits anything from animals so only plant residue teas are allowed such as composted grape pomace and there is a reliance on cyclical humus management with composted plant material. A second difference is the spiritual approach of Biodynamic - planting by calendar and using preparations such as burying cow horns filled with manure.
Biodiversity
All three practices promote harmony with nature. They support ecological protection and animal welfare, and the Biocyclic Vegan approach goes further by excluding all animals, both working animals and inputs from them, recognizing that there are deep ethical considerations. Biodiversity practices that follow this ethos strive for a higher level of harmony than Organic. Biodynamic has animal use required and takes into account the rhythms of nature with a more spiritual approach.
Both Biocyclic Vegan and Biodynamic have human development at their core, nuturing the social and economic development of people.
Winemaking
Organic winemaking is the logical final step to shepherd a wine to the bottle. The Canada Organic Standard has a limited list of natural and non-GMO additives that are allowed and the resulting organic logo on the bottle signifies traceability and third party inspections to give consumers confidence. If the wine is not certified organic with the logo on the label, the grapes can be from conventional sources, even if the winery estate vineyard is certified organic. Both Biocyclic Vegan wine and Biodynamic wine have their own additional logo and the same disconnect in traceability happens if they are not on the label. The major difference for the Biocyclic Vegan Standard is that it prohibits all animal inputs in winemaking, which can include gelatin and egg whites.


Environmental
This is where the divide widens considerably in Biocyclic Vegan's favour. By prohibiting all animal inputs, it is not supporting the well documented global warming impact of the livestock industry. Biodynamic farming has animal use as its foundation with manures and preparations using animal organs, but has non-intensive and lower yielding requirements to lessen its environmental impact.
A final note. Our reasons for choosing the Biocyclic Vegan approach from "soil to glass" are rooted in a love for all living beings. As we grow our winery and inspire others, it is important to be informed and know that we all can make a difference.
"When you know better, you do better" ~ Maya Angelou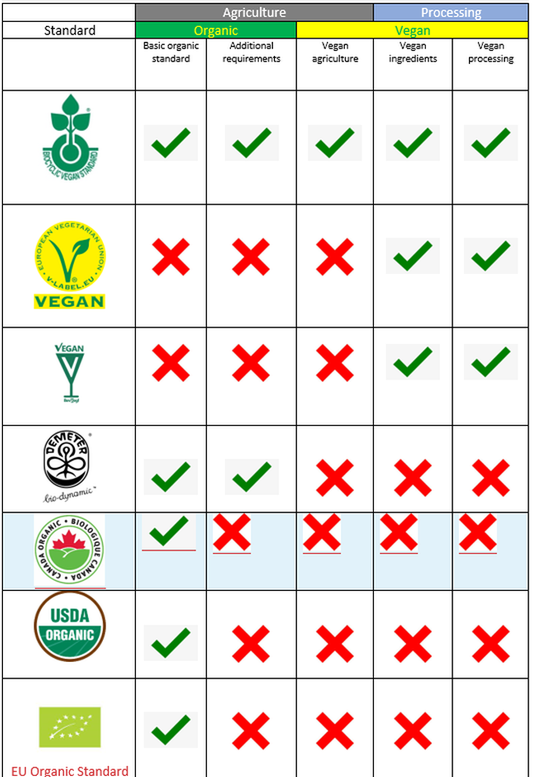 The cycle of a winemaker's year is very apparent in the non-winter months with bottling and opening wineshops in the spring, grape growing in the summer, and harvest and vintage in the fall. But what does a winemaker do in the winter? It's more than you think,

Yes, winemaker activity closely follows the cycle of the vine, illustrated above from an article by Wine & Spirit Education Trust. But a winemaker is definitely not dormant like the vine in winter. Here are typical activities that keep me busy in January, February and March.
January
Fermentation – most ferments are finished by December but we quite often have several wines still popping away in January. The old saying is you need to know more to do less and shepherding the wines to their potential means lots of monitoring!
Filtration – we use a cellulose pad filter to clarify wines and those finished cloudy, yeasty ferments get ample time to settle before we progressively filter them to finer and finer levels.
Bentonite – a natural clay called bentonite helps clarify and protein stabilize wines. It is an important part of making vegan wine. Each wine has a bench trial in the lab to determine its individual bentonite requirement before it is added in the cellar.
Blend Trials – harvest and vintage is a very busy time in the cellar and we try keep as many options open as possible so that we can measure, taste, calculate and blend (repeat) later. It starts in December when we have the most family palates available to give opinions on sparkling blends, Tidal Bay and many other blends. We usually submit a tank sample for the Tidal Bay taste panel in January. And order our sparkling bottles from France.
Excise and other compliance requirements – count, count, count: inventories of tiraged sparkling, bulk tanks and finished wines and tonnage from previous year for Excise, NSLC and NS Agriculture reports. These reports become an important part of traceability audits for our certified organic wine inspections. Many permits are due for renewal this month.
February
This is the time of year when Mother Nature gives Nova Scotia a full-on winter. The influential "warm" Bay of Fundy gets chilled to 5-6C and we feel it. Our vineyard manager and crew start pruning our Gaspereau vineyard on the best days, and tanks and barrels of wine in the cellar chill naturally.
Wine Shows – luckily wine trade understands the cycle of a winemaker and many festivals, trade shows and educational symposiums are scheduled in February. We went to the Vancouver Wine Festival three years in a row before the pandemic, my home province.
Packaging – planning, and ordering, labels, closures, cartons, shippers. We start bottling new vintage wines in April.
Disgorging – even if we disgorge traditional method sparkling every week in November/December we usually need to do it again in February for orders. And for wine competitions, especially international.
March
Wineshop and Tasting Room – start hiring and planning for the season opening of our wineshop, wine tastings and wine tours. This always seems to come early, and as the shoulder season gets busier in our emerging wine region perhaps late April opening will be normal in the future.
Organic and Biocyclic Vegan certification renewal – we submit our plans for the whole year of winemaking and viticulture activities and inputs. It is a lot of work by myself and our vineyard manager as we reflect on the past year's successes and areas for improvements. We follow the plan all season, document everything and get inspected in the fall.
Online Store and Wine Clubs – we open our online store and ship across Canada weather permitting. We start planning allotments for wine club members – three shipments/year, May, August and November.
Bottle Charmat Method sparkling – this is new for our winery and the cycles of sparkling production in our two specialized charmat tanks include a March bottling after sitting on its yeast lees for 3-4 months.

2019 was an excellent year for sparkling wine! It was a wet cool growing season with low heat units (960 compared to usually 1100), a delayed budbreak for 18 days, and further aggravated by Hurricane Dorian in September which snapped several end posts but left the vineyard relatively unscathed. Thankfully a long frost-free fall fully ripened grapes for sparkling. We didn't make any red wines in 2019, and instead dried grapes (appassimento) for a new vintage of Soleil, a recioto sweet red dessert wine dried to 40 Brix releasing in November 2021.
As we release new 2019 sparklings from our Gaspereau winery tirage cellar, you will be continually amazed at the quality, freshness and focus of these wines. There is richness, pillows of richness, embracing an often steely acidity that finishes well beyond 10 "steamboats" (playground tag football term). Dosage levels are slightly higher than usual to balance acidity, and Rose Brut was encouraged through malolactic fermentation to soften acidity. These are wines that are expected to age very well on the cork, but as our customary approach, we encourage enjoyment of fresh, recently disgorged offerings from us direct.
Enjoy these gifts from an excellent growing season for sparkling wine, Nova Scotia's signature style to the world! ~be
Release schedule:
2019 Joie de Vivre - a new charmat method sparkling released in August 2021
2019 Sparkling Rose - August 2021
2019 Vintage Cuvee - November 2021
2019 Rose Brut - Club Exclusive November 2021. General release January 2022
2019 Vintage Cuvee Rose - November 2021

The real beauty of our Gaspereau winery is not only the incredible valley views but also what you don't see. Here are several unseen underground assets that are a part of our sustainable, natural and environmentally-friendly ethos, and could make your wine tastings or wine tours even more special!
Geothermal Cooling, Heating and Hot Water
Summer temperatures are off the charts and we are very thankful for our winery geothermal heating and cooling system that we installed when we built in 2007. As you drive into our parking lot you might not know that deep below you is a network of coils that keeps us warm in winter and cool in summer, and give us hot water. In summer, the heat pump moves heat from the winery, wineshop and tasting room to dissipate 6 feet underground - very efficient cooling using a fraction of power compared to other methods.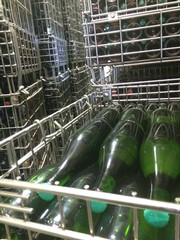 Tirage Cellar
Our tirage cellar for aging sparkling wine is half underground to keep a more constant temperature, critical for our internationally awarded wine quality. Energy efficient construction is also highlighted with insulated concrete form walls, north orientation and an infrared reflecting roof.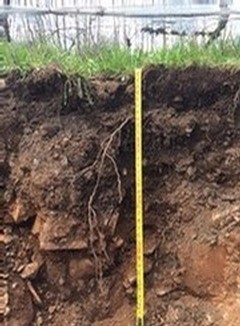 Living Soils
Encouraging a living soil around our vine roots is our main farming goal. Our organic vineyard is grown without conventional pesticides, with natural fertilizers to preserve the ecosystem. Biodiversity is our life blood and organisms live symbiotically with the vine helping it absorb nutrients and, perhaps even more intriguing, extract terroir flavours from schist, slate well-drained soil.


Have you tasted terroir? A true sense of place in the glass is a moment you rarely forget. It's a moment of re-establishing connections to the earth, of tasting the relationships of the soil origin, microclimate, microorganisms, and grape variety.
However, wine trends are moving away from terroir. It happened in California's celebrated wine regions decades ago -a movement towards a beverage concept where terroir is over-shadowed by winemaking manipulation, blending for uniformity, marketing/packaging and chasing styles that 90+ point wine critics preferred.
We at L'Acadie Vineyards have embraced terroir and will not let go! Our practices of organic farming encourage living soils and microbial terroir shines in our Pet Nats and Orange wines, all estate grapes. Also try our new release 2020 Estate L'Acadie and 2014 Prestige Brut Estate. Flavours of the schist and slate well-drained soil are dominant with slight saline from an ancient seabed origin. I invite you to taste our vineyard. Our Gaspereau winery has wine tours and wine tastings daily - book an appointment.