L'Acadie Vineyards Blog
Welcome to the L'Acadie Vineyards blog and winery news

Vineyard Update - February 4 Polar Vortex Impact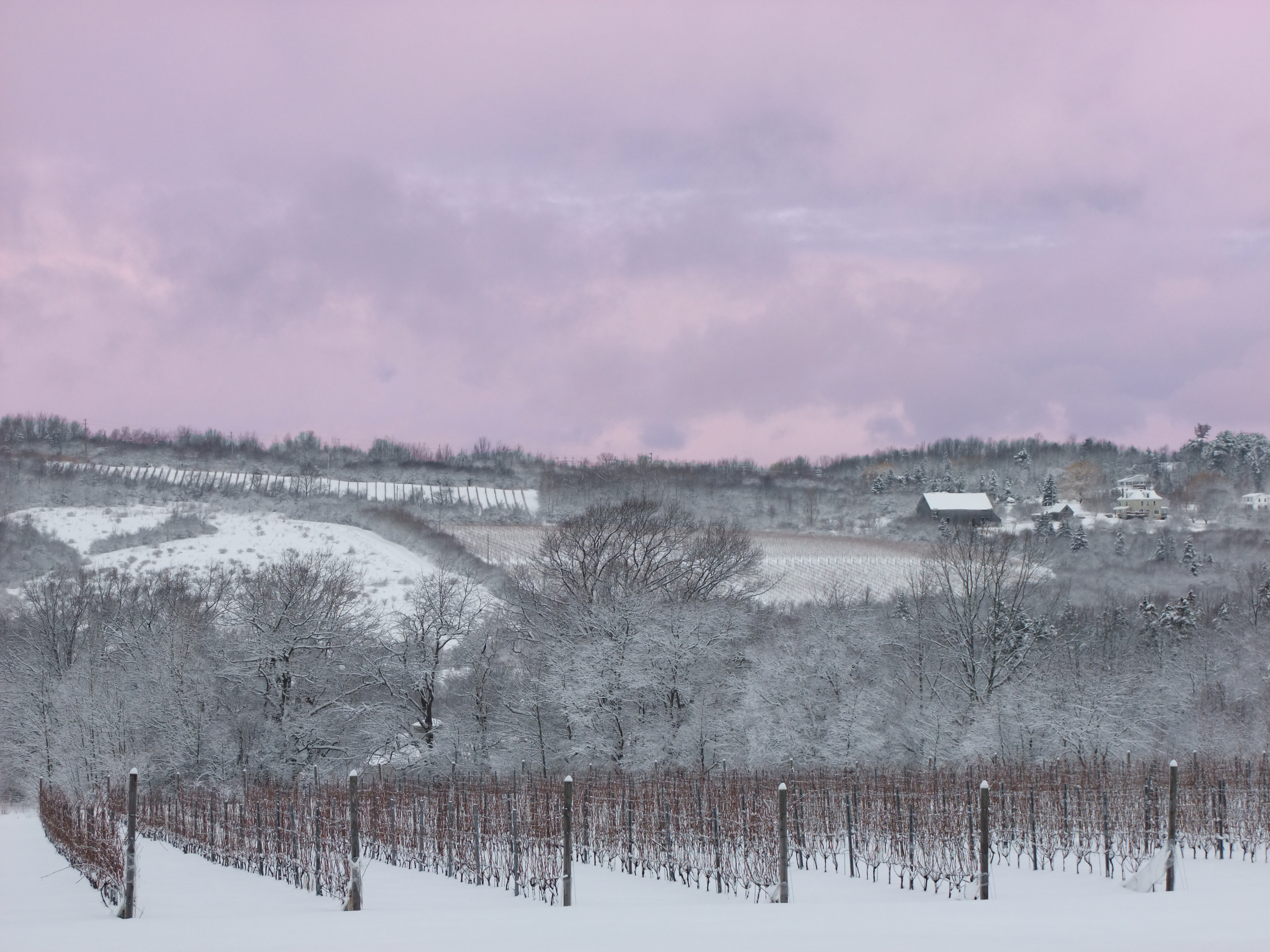 On February 4 and 5 our estate Gaspereau vineyard experienced a bud-damaging cold temperature of -25C. We are still assessing the impact of the polar vortex event but preliminary bud viability analysis is indicating about 65% bud loss in our L'Acadie blocks. We haven't assessed Chardonnay, Sauvignon blanc and Pinot Noir yet but have heard from our industry that vinifera vines were hardest hit and that it might take years for recovery. Minimum temperature and bud loss at our Gaspereau Valley location seems to be similar to other vineyards in Annapolis Valley and we are plugged into information and guidance from our Nova Scotia Grape Growers Association and researchers at the Kentville Research Centre and Perennia.
Why is there so much impact?
It is being described as a "perfect storm" for severe crop damage mainly due to the unseasonal warm January that prevented vines from reaching their normal bud hardiness. The weather event was an advective freeze with winds preventing inversion or radiative warm air. Snow cover was not enough to give any blanketing insulation effects but the hilled soil over the trunks of our vinifera vines hopefully protected them from severe trunk damage.
What is the impact on our wine production?
We are adjusting our pruning to leave more canes and buds which will hopefully give us a reasonable 2023 crop. After the 2018 spring frost, our L'Acadie blocks adjusted to the shorter growing season to ripen a small crop, and we hope it will show its suitability to our climate again. Also, our certified organic and vegan vineyard practices should give us a measure of resilience to climate change and we may see those benefits as the growing season progresses. Climate Change and 2022 Vintage
Inventories of tiraged aging traditional method sparkling will be impacted for future releases in much the same effect as the 2018 frost. Release of 2020 Vintage Cuvee and 2020 Vintage Cuvee Rose will continue as planned for this spring.
Our 2022 Tidal Bay production is less than previous years and we will have to allocate 2023 sales accordingly. Similarly, charmat method sparkling inventories might be impacted and we may have to extend our tank sur lie aging and inventories into 2024.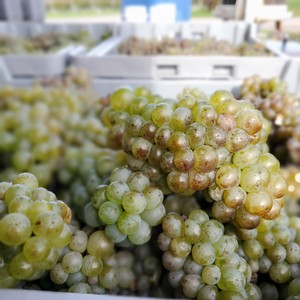 Vintage 2022 is now complete and amid these record-breaking warm November temperatures it is time to reflect on how climate change is affecting our wine region and our Gaspereau winery. But first, let's compare another wine region, the Okanagan Valley in British Columbia.
I made sparkling wine in the Okanagan as head winemaker at See You Later Ranch winery and then Summerhill Pyramid winery for eight years before we moved back to Nova Scotia in 2004. It's hot there. Quite often 40C hot. I had to make many compromises to produce sparkling wine in that heat, quite often having to pick grapes early to avoid too much sugar accumulation, to avoid boozy alcoholic base wines. But the problem was the flavours weren't always there yet – the seeds were green.
We moved to Nova Scotia to eventually release the province's first traditional method sparkling wines and I felt like we had found sparkling paradise. Compromises were in my rear-view window – I bragged to my winemaking friends in BC about the moderate sugar levels, acid retention and perfectly ripe grapes, with lignified brown seeds. These are ideal conditions for a world-class sparkling region!
There is a warming trend in Nova Scotia, especially since 2020, and we have been watching grape acidity levels more closely and harvesting earlier for perfect freshness. Vintage 2022 was the warmest season in three years and we picked early, in September, but it's important to note that our characteristic flavours from our unique terroir didn't change. A potential impact with a shorter growing season that we are not seeing yet.
Other Effects
Other effects of climate change in our wine region can be viewed as negative, and sometimes cautiously positive. Hurricanes can damage fragile grapevine shoots and even break trellis posts, especially is they occur when there is full foliage acting like a sail in the wind. Droughts can cause vine stress for our non-irrigated farming systems. Extreme weather is scary. Milder winters can allow more insects to survive, and there are new vineyard pests on our doorstep that could flourish.
It is hard to pull benefits from global warming, but milder winters and more heat units in the growing season could allow Nova Scotia to grow more sensitive grape varieties such as Chardonnay.
So How Can We Adapt?
We planted Chardonnay, Pinot Noir and Sauvignon blanc in 2019 on our Gaspereau Valley estate, and made sure to use drought resistant root stocks as much as possible. These are planned for sparkling wine styles with expected higher acidity retention, and wouldn't it be great to produce a racy Sancerre-style still wine in the warm years.
We invested in a very ambitious charmat sparkling project in 2019 and after pandemic-related delays with equipment delivery from Italy we released Joie de Vivre in 2021. It complements our iconic traditional method sparkling line-up with an earlier-release, fruitier sparkling wine. Very popular. And adaptable to future warmer growing seasons.
Certified organic production, and now also certified Biocyclic Vegan from soil to glass, gives us more resilience to drought and pest pressures. Our practices of encouraging living soils with high fungal composted grape pomace, coupled with cover crops to keep carbon in the soil and encouraging biodiversity sets up a favourable environment for extreme weather. In this way, we are also doing our part to not add to global warming by producing organic wines and vegan wines.


Both names start with "bio" and there are other similarities, but Biodynamic and Biocyclic Vegan practices diverge when it comes to animal use.
Our winery in Gaspereau, Nova Scotia is certified Organic, grape growing and winemaking, and recently also certified Biocyclic Vegan from soil to glass. Our reasons for following these standards are that organic vegan wine is good for the planet, animals and people. Most people are familiar with Organic farming but may not have heard of Biocyclic Vegan or Biodynamic farming. Let's compare all three.
Pesticides
There are many pesticides allowed for grapes, surface and internal acting. Grapes are listed as one of the dirty dozen, a list of heavily sprayed fruits and vegetables published by the Environmental Working Group. Hybrid grapes are fairly disease-resistant but more and more disease-susceptible vinifera grapevines are planted in Nova Scotia every year. Organic production follows the Canadian Organic Standard, the practice of producing food without synthetic pesticides, herbicides or genetically modified organisms (GMO), and certified organic is required to be able to certify your winery to Biodynamic or Biocyclic Vegan Standards.
Living Soil and Fertilizer
All three practices promote healthy microbial life in the soil. The concept is that the farmer manages the soil so that it can provide for the vine, rather than the conventional approach of feeding the vine directly with synthetic fertilizers. Biocyclic Vegan and Biodynamic farming both rely on enriching cover crops between the rows to hold carbon (regenerative agriculture) and to transfer atmospheric nitrogen to the soil. Compost teas, either plant residue or animal manure-based, are used to grow beneficial organisms to increase and stimulate life in the soil and on the vine. This is the first diverging practice - Biocyclic Vegan prohibits anything from animals so only plant residue teas are allowed such as composted grape pomace and there is a reliance on cyclical humus management with composted plant material. A second difference is the spiritual approach of Biodynamic - planting by calendar and using preparations such as burying cow horns filled with manure.
Biodiversity
All three practices promote harmony with nature. They support ecological protection and animal welfare, and the Biocyclic Vegan approach goes further by excluding all animals, both working animals and inputs from them, recognizing that there are deep ethical considerations. Biodiversity practices that follow this ethos strive for a higher level of harmony than Organic. Biodynamic has animal use required and takes into account the rhythms of nature with a more spiritual approach.
Both Biocyclic Vegan and Biodynamic have human development at their core, nuturing the social and economic development of people.
Winemaking
Organic winemaking is the logical final step to shepherd a wine to the bottle. The Canada Organic Standard has a limited list of natural and non-GMO additives that are allowed and the resulting organic logo on the bottle signifies traceability and third party inspections to give consumers confidence. If the wine is not certified organic with the logo on the label, the grapes can be from conventional sources, even if the winery estate vineyard is certified organic. Both Biocyclic Vegan wine and Biodynamic wine have their own additional logo and the same disconnect in traceability happens if they are not on the label. The major difference for the Biocyclic Vegan Standard is that it prohibits all animal inputs in winemaking, which can include gelatin and egg whites.


Environmental
This is where the divide widens considerably in Biocyclic Vegan's favour. By prohibiting all animal inputs, it is not supporting the well documented global warming impact of the livestock industry. Biodynamic farming has animal use as its foundation with manures and preparations using animal organs, but has non-intensive and lower yielding requirements to lessen its environmental impact.
A final note. Our reasons for choosing the Biocyclic Vegan approach from "soil to glass" are rooted in a love for all living beings. As we grow our winery and inspire others, it is important to be informed and know that we all can make a difference.
"When you know better, you do better" ~ Maya Angelou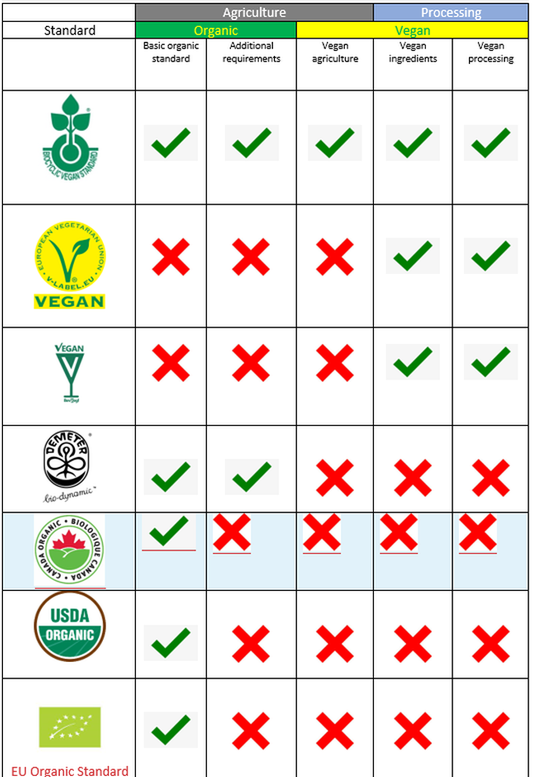 The cycle of a winemaker's year is very apparent in the non-winter months with bottling and opening wineshops in the spring, grape growing in the summer, and harvest and vintage in the fall. But what does a winemaker do in the winter? It's more than you think,

Yes, winemaker activity closely follows the cycle of the vine, illustrated above from an article by Wine & Spirit Education Trust. But a winemaker is definitely not dormant like the vine in winter. Here are typical activities that keep me busy in January, February and March.
January
Fermentation – most ferments are finished by December but we quite often have several wines still popping away in January. The old saying is you need to know more to do less and shepherding the wines to their potential means lots of monitoring!
Filtration – we use a cellulose pad filter to clarify wines and those finished cloudy, yeasty ferments get ample time to settle before we progressively filter them to finer and finer levels.
Bentonite – a natural clay called bentonite helps clarify and protein stabilize wines. It is an important part of making vegan wine. Each wine has a bench trial in the lab to determine its individual bentonite requirement before it is added in the cellar.
Blend Trials – harvest and vintage is a very busy time in the cellar and we try keep as many options open as possible so that we can measure, taste, calculate and blend (repeat) later. It starts in December when we have the most family palates available to give opinions on sparkling blends, Tidal Bay and many other blends. We usually submit a tank sample for the Tidal Bay taste panel in January. And order our sparkling bottles from France.
Excise and other compliance requirements – count, count, count: inventories of tiraged sparkling, bulk tanks and finished wines and tonnage from previous year for Excise, NSLC and NS Agriculture reports. These reports become an important part of traceability audits for our certified organic wine inspections. Many permits are due for renewal this month.
February
This is the time of year when Mother Nature gives Nova Scotia a full-on winter. The influential "warm" Bay of Fundy gets chilled to 5-6C and we feel it. Our vineyard manager and crew start pruning our Gaspereau vineyard on the best days, and tanks and barrels of wine in the cellar chill naturally.
Wine Shows – luckily wine trade understands the cycle of a winemaker and many festivals, trade shows and educational symposiums are scheduled in February. We went to the Vancouver Wine Festival three years in a row before the pandemic, my home province.
Packaging – planning, and ordering, labels, closures, cartons, shippers. We start bottling new vintage wines in April.
Disgorging – even if we disgorge traditional method sparkling every week in November/December we usually need to do it again in February for orders. And for wine competitions, especially international.
March
Wineshop and Tasting Room – start hiring and planning for the season opening of our wineshop, wine tastings and wine tours. This always seems to come early, and as the shoulder season gets busier in our emerging wine region perhaps late April opening will be normal in the future.
Organic and Biocyclic Vegan certification renewal – we submit our plans for the whole year of winemaking and viticulture activities and inputs. It is a lot of work by myself and our vineyard manager as we reflect on the past year's successes and areas for improvements. We follow the plan all season, document everything and get inspected in the fall.
Online Store and Wine Clubs – we open our online store and ship across Canada weather permitting. We start planning allotments for wine club members – three shipments/year, May, August and November.
Bottle Charmat Method sparkling – this is new for our winery and the cycles of sparkling production in our two specialized charmat tanks include a March bottling after sitting on its yeast lees for 3-4 months.

Is wine vegan? Yes, all L'Acadie Vineyards wines are vegan and organic, and we also follow vegan viticulture. So what can makes other wines not vegan? We all know that wine is grown in the vineyard, that practices and weather can play a significant role in ultimate wine quality. So let's start there.
Vineyard management varies depending on varieties, vineyard location and philosophy. Our location is deeply rooted in Gaspereau, Nova Scotia and we grow several varieties - L'Acadie blanc, Leon Millot, Chardonnay, Sauvignon Blanc and Pinot Noir. Click here for more about our terroir. The latter varieties are in the vinifera family and are more sensitive to disease so require more attention. Strategies include hilling the trunks in winter, leaf removal next to clusters and shoot positioning for air circulation, periodic sulfur applications on the leaves and plant residue teas. That brings us to philosophy, which really has two camps - conventional and organic. We have been organic since first planting our estate in 2005/2006 and our nutrient management includes beet extracts for a nitrogen source rather than animal manure. Synthetic inputs are not allowed in organic systems and these include petroleum-based fertilizers, glyphosate weed killer, and a host of systemic and contact pesticides that ultimately make it into your wine.
Winemaking is the more direct source for non-vegan inputs. The most prevalent is gelatin, derived from animal slaughtering. It is a protein fining agent that is routinely added to hard press juices to reduce the bitter tannins that were squeezed from the skins. And there are other proteins used to similarly reduce bitterness and astringency in wines - egg whites for barrel aged reds, casein (cow milk) for correcting oxidized wine, and isinglass from fish bladders. So what do we use? Bentonite is a clay that has amazing clarification and stabilization benefits, and a riddling aid to help the yeast slide down the bottle for traditional method sparkling. For tannin management, we only make reds when the season gives us ripe tannins and phenolics(don't bother looking for 2018 and 2019 vintages), and after careful maceration techniques and aging in barrels we don't need to reduce astringency.
Organic winemaking is low intervention. And as Heather Rankin at Obladee Wine bar in Halifax said it once, "You have to know a lot to do a little". So very little inputs and essentially nudging the wine along its evolution path to become what it was meant to be in the vineyard, a wine with soul and transparency. Organic certifiers audit our grape sources and all our inputs, and the Canada Organic logo on our bottles is your assurance.
Join our organic wine clubs! Click here for more information

Ferments are finishing and vintage is winding down, making this a good time to review vintage through a winemaker's lens. Vintage 2020 was a shining star in contrast to the dismal pandemic backdrop, and Nova Scotia winemakers needed it after the 2018 June frost and very cool 2019 season. A mild winter and record heat units in 2020 made it a growing season to remember, the most grapes we have had from the Estate. Many days shattered the 30C window and it was dry, but with enough well-timed rain for our established blocks of L'Acadie and Leon Millot. These 10 year old vines have worked hard over the years to extend their roots metres deep in well drained gravels of schist and sandstone, depths that show fair resistance to drought conditions. In contrast, new blocks of two year old Chardonnay, Sauvignon blanc and Pinot Noir needed irrigation almost every two weeks.
We pruned sparkling blocks to 20-24 buds/vine last winter and yields were 8 tonnes/hectare…if you are comparing us to Champagne (which we happily encourage) their yields are up to 10 tonnes/ha. A hurricane forecast jump started harvest on September 17 but luckily we were not affected, and we continued the sparkling pick for four weeks with an awesome group of local pickers, many that have been with us since the beginning. During that time acids only decreased minimally in true Nova Scotia fashion and the happy result is that we have many tanks of diverse sparkling bases to create our sparkling blends – some with steely acidity, some richer with more of a citrus direction. As always, seeds were brown and lignified, physiologically ripe, and bragging rights to other sparkling wine regions We pruned other blocks for Estate L'Acadie and picked ripe golden sun exposed grapes before Thanksgiving and either crushed for skin contact, or pressed whole cluster for a Tidal Bay blend, our first! The blend will be about 15% Seyval from one of our growers in Falmouth on heavier soils. Appassimento techniques for a small amount of red continue in the cellar and we expect to finish pressing this week. Yields were low in the Leon Millot block and birds outsmarted our netting - wish we had more. Be prepared to be wowed with Nova Scotia 2020 reds, released in a couple of years. It was a pleasure to have an intern from the NSCC Cool Climate Wine and Viticulture program with us for vintage -she helped with small lots, did most of the lab work and press loading and emptying. Very passionate about wine and a keen learner...expect to see more of her in our industry in the future.
Vineyard activities will continue into December with Caitlin busy rock picking and hilling the lower blocks, turning the soil under the L'Acadie and starting to prune. You might have noticed us renewing our cover crop if you visited this year. Timothy was chosen for its shallow roots and compatibility, and we will continue planting it every other row in the spring. Organic principles are to avoid bare soil for extended periods and cover crops are significant. Vegan agriculture is a part of our certified organic ethos and excludes all commercial livestock, harming of animals and inputs of animal origin. Stay tuned for more blogs about that!


Making sparkling wines on the fringe of possibility has its rewards and risks. On the positive side of the equation is world class sparkling wine with ripe grapes at enviable acid levels and moderate sugars. We are right on the cusp of not being able to do what we do, but grapes seem to react to the stresses and reward us with our signature cool climate flavours. It's been 15 years since planting our estate vineyard with L'Acadie blanc and we have seen remarkable adaptation and resilience to the rigours of a cool climate. And those risks are many – winter damage if temperatures dip below-20C , frosts on either end of the growing season and attaining enough heat units to ripen in our short growing season.
But is our region being affected by global warming? Is it getting easier? That's a question posed to me recently by a wine writer. My answer: A guarded yes. Yes, when you look at how our climate has warmed over the last 50 years when research scientists at Agriculture Canada in Kentville determined it was too cold in Nova Scotia to support a wine industry. And yes, to the possibilities of vinifera growing here. But our region's cooler personality can still rear it's ugly head, like the 2018 spring frost, or described by many as a spring freeze. Temperatures dropped to -2.8C at our estate on June 4 and damaged 80% of our young primary shoots. This was a first for the region's relatively young grape industry and affected some crops levels severely. We had a second bud burst in late June and those secondary shoots made up for lost time and showed remarkable growth, racing to achieve flowering and verasion at the historical benchmarks and ripening grapes for sparkling wine. An amazing adaptation to a 120 day season compared to our normal 180 frost free days. Crop levels were low, which was beneficial for future growth considering the stresses that the vines endured. We had to adjust distribution for our small production of 2018 still wines and NSLC was accommodating to allow us to restrict their shelf space for a year, so that we could sell direct.
So should we expect more fluctuations in weather, more extreme events? Is that the compromise to the benefits of a warming trend? A look at historical harvest information for sparkling – dates, sugars, acids, is an interesting exercise to see the effects. Champagne has heaps of data for this type of analysis and they have shown that harvest dates have been getting earlier to achieve optimal balance of moderate sugars and enough acidity in their warming climate. I experienced this when I was making sparkling in BC's Okanagan Valley where the sugar accumulation outpaced ripening in +35C heat and I had to pick before sugars were too high and acid dropped out. But unripe grapes are not ideal for quality sparkling wine and just picking earlier in not always the answer. We've had enviable ripeness at our estate for 10 years, including last year. The seeds are lignified, brown, and there are ripe flavours. And harvest dates don't seem to be trending earlier significantly, as shown in the 10-year harvest record below. And not major fluctuations either. It's a small sample set compared to Champagne's 100+ years of data, but significant for our emerging region. Hopefully these enviable quality indicators will continue for many future vintages, in our "cooler climate".