February 21, 2022 | Biocyclic vegan, From Our Winemaker, Organics | Bruce Ewert
Biodynamic and Biocyclic Vegan - what's the difference?
Both names start with "bio" and there are other similarities, but Biodynamic and Biocyclic Vegan practices diverge when it comes to animal use.
Our winery in Gaspereau, Nova Scotia is organic, grape growing and winemaking, and recently also certified Biocyclic Vegan from soil to glass. Our reasons for following these standards are that organic vegan wine is good for the planet, animals and people. Most people are familiar with Organic farming but may not have heard of Biocyclic Vegan or Biodynamic farming. Let's compare all three.
Pesticides
There are many pesticides allowed for grapes, surface and internal acting. Grapes are listed as one of the dirty dozen, a list of heavily sprayed fruits and vegetables published by the Environmental Working Group. Hybrid grapes are fairly disease-resistant but more and more disease-susceptible vinifera grapevines are planted in Nova Scotia every year. Organic production follows the Canadian Organic Standard, the practice of producing food without synthetic pesticides, herbicides or genetically modified organisms (GMO), and certified organic is required to be able to certify your winery to Biodynamic or Biocyclic Vegan Standards.
Living Soil and Fertilizer
All three practices promote healthy microbial life in the soil. The concept is that the farmer manages the soil so that it can provide for the vine, rather than the conventional approach of feeding the vine directly with synthetic fertilizers. Biocyclic Vegan and Biodynamic farming both rely on enriching cover crops between the rows to hold carbon (regenerative agriculture) and to transfer atmospheric nitrogen to the soil. Compost teas, either plant residue or animal manure-based, are used to grow beneficial organisms to increase and stimulate life in the soil and on the vine. This is the first diverging practice - Biocyclic Vegan prohibits anything from animals so only plant residue teas are allowed such as composted grape pomace and there is a reliance on cyclical humus management with composted plant material. A second difference is the spiritual approach of Biodynamic - planting by calendar and using preparations such as burying cow horns filled with manure.
Biodiversity
All three practices promote harmony with nature. They support ecological protection and animal welfare, and the Biocyclic Vegan approach goes further by excluding all animals, both working animals and inputs from them, recognizing that there are deep ethical considerations. Biodiversity practices that follow this ethos strive for a higher level of harmony than Organic. Biodynamic has animal use required and takes into account the rhythms of nature with a more spiritual approach.
Both Biocyclic Vegan and Biodynamic have human development at their core, nuturing the social and economic development of people.
Winemaking
Organic winemaking is the logical final step to shepherd a wine to the bottle. The Canada Organic Standard has a limited list of natural and non-GMO additives that are allowed and the resulting organic logo on the bottle signifies traceability and third party inspections to give consumers confidence. If the wine is not certified organic with the logo on the label, the grapes can be from conventional sources, even if the winery estate vineyard is certified organic. Both Biocyclic Vegan wine and Biodynamic wine have their own additional logo and the same disconnect in traceability happens if they are not on the label. The major difference for the Biocyclic Vegan Standard is that it prohibits all animal inputs in winemaking, which can include gelatin and egg whites.


Environmental
This is where the divide widens considerably in Biocyclic Vegan's favour. By prohibiting all animal inputs, it is not supporting the well documented global warming impact of the livestock industry. Biodynamic farming has animal use as its foundation with manures and preparations using animal organs, but has non-intensive and lower yielding requirements to lessen its environmental impact.
A final note. Our reasons for choosing the Biocyclic Vegan approach from "soil to glass" are rooted in a love for all living beings. As we grow our winery and inspire others, it is important to be informed and know that we all can make a difference.
"When you know better, you do better" ~ Maya Angelou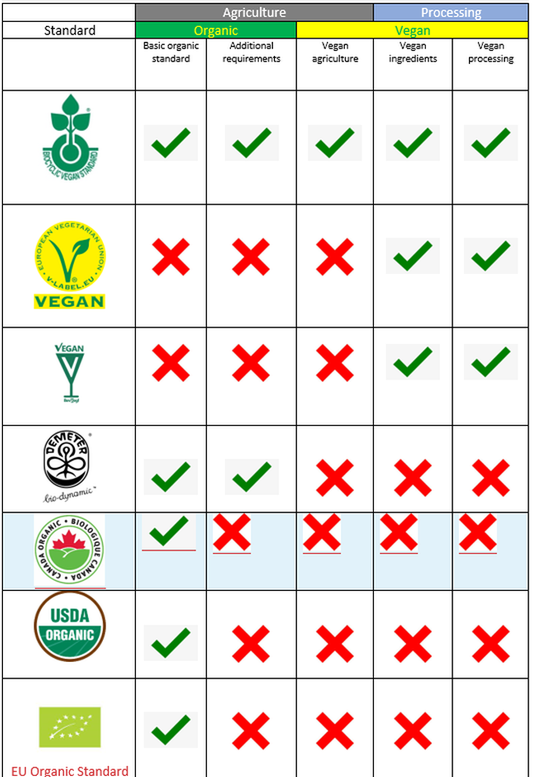 Comments
Commenting has been turned off.