August 5, 2021 | Organics | L'Acadie Vineyards
A Note from our Summer Intern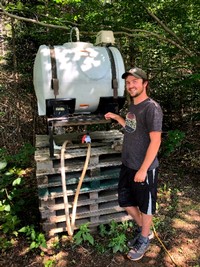 Hello, my name is Matt and I am the Clean Leadership summer intern at L'Acadie Vineyards. Throughout the summer I have learned a lot about growing and maintaining our certified organic Gaspereau vineyard, and how to preserve its natural ecology - which fits well into my recent degree in Biology from Dalhousie University.
One of the many projects I have been working on is the production of grape pomace nutrient tea. The purpose of this tea is to extract the beneficial microorganisms and micronutrients from composted grape skins (pomace) that are composted after each harvest, as well as from forest soils behind the vineyard. After steeping and aerating the mixture, we apply it to our vineyard to help crowd out potentially harmful microorganisms and pathogens with the beneficial ones in the tea. This all-natural, vegan and organic nutrient boost helps to preserve natural ecology of our vineyard including living soils and emphasizes terroir flavours in our grapes.
It has been an amazing 15 weeks here at L'Acadie Vineyards and I am very grateful that I was given the opportunity to work here this summer. I look forward to what the future brings to the Wolfville vineyard and what new and exciting projects will be implemented.
Comments
Commenting has been turned off.