L'Acadie Vineyards Blog
Welcome to the L'Acadie Vineyards blog and winery news

Honoured to receive this award from Amorim Cork, our cork supplier. A whopping 10 tonnes of carbon dioxide sequestered from our use of cork in 2022!
We are proud to give you this honor and please feel free to share with your team or customers your carbon retention number! This number has been independently validated by Pricewaterhouse Coopers and/or Ernest and Young. The findings, are the only ones to date that underwent a multi-closure comparative peer review, indicating when considering sequestration by the ecosystem made feasible by the cyclic extraction of cork, a retention capacity up to 288 grams of CO2 is associated with every natural cork stopper and as much as 562 grams with a sparkling wine stopper, in stark contrast to the CO2 emissions to each plastic stopper (up to 14.8 g/sealant) and to aluminum caps (up to 37.2 g/cap). To find out more about the sustainability studies and on going efforts Amorim is making on your behalf please visit the following link here.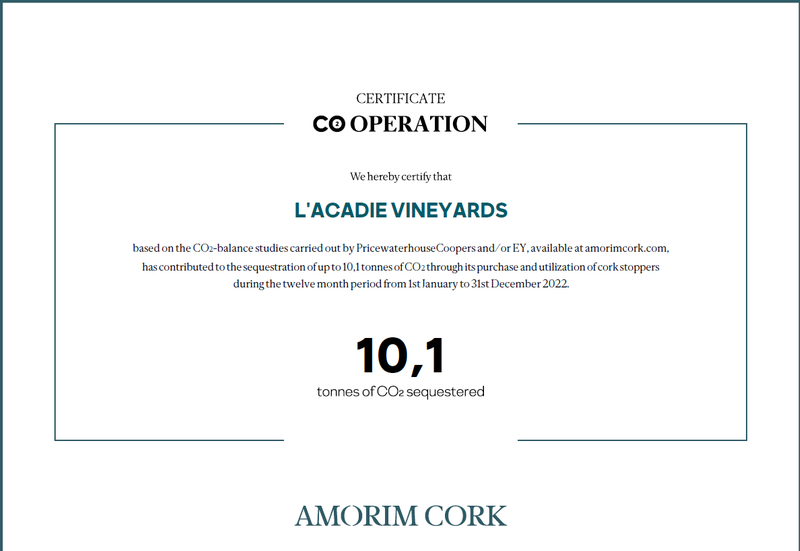 Earth Day: April 22, 2023
Atmospheric CO2: 420ppm
We all want to be part of the solution to help Mother Earth. If you were born in the 60's, atmospheric CO2 was 320ppm, now it's 420ppm. We are on the wrong path, as NASA describes in this dramatic graph.
L'Acadie Vineyards makes certified organic and vegan wines, from soil to glass, for people who care. Delicious healthful wine that you'll be proud to serve for memorable occasions knowing that you are part of the solution.
It's simple to get our wines to be a part of the solution today,
Choose our certified organic wine – look for the Canada Organic symbol on the bottle, every one of our wines has it. It means rigorous inspections, transparency and traceability
Buy at wine bars and restaurants, private wine stores, online, direct from our Gaspereau winery, and NSLC
Enjoy our delicious organic wine with friends and family along with organic food. Share your experience to amplify your impact for change.

Here is the difference you'll be making. When you purchase organic food like our certified organic vegan wine you are contributing to a greener planet.
Grapes are one of the dirty dozen – 12 fruits and vegetables that are heavily sprayed with pesticides and you can avoid those residual pesticides in your wine by buying organic.
Pesticides can contaminate groundwater and poison your community's drinking water.
Our vegan wines certified by Biocyclic Vegan International don't use animal manures in growing grapes or the many animal ingredients commonly used for winemaking. Large scale livestock farming has been proven to generate 14% of greenhouse gases.
Make a difference today. Be a part of the solution for Mother Earth and enjoy delicious wine today. We've done the hard work so it's easier for you.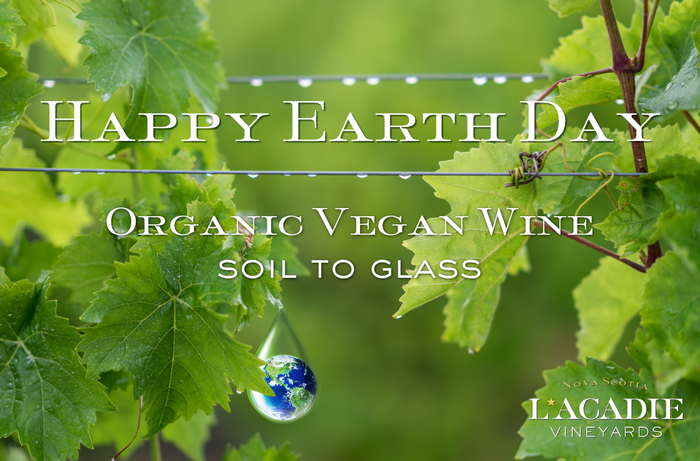 Transparency and Sustainability: the benefits of choosing certified organic and vegan wines
Welcome to our blog! We are passionate about certified organic and Biocyclic Vegan wines, and committed to sustainability and transparency in everything we do. Discover why our award-winning wines are a must-try for health-conscious wine lovers.
Ingredients
Transparency is a cornerstone of certified organic and certified Biocyclic Vegan wines, backed by rigorous inspections of grape growing and winemaking, to inform you of what is not in your wine. The Canadian Organic Standard prohibits genetically modified ingredients, synthetic pesticides and synthetic fertilizers, and the Biocyclic Vegan International Standard prohibits animal inputs in the vineyard and winemaking. This effectively eliminates many common ingredients and since nutritional information and ingredient declarations are not required for wines, certified organic vegan wines are your only guarantee of what wasn't added to them.
The certification logos on labels are your guide to choose wisely. You can also view our list of organic wines at our certifier's site,

Health
Lower alcohol in cool climate wines offers a health advantage, another benefit of buying local. Add the health benefits of organic wines and you have a winning combination! You avoid synthetic pesticide residues - yes, every spray in the vineyard makes it into your glass, and preservatives such as potassium sorbate. Sulfite is naturally occurring, produced by yeast, and organic winemakers can only adjust sulfite levels to half the maximum in federal standards.
Alcohol and Wine - new Canadian alcohol consumption recommendations
Social Change and Environment
Biocyclic Vegan standards start in the vineyard compared to other vegan certifications that just focus on winemaking. These wines are vegan from soil to glass, and not using animal manures is a clear message to oppose conventional livestock practices. Composted grape pomace, left over after pressing, is alternatively used to create a humus-rich soil teeming with beneficial microbes - a living soil that supports vine health.
Cover crops and no-till practices, a pillar of organic agriculture, promote living soils and better nutrients, and mounting information indicates that carbon-holding benefits can lessen global warming.
Water and air quality benefits from organic practices are well proven. Nanotechnology is prohibited because these engineered substances in food and packaging can add to the problems of plastics in our water systems and our health..
~~In vino veritus

Research on microbial terroir and its impact on wine flavour
~a collaboration with Saint Mary's University on indigenous microbe populations in our Gaspereau estate vineyard and the resulting flavour of our Pet Nat and other organic wines
SMU Clarissa Sit V2 from Saint Mary's University on Vimeo.
More blogs about our certified organic vegan vineyard:

Making Compost Tea
Compost tea is an important part of our veganic practices, for organic and Biocyclic Vegan wine. Here is a little video.
we compost our grape pomace, no animal manures
Benefits: manage our living soil=better terroir flavours in wine, better disease resistance, micronutrients that activate positive plant responses
For more videos on winemaking and grape growing, see our winemaker's Youtube channel Professor Bubbly


Both names start with "bio" and there are other similarities, but Biodynamic and Biocyclic Vegan practices diverge when it comes to animal use.
Our winery in Gaspereau, Nova Scotia is certified Organic, grape growing and winemaking, and recently also certified Biocyclic Vegan from soil to glass. Our reasons for following these standards are that organic vegan wine is good for the planet, animals and people. Most people are familiar with Organic farming but may not have heard of Biocyclic Vegan or Biodynamic farming. Let's compare all three.
Pesticides
There are many pesticides allowed for grapes, surface and internal acting. Grapes are listed as one of the dirty dozen, a list of heavily sprayed fruits and vegetables published by the Environmental Working Group. Hybrid grapes are fairly disease-resistant but more and more disease-susceptible vinifera grapevines are planted in Nova Scotia every year. Organic production follows the Canadian Organic Standard, the practice of producing food without synthetic pesticides, herbicides or genetically modified organisms (GMO), and certified organic is required to be able to certify your winery to Biodynamic or Biocyclic Vegan Standards.
Living Soil and Fertilizer
All three practices promote healthy microbial life in the soil. The concept is that the farmer manages the soil so that it can provide for the vine, rather than the conventional approach of feeding the vine directly with synthetic fertilizers. Biocyclic Vegan and Biodynamic farming both rely on enriching cover crops between the rows to hold carbon (regenerative agriculture) and to transfer atmospheric nitrogen to the soil. Compost teas, either plant residue or animal manure-based, are used to grow beneficial organisms to increase and stimulate life in the soil and on the vine. This is the first diverging practice - Biocyclic Vegan prohibits anything from animals so only plant residue teas are allowed such as composted grape pomace and there is a reliance on cyclical humus management with composted plant material. A second difference is the spiritual approach of Biodynamic - planting by calendar and using preparations such as burying cow horns filled with manure.
Biodiversity
All three practices promote harmony with nature. They support ecological protection and animal welfare, and the Biocyclic Vegan approach goes further by excluding all animals, both working animals and inputs from them, recognizing that there are deep ethical considerations. Biodiversity practices that follow this ethos strive for a higher level of harmony than Organic. Biodynamic has animal use required and takes into account the rhythms of nature with a more spiritual approach.
Both Biocyclic Vegan and Biodynamic have human development at their core, nuturing the social and economic development of people.
Winemaking
Organic winemaking is the logical final step to shepherd a wine to the bottle. The Canada Organic Standard has a limited list of natural and non-GMO additives that are allowed and the resulting organic logo on the bottle signifies traceability and third party inspections to give consumers confidence. If the wine is not certified organic with the logo on the label, the grapes can be from conventional sources, even if the winery estate vineyard is certified organic. Both Biocyclic Vegan wine and Biodynamic wine have their own additional logo and the same disconnect in traceability happens if they are not on the label. The major difference for the Biocyclic Vegan Standard is that it prohibits all animal inputs in winemaking, which can include gelatin and egg whites.


Environmental
This is where the divide widens considerably in Biocyclic Vegan's favour. By prohibiting all animal inputs, it is not supporting the well documented global warming impact of the livestock industry. Biodynamic farming has animal use as its foundation with manures and preparations using animal organs, but has non-intensive and lower yielding requirements to lessen its environmental impact.
A final note. Our reasons for choosing the Biocyclic Vegan approach from "soil to glass" are rooted in a love for all living beings. As we grow our winery and inspire others, it is important to be informed and know that we all can make a difference.
"When you know better, you do better" ~ Maya Angelou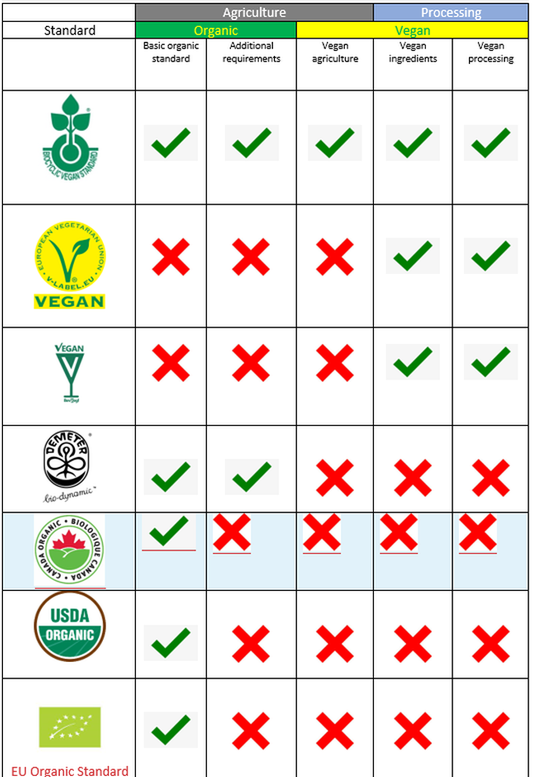 Last year, we achieved certification to the strict Biocyclic Vegan Standard based in Europe, the first farm and winery in North America. This vegan wine certification is a significant addition to our environmental stewardship, scaffolding the benefits of our certified organic status to new heights. Coupled with health benefits and animal welfare, you can see why it is so popular in Europe.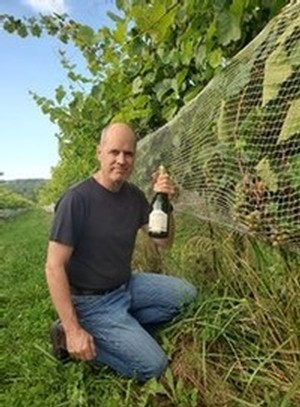 We had been looking for a certification for our vegan wines and were so happy when we found Biocyclic Vegan based out of Germany and Greece. We discovered that they certify the whole operation including the vineyard as well, and ours scored very high because of organic practices, biodiversity and not using animal inputs since 2017. The estate vineyard has been certified organic since inception, the first in Nova Scotia, and we released organic wines in 2008. Compelling reasons are better terroir flavours from living soils, healthy wines avoiding pesticide residues and, more significantly, protecting the environment from pesticides and synthetic petroleum-based fertilizers, both high carbon-generating practices. Biocyclic vegan practices raise the bar even more.

Biocyclic vegan agriculture means purely plant-based organic farming. This form of cultivation excludes all commercial livestock farming of animals and does not use any inputs of animal origin in viticulture or winemaking. Special emphasis is placed on promotion of biodiversity, healthy soil life, closure of organic cycles and on systematic humus build-up. Vegan viticulture enhances our environmental stewardship by avoiding products from the high carbon-generating livestock industry and instead using constant cover crops (also called green manure) between rows for regenerative agriculture carbon management. Composted grape pomace - stems, seeds and skins from every vintage, is significant for further sustainable management of our soil's nutrition and microbial life.
Biocyclic Vegan certification recognizes our extra sustainable efforts and care that are beyond organic, veganic, and we embrace their principles for the good of environment, animals and people.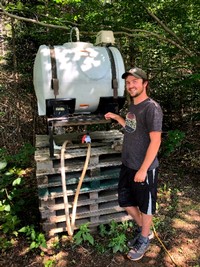 Hello, my name is Matt and I am the Clean Leadership summer intern at L'Acadie Vineyards. Throughout the summer I have learned a lot about growing and maintaining our certified organic Gaspereau vineyard, and how to preserve its natural ecology - which fits well into my recent degree in Biology from Dalhousie University.
One of the many projects I have been working on is the production of grape pomace nutrient tea. The purpose of this tea is to extract the beneficial microorganisms and micronutrients from composted grape skins (pomace) that are composted after each harvest, as well as from forest soils behind the vineyard. After steeping and aerating the mixture, we apply it to our vineyard to help crowd out potentially harmful microorganisms and pathogens with the beneficial ones in the tea. This all-natural, vegan and organic nutrient boost helps to preserve natural ecology of our vineyard including living soils and emphasizes terroir flavours in our grapes.
It has been an amazing 15 weeks here at L'Acadie Vineyards and I am very grateful that I was given the opportunity to work here this summer. I look forward to what the future brings to the Wolfville vineyard and what new and exciting projects will be implemented.

Is wine vegan? Yes, all L'Acadie Vineyards wines are vegan and organic, and we also follow vegan viticulture. So what can makes other wines not vegan? We all know that wine is grown in the vineyard, that practices and weather can play a significant role in ultimate wine quality. So let's start there.
Vineyard management varies depending on varieties, vineyard location and philosophy. Our location is deeply rooted in Gaspereau, Nova Scotia and we grow several varieties - L'Acadie blanc, Leon Millot, Chardonnay, Sauvignon Blanc and Pinot Noir. Click here for more about our terroir. The latter varieties are in the vinifera family and are more sensitive to disease so require more attention. Strategies include hilling the trunks in winter, leaf removal next to clusters and shoot positioning for air circulation, periodic sulfur applications on the leaves and plant residue teas. That brings us to philosophy, which really has two camps - conventional and organic. We have been organic since first planting our estate in 2005/2006 and our nutrient management includes beet extracts for a nitrogen source rather than animal manure. Synthetic inputs are not allowed in organic systems and these include petroleum-based fertilizers, glyphosate weed killer, and a host of systemic and contact pesticides that ultimately make it into your wine.
Winemaking is the more direct source for non-vegan inputs. The most prevalent is gelatin, derived from animal slaughtering. It is a protein fining agent that is routinely added to hard press juices to reduce the bitter tannins that were squeezed from the skins. And there are other proteins used to similarly reduce bitterness and astringency in wines - egg whites for barrel aged reds, casein (cow milk) for correcting oxidized wine, and isinglass from fish bladders. So what do we use? Bentonite is a clay that has amazing clarification and stabilization benefits, and a riddling aid to help the yeast slide down the bottle for traditional method sparkling. For tannin management, we only make reds when the season gives us ripe tannins and phenolics(don't bother looking for 2018 and 2019 vintages), and after careful maceration techniques and aging in barrels we don't need to reduce astringency.
Organic winemaking is low intervention. And as Heather Rankin at Obladee Wine bar in Halifax said it once, "You have to know a lot to do a little". So very little inputs and essentially nudging the wine along its evolution path to become what it was meant to be in the vineyard, a wine with soul and transparency. Organic certifiers audit our grape sources and all our inputs, and the Canada Organic logo on our bottles is your assurance.
Join our organic wine clubs! Click here for more information