April 12, 2023 | Organics | L'Acadie Vineyards
Earth Day- be a part of the solution
Earth Day: April 22, 2023
Atmospheric CO2: 420ppm
We all want to be part of the solution to help Mother Earth. If you were born in the 60's, atmospheric CO2 was 320ppm, now it's 420ppm. We are on the wrong path, as NASA describes in this dramatic graph.
L'Acadie Vineyards makes organic and vegan wines, from soil to glass, for people who care. Delicious healthful wine that you'll be proud to serve for memorable occasions knowing that you are part of the solution.
It's simple to get our wines to be a part of the solution today,
Choose our organic wine – look for the Canada Organic symbol on the bottle, every one of our wines has it. It means rigorous inspections, transparency and traceability
Buy at wine bars and restaurants, private wine stores, online, direct from our Gaspereau winery, and NSLC
Enjoy our delicious organic wine with friends and family along with organic food. Share your experience to amplify your impact for change.

Here is the difference you'll be making. When you purchase organic food like our organic vegan wine you are contributing to a greener planet.
Grapes are one of the dirty dozen – 12 fruits and vegetables that are heavily sprayed with pesticides and you can avoid those residual pesticides in your wine by buying organic.
Pesticides can contaminate groundwater and poison your community's drinking water.
Our vegan wines certified by Biocyclic Vegan International don't use animal manures in growing grapes or the many animal ingredients commonly used for winemaking. Large scale livestock farming has been proven to generate 14% of greenhouse gases.
Make a difference today. Be a part of the solution for Mother Earth and enjoy delicious wine today. We've done the hard work so it's easier for you.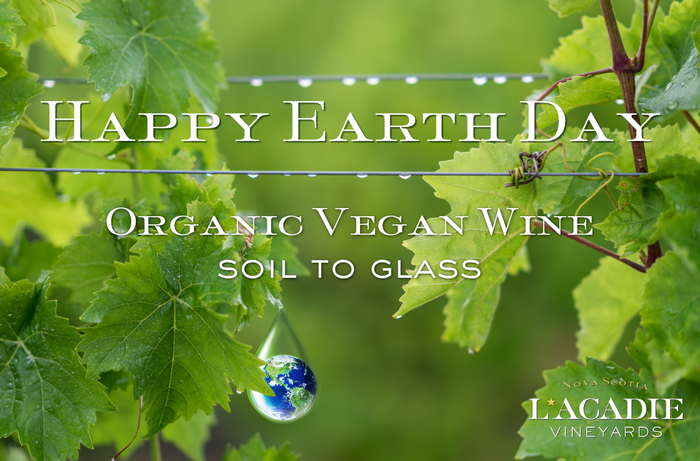 Comments
Commenting has been turned off.