L'Acadie Vineyards Blog
Welcome to the L'Acadie Vineyards blog and winery news

Introducing our 2022 Tidal Bay!
This is our third vintage of this appellation wine that eloquently showcases our province's unique ocean-influenced terroir: we chose to highlight our estate-grown L'Acadie Blanc which displays minerality & subtle saline reminiscent of the sea, thanks to our ancient sea-bed soil. Our terroir is displayed cleanly & prominently, largely due to the fact that we are organic and foster a living soil.
We are the first organic vineyard & winery in Nova Scotia and the first Biocyclic Vegan farm & winery in North America. Our Earth-friendly practices follow through from soil to glass. The first pick for this wine in September was from vines traditionally sourced for our Prestige Brut Estate, with a deeper layer of humus-rich topsoil that brings our Tidal Bay a fresh acidity & crisp citrus flavours. A later pick in October from a different vineyard block complements the freshness with richer tropical notes such as mango.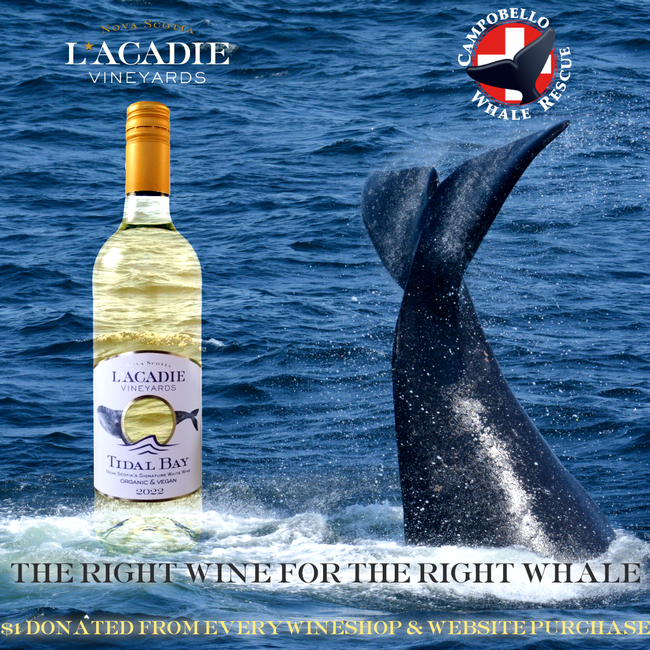 Our wine industry, and subsequently the Tidal Bay appellation, could not exist as it does without our ocean-influence from the Bay of Fundy. This year we have decided to help restore balance in our local marine ecosystem by partnering with the Canadian Whale Institute & Campobello Whale Rescue Team to help save the severely endangered North Atlantic right whale. $1 from every bottle of Tidal Bay sold in our wineshop & on our website will be donated to the Campobello Whale Rescue Team of the Canadian Whale Institute.
"The Campobello Whale Rescue Team of the Canadian Whale Institute is an organization of fishers, scientists and conservationists. They have firsthand knowledge of maritime waters, fishing gear and whale behaviour. Team members are trained in the use of specialized equipment to disentangle large whales from fishing gear, and to work with weir owners to release entrapped whales. The CWRT is licensed and permitted by Fisheries and Oceans Canada (DFO) to disentangle whales in the Maritimes, Gulf of St. Lawrence & Quebec. They work in coordination with DFO, the Marine Animal Response Society (MARS), and the Réseau Québécois d'urgences pour les mammifères marins (RQUMM) in partnership with Équipe de Desempêtrement du Golfe (EDG)."
Pick up a bottle for the weekend & enjoy a glass of wine for a good cause! Order Tidal Bay

Tips for serving traditional method and charmat sparkling wine,
Opening
Keep your hand on the cork! Release the cage with one hand and keep the other hand on the cork. Hold it and twist the bottle until you feel the pressure pushing it out. Get the perfect "pffftt" like a master sommelier, or a crowd pleasing "pop!" by letting it come out slower or faster. This video from our friends at Taste of Nova Scotia is a good primer on opening a bottle of sparkling,
Pouring
Always chill sparkling wines to fridge temperatures (4C) to enhance retention of bubbles. A flute is ideal but larger glass bowls better coax the aromas from well-aged wines like Prestige Brut Estate . Make sure the glass is clean and doesn't have soap residue. A full serving is 4 ounces (120ml) and to enhance enjoyment of aromas only fill to 1/3 to 1/2 full....and fill more often. Pro tip: tilt the glass and gently pour to preserve bubbles. No need to swirl - the bubbles will bring the toasty aromas to your nose.
Storing
Use a champagne stopper that secures onto the glass ring of the bottle, the same area that the wire cage held onto.....avoid expanding-style of stoppers - they can become rockets if too much pressure builds. Should keep for 3-5 days in fridge.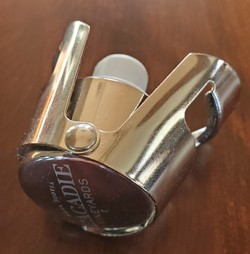 Champagne stopper available in our wineshop
Food Pairings
Many seafoods pair well with sparkling wine - "what grows together, goes together" is a favourite maritime expression. Think mussels, lobsters and oysters. But don't stop there - consider any food that has a salty component like potato chips and popcorn. Of course mild chesses are always a hit with guests, especially an assortment of soft cheeses. For curried and spicy dishes, choose our most aromatic sparklings like Rose Brut, or consider trying our traditional method cider, Duncanson Brook Cider
Visit our Recipe page for ideas such as Vegan Carbonara paired with Joie de Vivre charmat sparkling


It's Wine Club month! Our L'Acadie Club is curated by winemaker Bruce Ewert and includes these exciting organic vegan wines being shipped in November from our Gaspereau winery, many of them new releases!
New Release 2019 Vintage Cuvee
2019 Joie de Vivre - our new charmat method sparkling
New Release 2016 Alchemy - dry appassimento red wine
2017 Passito - dry ripasso method red wine
2020 Estate L'Acadie - from our signature schist and slate soils
New Release 2019 Soleil - A new vintage of this favourite recioto sweet dessert style. Grapes dried to 40 Brix.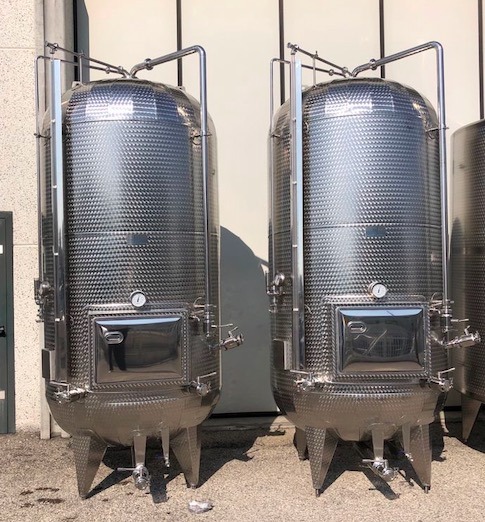 We are excited to announce that we will be releasing Joie de Vivre, a new sparkling style this summer - Charmat Method! The second fermentation will occur in specialized pressure tanks instead of traditional method sparkling bottles to produce natural bubbles the same way that Prosecco is made.
Joie de Vivre: noun [zwahduh vee-vruh] joy of living; a delight in being alive. We can all use more Joie de Vivre moments in our life and this wine embodies that philosophy, at a price that encourages more life enjoying moments!
This ambitious project has been three years in the making and answers calls from Nova Scotia restaurants, NSLC and other wine trade for a fresh early-release sparkling. Charmat method sparkling wine has a relatively brief time in tank to complete second fermentation and to keep wine fresh and fruity, compared to traditional methods of aging in bottle on its yeast lees for 2+ years. Fresh, creamy persistent natural bubbles and certified organic.
"Charmat method" will be the declared production method on front labels and assures you that it is not produced by artificial carbonation like many wines on our market. It complements our diverse Traditional Method sparkling portfolio and offers a new sparkling that is fresh, vibrant, fruity, and dry.
Charmat tanks are very specialized and our tanks are presently being shipped from the heart of the Prosecco region in Veneto, Italy, where Prosecco charmat production is famous.The project was delayed with the pandemic in hard hit northern Italy but we are thankful for their extra efforts. This specialized sparkling style requires experience and expertise, and winemaker Bruce Ewert worked with the style in Ontario early in his career.
Expected release of Joie de Vivre is June, in time for your barbecues, outdoor living and restaurant patio sipping.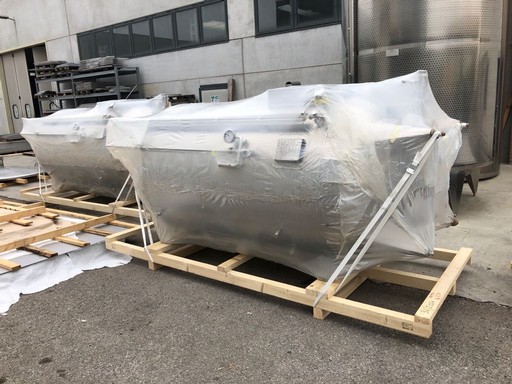 There are high hopes that the 2021 tourist season will be better than 2020. Will we have the famous Atlantic Bubble again or will it be mainly staycations within the province? We don't know, but we are planning on optimism and have many compelling reasons for you to visit our Gaspereau winery this year.
Wine tours of wineries in Nova Scotia are very popular. We are a family run organic vineyard in Gaspereau Valley and our Wolfville winery offers wine tastings, vineyard tours and even encourages visitors to bring their own picnic for food and wine pairings. We are the birthplace of traditional method sparkling wine and offer one of the most diverse sparkling wine portfolios of all the Nova Scotia vineyards and the most organic wine. Visit our wineshop and bring a bottle home to relive your day in the heart of wine country.
Wine Tasting and Tour Options – Season starts late May (date to be announced)
All tastings and tours are by appointment, Visit our website to book your tasting now: /Visit-Us
Sparkling Tasting – Four of our sparkling wines including wineshop exclusives, production methods and suggested food pairings
L'Acadie Tasting – an exploration of our diverse organic wines with three still wines and a choice of traditional method sparkling wine
A la Carte Tasting – you decide which wines that you would like to taste
Vineyard Tour – taste three focussed terroir wines while learning about our vineyard practices, organic ethos, terroir and sense of place.
Learn more about our tours and tastings on our website.
Industry partnerships are a valued component to our wine tour program and we are pleased to work with five tour companies in 2021. They also offer custom winery tours in the Wolfville area, so just ask them to include us and they will!

Is wine vegan? Yes, all L'Acadie Vineyards wines are vegan and organic, and we also follow vegan viticulture. So what can makes other wines not vegan? We all know that wine is grown in the vineyard, that practices and weather can play a significant role in ultimate wine quality. So let's start there.
Vineyard management varies depending on varieties, vineyard location and philosophy. Our location is deeply rooted in Gaspereau, Nova Scotia and we grow several varieties - L'Acadie blanc, Leon Millot, Chardonnay, Sauvignon Blanc and Pinot Noir. Click here for more about our terroir. The latter varieties are in the vinifera family and are more sensitive to disease so require more attention. Strategies include hilling the trunks in winter, leaf removal next to clusters and shoot positioning for air circulation, periodic sulfur applications on the leaves and plant residue teas. That brings us to philosophy, which really has two camps - conventional and organic. We have been organic since first planting our estate in 2005/2006 and our nutrient management includes beet extracts for a nitrogen source rather than animal manure. Synthetic inputs are not allowed in organic systems and these include petroleum-based fertilizers, glyphosate weed killer, and a host of systemic and contact pesticides that ultimately make it into your wine.
Winemaking is the more direct source for non-vegan inputs. The most prevalent is gelatin, derived from animal slaughtering. It is a protein fining agent that is routinely added to hard press juices to reduce the bitter tannins that were squeezed from the skins. And there are other proteins used to similarly reduce bitterness and astringency in wines - egg whites for barrel aged reds, casein (cow milk) for correcting oxidized wine, and isinglass from fish bladders. So what do we use? Bentonite is a clay that has amazing clarification and stabilization benefits, and a riddling aid to help the yeast slide down the bottle for traditional method sparkling. For tannin management, we only make reds when the season gives us ripe tannins and phenolics(don't bother looking for 2018 and 2019 vintages), and after careful maceration techniques and aging in barrels we don't need to reduce astringency.
Organic winemaking is low intervention. And as Heather Rankin at Obladee Wine bar in Halifax said it once, "You have to know a lot to do a little". So very little inputs and essentially nudging the wine along its evolution path to become what it was meant to be in the vineyard, a wine with soul and transparency. Organic certifiers audit our grape sources and all our inputs, and the Canada Organic logo on our bottles is your assurance.
Join our organic wine clubs! Click here for more information



Wine writers have complimented us that our labels have an "abundance of information" and we couldn't agree more. Our goal is to enlighten buyers so they can make an informed decision in a marketplace crowded with marketing names and slogans. Here are five information nuggets that you'll find on our labels:
The most important information on our label is the Canada Organic symbol and certifying inspector, Pro-Cert. There is hard work, passion and risk-taking to make a organic wine and the status tells buyers that only natural inputs were used to grow and make the wine. You can't put organic on the label or website next to a wine unless it is certified with thorough inspections that include a traceability audit to ensure only organic grapes went into the bottle.
We declare the grape varieties that go into our blends on the back label. If you want to declare a varietal on the front label, current wine standards in Nova Scotia require at least 85% of the declared variety. An example is Estate L'Acadie, which is 100% L'Acadie blanc from our estate vineyard next to the winery.
We declare the geographic area where our grapes are sourced. We have several certified organic growers that we buy grapes from, and their certificates become part of our traceability. I'm a winemaker from British Columbia, a wine region that is built on a quality standard called Vintners Quality Alliance, VQA. In the early days, the VQA bottle mark contributed greatly to consumer confidence of 100% BC grapes. Now there is further refinement with smaller geographic areas such as Okanagan Valley, Similkameen Valley, Vancouver Island and more and more areas as they define their unique terroir. We follow the same format of declaring either Annapolis Valley, Gaspereau Valley or sometimes the larger geographic area, Nova Scotia, when the two areas (and a small new grower in Cape Breton) are blended.
We add dosage, called expedition liquour in France, to our traditional method sparkling wines when we disgorge. The goal is to balance acidity and quality enhancement -think of dosage as a thread that weaves all the components of sparkling wine together. We declare it on the back label in grams per litre (g/l) and it gives the buyer an indication of sweetness. For example Brut is a designation for sparklings that are between 0-15 g/l dosage, which most of our wines fall under. Remember that if the base wine had elevated acidity, which is not uncommon in our cool climate, the corresponding dosage might be high as well, but the taste might not be perceived as sweet.
We recently added a statement on our back label, "Suitable for vegan diets", after many of our fans asked for it. This means that we do not use any animal products in our wine - a practice that we have been following for many years.
These five pieces of information that we include on our labels are not required but we choose to include them to inform the buyer. I hope you find this useful next time you pick up a bottle of our organic wine.