L'Acadie Vineyards Blog
Welcome to the L'Acadie Vineyards blog and winery news

Thanks Daily Hive and Allison Wallace for including us in 8 Bucket-List Wineries You Need to Visit in Canada
Visit us in Gaspereau Valley, Nova Scotia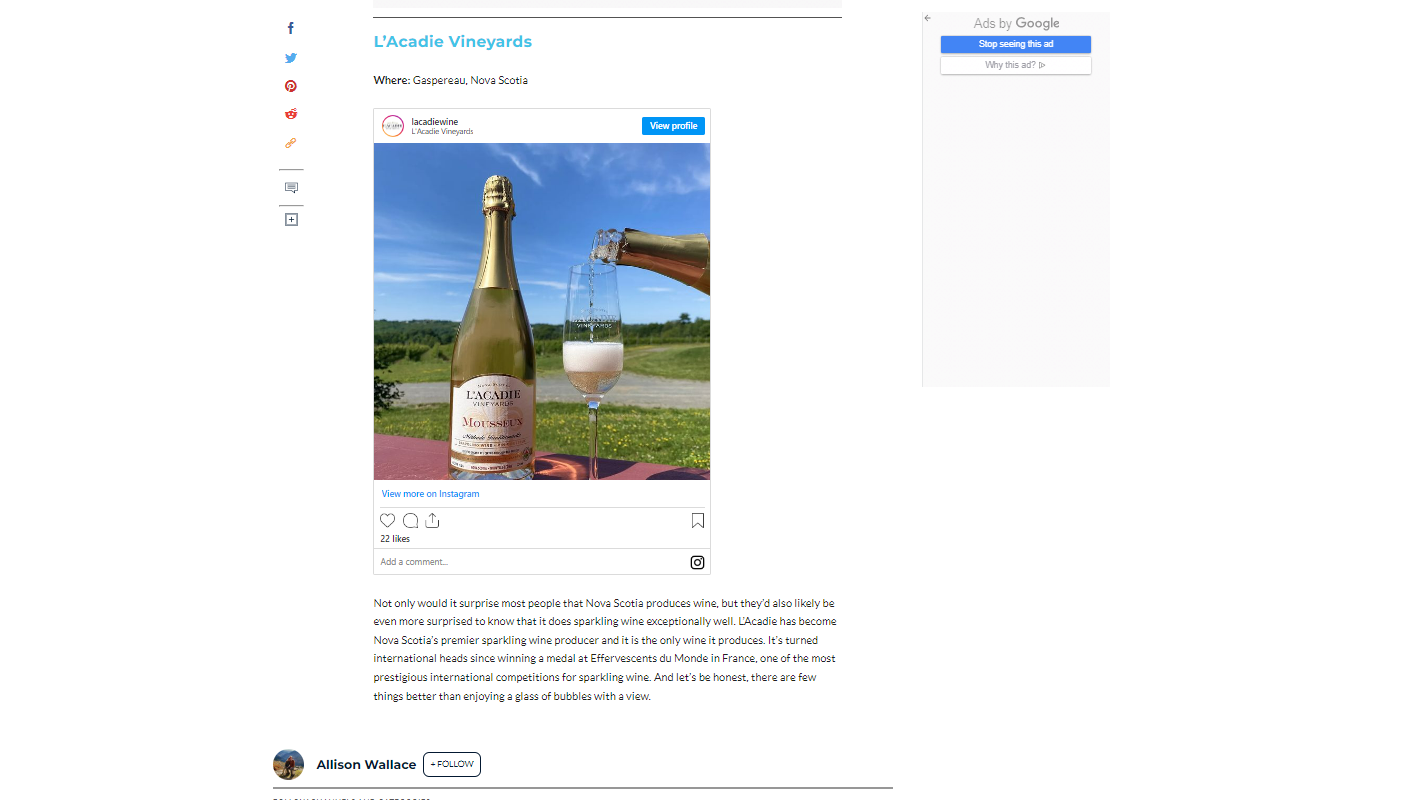 Results from the 2022 National Wine Awards of Canada

Pleased to share that Joie de Vivre was awarded Gold and 92 points at the 2022 National Wine Awards of Canada in the prestigious and competitive sparkling category! This charmat method sparkling has been very popular since first release in 2021. Certified organic and vegan wine.

2019 Vintage Cuvee was awarded silver and 90 points. Read about the 2019 growing season and why you should be searching out this vintage of traditional method wines from Nova Scotia. Continuing a legacy of highly awarded vintages with a trifecta of 90, 92 and 90 points for 2017, 2018 and 2019.
Both are available online and in our Gaspereau wineshop. Wine tastings available, appointments highly recommended. Book here

IN THE NEWS
East Coast Living - Summer 2022 issue: Sparkling Wines of Summer
Experience a wine tasting of Joie de Vivre and our traditional method sparkling wines at our Wolfville winery in beautiful Gaspereau Nova Scotia. Have a wine tour and learn about our certified organic and Biocyclic Vegan practices.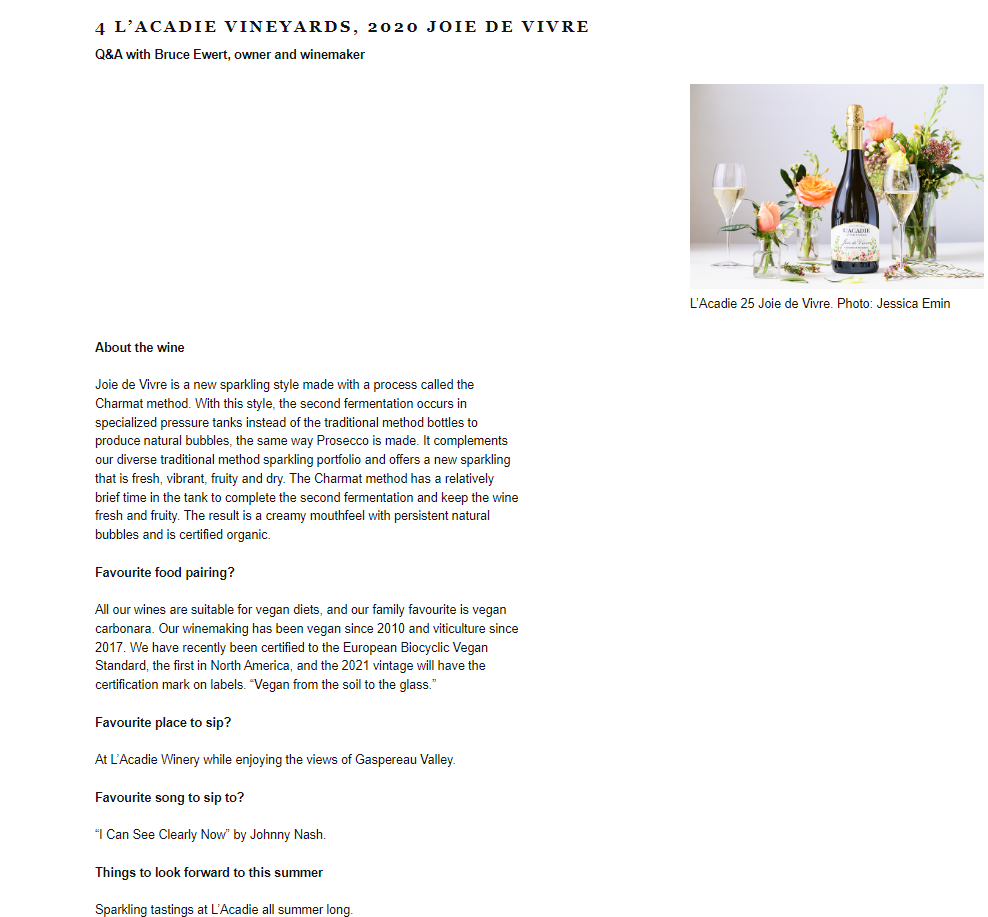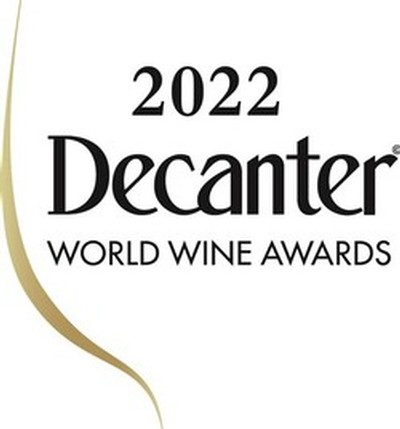 We are pleased that our 2015 Prestige Brut Estate earned a bronze and 88 points at the 2022 Decanter World Wine Awards held in London, England. Scoring in the top 15 sparkling wines in Canada at this prestigious wine competition, this is the third vintage in a row for our certified organic and vegan Prestige Brut Estate to be awarded. Grapes are from the same block of our organic and vegan estate vineyard planted with L'Acadie blanc in 2006 on ancient seabed soil of schist, sandstone and slate gravels.
"We bought our 30 acres of paradise in Gaspereau back in 2004 inspired by the soil and location potential for sparkling wine. It is so satisfying to earn international awards for our sparkling wines that are rooted over a metre deep into organic living soil.", Bruce Ewert, co-owner and winemaker L'Acadie Vineyards.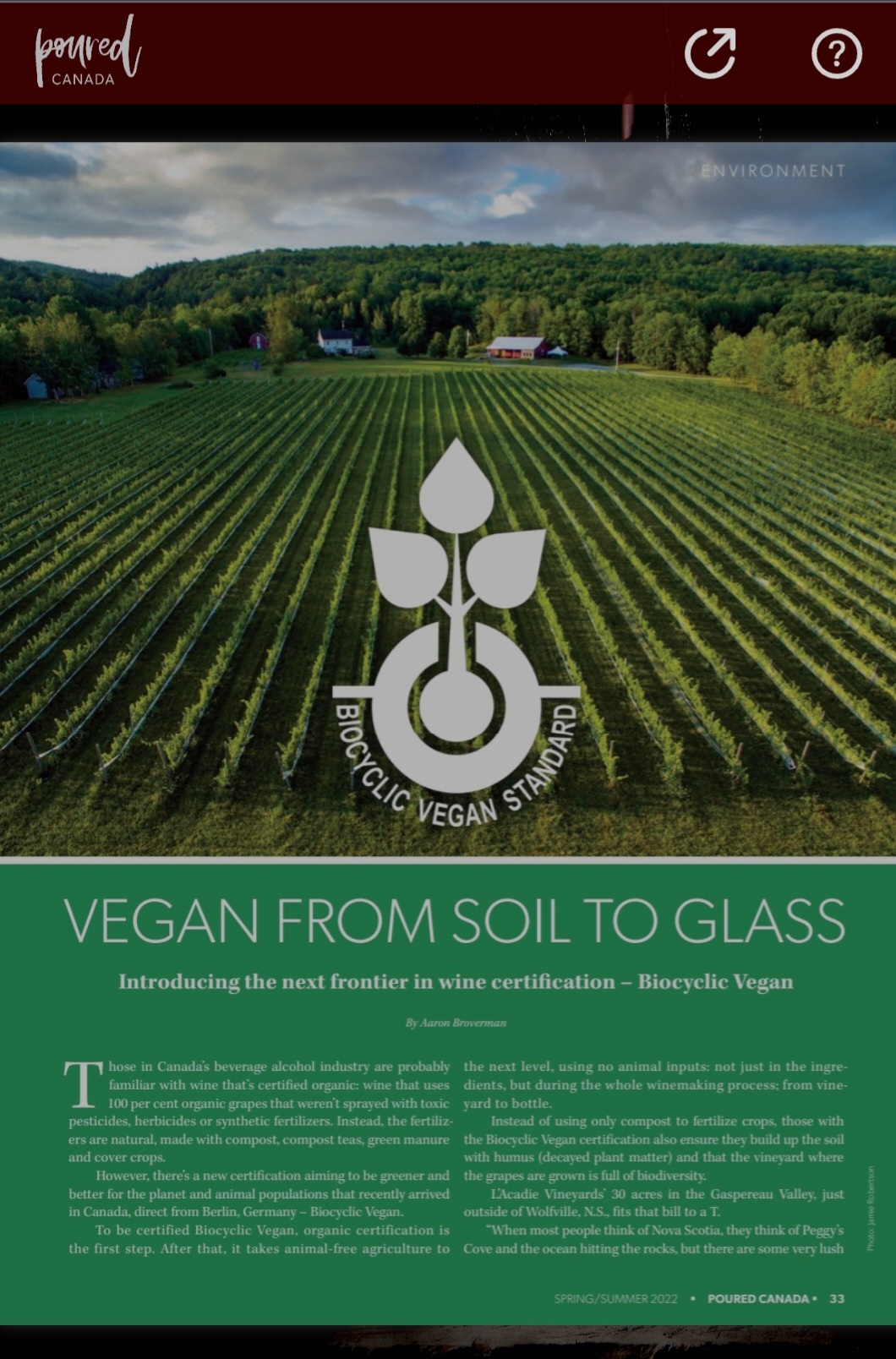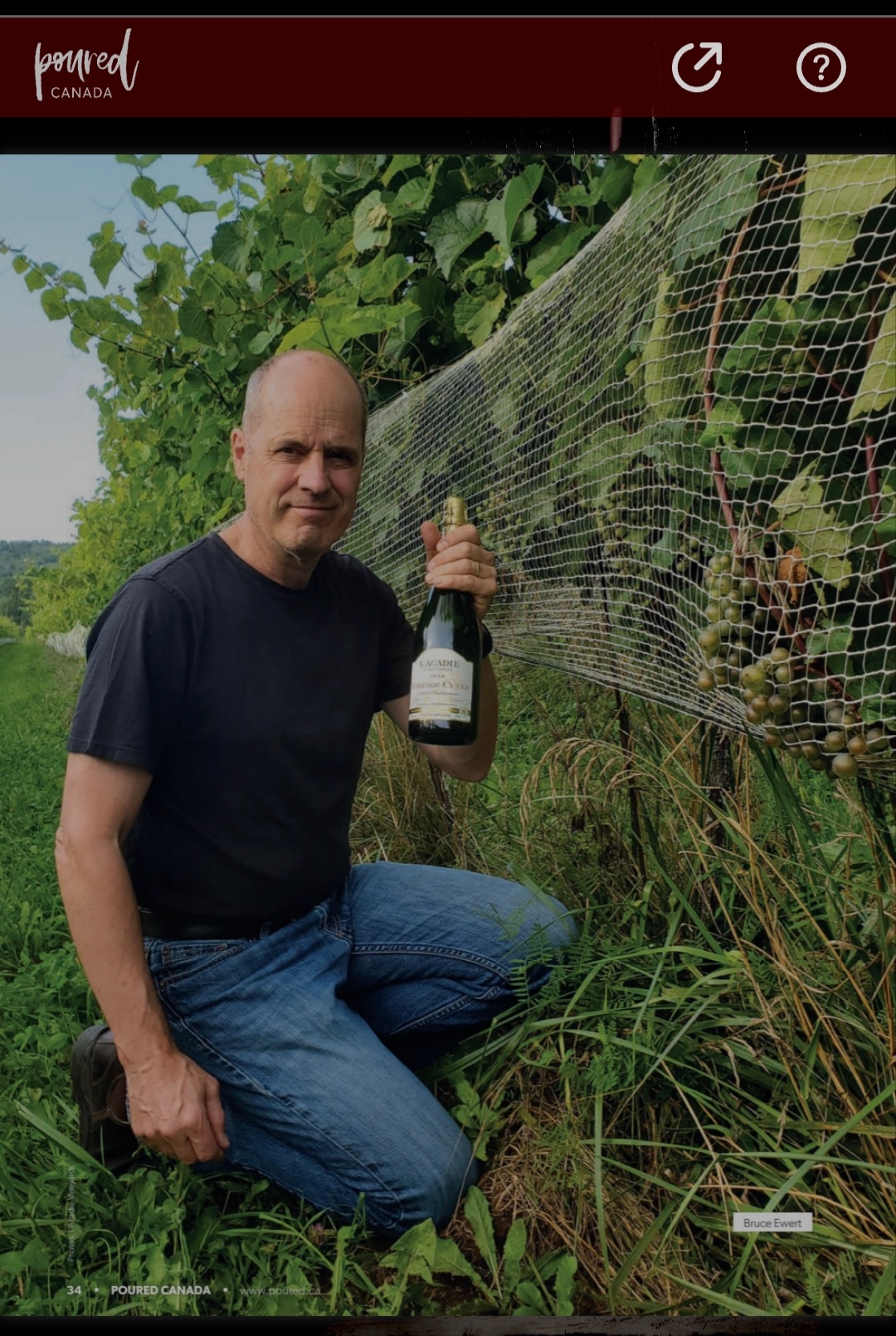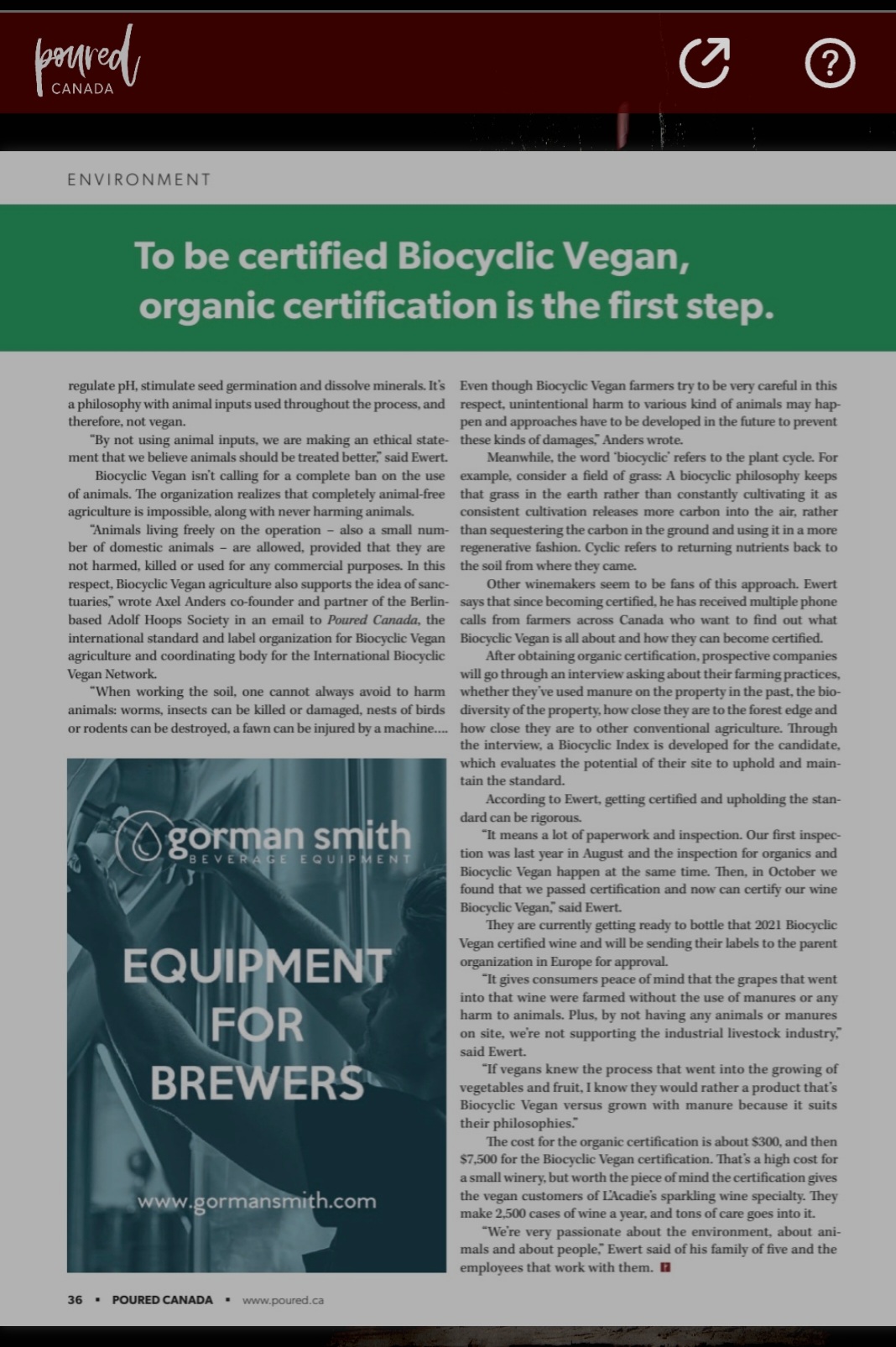 Spring Wineshop Opening
Wineshop and Tastings
Our wineshop at our Gaspereau winery near Wolfville opens May 6, 2022. Wine tastings and wine tours are by appointment and outside again this year to ensure COVID safe and intimate experiences. Masks are required in the wineshop.
Hours: Monday-Saturday 10:30-5pm, Sundays 12-4pm
We are very excited to greet visitors this tourist season with our award winning still and sparkling wines!! Certified organic and vegan, from soil to glass!!
New Releases
2021 Tiday Bay - we join other wineries of Nova Scotia is presenting our style of Tidal Bay, crisp and dry with enhanced minerality from our rocky ancient seabed terroir. Certified organic wine and certified Biocyclic Vegan wine, from soil to glass. Vertical tastings available while our library of 2020 Tidal Bay lasts!
2021 Rose - all of our 2021 vintage wines have the Biocyclic Vegan certifying logo on the label. This year's organic vegan Rose has strawberry and lime aromas and it's dry.
2021 Star - It's back! We haven't released Star for several years, and many will remember this past award-winning white wine. Rich and weighty from skin contact of the ripest vegan and organic grapes from 2021!
2020 Joie de Vivre - our newest sparkling wine, charmat method! A huge crowd pleaser and perfect for spring entertaining with many vegan food pairing options such as fresh salads and cold pasta dishes.
How to Visit Us
There are many ways to visit us in the Gaspereau Valley.
Self Drive - we are about an 8 minute drive from exit 9 off of highway 101. Directions
Tour Partners - book your day of visiting Nova Scotia wineries with any of these incredible wine tour companies,
Grape Escapes Nova Scotia Wine Tours
Magic Winery Bus - on Thursdays and Fridays
Wild Grape Wine Tours - choose Escape Through the Vines tour

This Valentines Day give your loved one a thoughtful gift that shows how much you care. Vegan and organic wine embrace the planet and show that you care for all living beings, and what's in the bottle.
We recommend,
Vintage Cuvee Rose - Traditional Method Sparkling. Aged in bottle 15 months to complete harmony goal with juicy cherry and strawberry flavours and a hint of brioche
Joie de Vivre- Charmat Method Sparkling. Dry with enhanced minerality from estate grapes on ancient seabed soil of schist and sandstone gravels. Concentrated citrus, lime, strawberry and slight toast with long creamy finish.
Available at NSLC, Bishop's Cellar, Harvest Wines and Liquid Assets at the airport.

This is the symbol of love this season. Look for it on our bottles.
Love for the environment, love for animals, and love for people.

Last year, we achieved certification to the strict Biocyclic Vegan Standard based in Europe, the first farm and winery in North America. This vegan wine certification is a significant addition to our environmental stewardship, scaffolding the benefits of our certified organic status to new heights. Coupled with health benefits and animal welfare, you can see why it is so popular in Europe.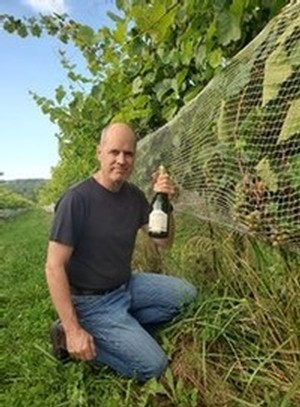 We had been looking for a certification for our vegan wines and were so happy when we found Biocyclic Vegan based out of Germany and Greece. We discovered that they certify the whole operation including the vineyard as well, and ours scored very high because of organic practices, biodiversity and not using animal inputs since 2017. The estate vineyard has been certified organic since inception, the first in Nova Scotia, and we released organic wines in 2008. Compelling reasons are better terroir flavours from living soils, healthy wines avoiding pesticide residues and, more significantly, protecting the environment from pesticides and synthetic petroleum-based fertilizers, both high carbon-generating practices. Biocyclic vegan practices raise the bar even more.

Biocyclic vegan agriculture means purely plant-based organic farming. This form of cultivation excludes all commercial livestock farming of animals and does not use any inputs of animal origin in viticulture or winemaking. Special emphasis is placed on promotion of biodiversity, healthy soil life, closure of organic cycles and on systematic humus build-up. Vegan viticulture enhances our environmental stewardship by avoiding products from the high carbon-generating livestock industry and instead using constant cover crops (also called green manure) between rows for regenerative agriculture carbon management. Composted grape pomace - stems, seeds and skins from every vintage, is significant for further sustainable management of our soil's nutrition and microbial life.
Biocyclic Vegan certification recognizes our extra sustainable efforts and care that are beyond organic, veganic, and we embrace their principles for the good of environment, animals and people.

2021 National Wine Awards of Canada results
2018 Vintage Cuvee
Gold medal, 93 points, results

Wine critic and judge Michael Godel,
"Brilliant autolysis in sparkling wine that speaks in the glacial till vernacular of Nova Scotia bubbles. A cogent yet balanced stick of Annapolis Valley dynamite, cumulative of salinity, fruit and bitters. Last tasted blind at NWAC2021, October 2021.
From the frost year (June 5th), a blend of l'acadie and seyval blanc in a sparkling wine that shows the formers's resilience, having raced out to meet bloom, veraison and harvest dates. In a 30 per cent crop but vines that bounced back the following year for a full yield out of harvest. A wine that meets the LV twain, somewhere between the fruit first sparklers and those of the longest tirage. The length of this is more than surprisingly impressive from a wine that looks for a new slate in every vintage. A wine of trials, investigations and experiments. Not at the toast ceiling but consistently malolactic and in that 8-12 g/L dosage. Truly a Brut style and middle of the road in the most complimentary way. Drink 2022-2026. Tasted September 2021."
Wine critic and judge Michell Bouffard,
"Rich and toasty on the nose and the palate with notes brioche and lemon rind mingling. Tangy acid with chalky texture. Very good. Dosage well integrated."
Bronze medal, 89 points, results

Wine critic and judge Michael Godel,
"Just about properly picked early to preserve acidity and not allow the soft, cloying and flabby nature of a late harvested l'acadie to gain traction. Expressive of the intense nature of the early ripened grape so that fruit remains, vitality persists and balance hangs in the mid-palate. What still l'acadie can be though picking just a day or two earlier would have really sealed the deal. Drink 2021-2023. Tasted blind at NWAC2021, October 2021."
National Wine Awards of Canada Judges. Penticton, British Columbia. October 2021