L'Acadie Vineyards Blog
Welcome to the L'Acadie Vineyards blog and winery news

Tips for serving traditional method and charmat sparkling wine,
Opening
Keep your hand on the cork! Release the cage with one hand and keep the other hand on the cork. Hold it and twist the bottle until you feel the pressure pushing it out. Get the perfect "pffftt" like a master sommelier, or a crowd pleasing "pop!" by letting it come out slower or faster. This video from our friends at Taste of Nova Scotia is a good primer on opening a bottle of sparkling,
Pouring
Always chill sparkling wines to fridge temperatures (4C) to enhance retention of bubbles. A flute is ideal but larger glass bowls better coax the aromas from well-aged wines like Prestige Brut Estate . Make sure the glass is clean and doesn't have soap residue. A full serving is 4 ounces (120ml) and to enhance enjoyment of aromas only fill to 1/3 to 1/2 full....and fill more often. Pro tip: tilt the glass and gently pour to preserve bubbles. No need to swirl - the bubbles will bring the toasty aromas to your nose.
Storing
Use a champagne stopper that secures onto the glass ring of the bottle, the same area that the wire cage held onto.....avoid expanding-style of stoppers - they can become rockets if too much pressure builds. Should keep for 3-5 days in fridge.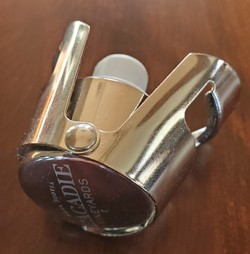 Champagne stopper available in our wineshop
Food Pairings
Many seafoods pair well with sparkling wine - "what grows together, goes together" is a favourite maritime expression. Think mussels, lobsters and oysters. But don't stop there - consider any food that has a salty component like potato chips and popcorn. Of course mild chesses are always a hit with guests, especially an assortment of soft cheeses. For curried and spicy dishes, choose our most aromatic sparklings like Rose Brut, or consider trying our traditional method cider, Duncanson Brook Cider
Visit our Recipe page for ideas such as Vegan Carbonara paired with Joie de Vivre charmat sparkling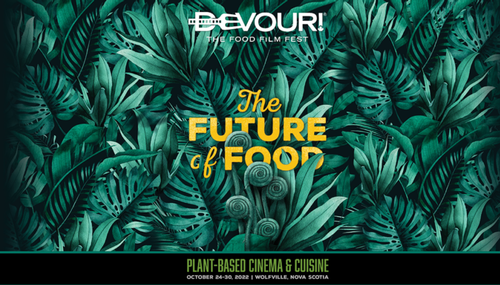 We have been a long-term partner with DEVOUR! Food Film Festival in Wolfville and this year the festival's plant-based theme has us especially intrigued! It's a perfect venue to share our recent Biocyclic Vegan certification news and vegan organic wines by hosting a workshop, sponsoring the Awards Ceremony and partnering with film viewing. We hope you can join us!
Sunday, October 30, Devour! Studios at 360 Main Street and Online, 1:00 p.m. - 2:00 p.m., 100 attendees
L'Acadie Vineyards proprietor & winemaker Bruce Ewert gives us a tasting and workshop exploring the organic wines and terroir of his Gaspereau Valley winery, the first certified Biocyclic Vegan winery in North America.
Sunday, October 30, Devour! Studios at 360 Main Street and Online, 6:30 p.m. - 7:30 p.m., 150 attendees
Join us in celebrating the very best of the 2022 festival at our Devour! Golden Tine Awards Reception where we will present our coveted Golden Tine Awards for this year's films in five categories: Best Animation, Best Short Documentary, Best Short Drama, Best Feature Documentary, and Best Feature Drama. Winners are chosen by our esteemed jury. This reception will also feature L'Acadie Vineyards vegan wines and light bites prepared by Chef Renee Lavallee to announce our 2023 theme.
Thursday, October 27, 1:00pm at Al Whittle Theatre
The End of Medicine exposes the link between our treatment of animals and emerging health threats such as pandemics and antimicrobial resistance. The film sheds light on the largely overlooked impending medical threat warned by CDC and WHO experts, and investigates the role animals play in disease outbreaks and the end of medicine as we know it.
USA, 2022, 70 minutes
Director: Alex Lockwood
Distributor: Lockwood Film
Thursday, October 27, 8 p.m. at the Al Whittle Theatre
Having escaped starvation and tyranny in their homeland of Zimbabwe, four refugees have conquered the odds to become South Africa's top sommeliers. Driven by relentless optimism, a passion for their craft, and unshakeable national pride, they form Zimbabwe's first-ever wine tasting team and set their sights on the coveted title of "World Wine-Tasting Champions". From the moment they arrive in France to compete, this team of mavericks turns an establishment of privilege and tradition on its head.
Australia, 2021, 96 minutes
Directors: Warwick Ross & Rob Coe
Distributor: levelFILM

Thanks Daily Hive and Allison Wallace for including us in 8 Bucket-List Wineries You Need to Visit in Canada
Visit us in Gaspereau Valley, Nova Scotia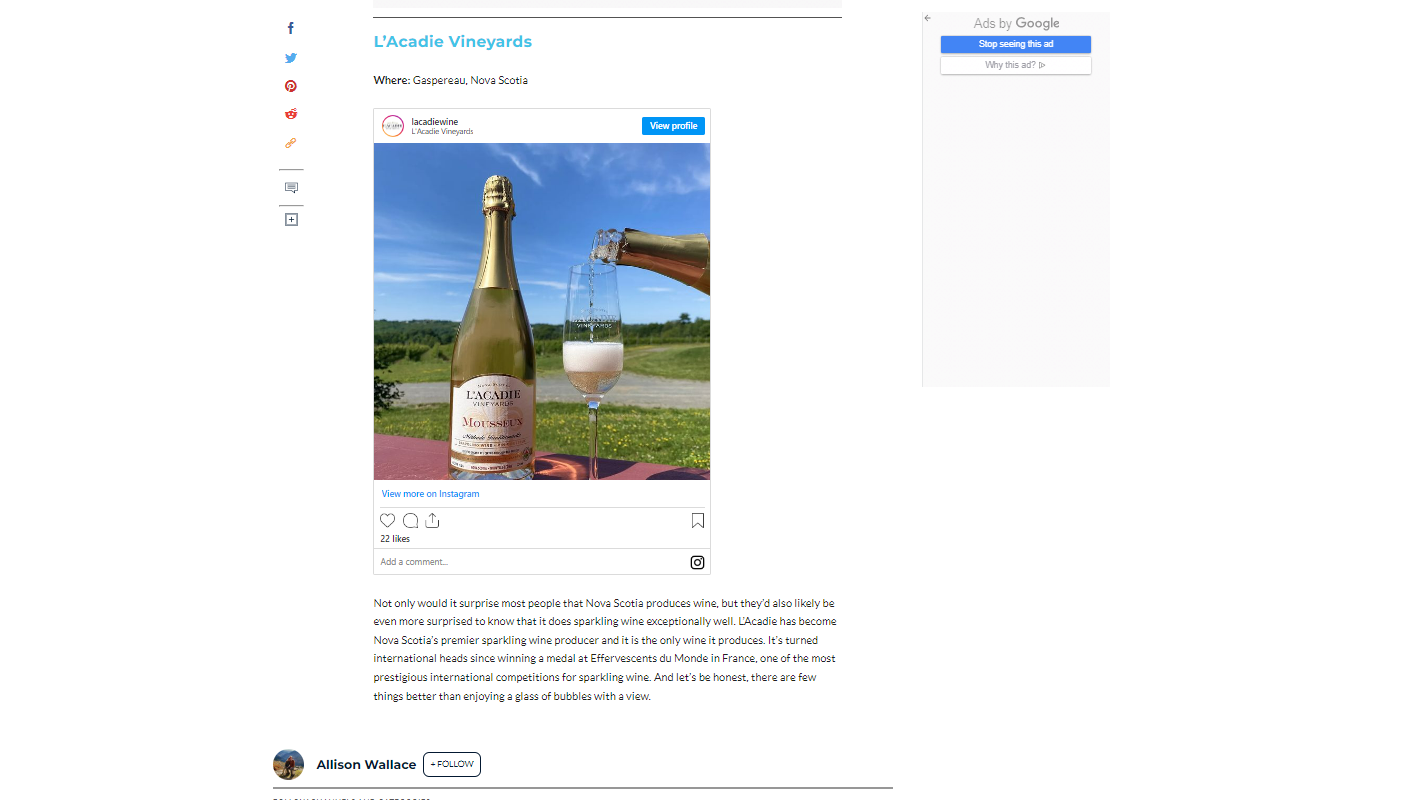 Results from the 2022 National Wine Awards of Canada

Pleased to share that Joie de Vivre was awarded Gold and 92 points at the 2022 National Wine Awards of Canada in the prestigious and competitive sparkling category! This charmat method sparkling has been very popular since first release in 2021. Certified organic and vegan wine.

2019 Vintage Cuvee was awarded silver and 90 points. Read about the 2019 growing season and why you should be searching out this vintage of traditional method wines from Nova Scotia. Continuing a legacy of highly awarded vintages with a trifecta of 90, 92 and 90 points for 2017, 2018 and 2019.
Both are available online and in our Gaspereau wineshop. Wine tastings available, appointments highly recommended. Book here

IN THE NEWS
East Coast Living - Summer 2022 issue: Sparkling Wines of Summer
Experience a wine tasting of Joie de Vivre and our traditional method sparkling wines at our Wolfville winery in beautiful Gaspereau Nova Scotia. Have a wine tour and learn about our certified organic and Biocyclic Vegan practices.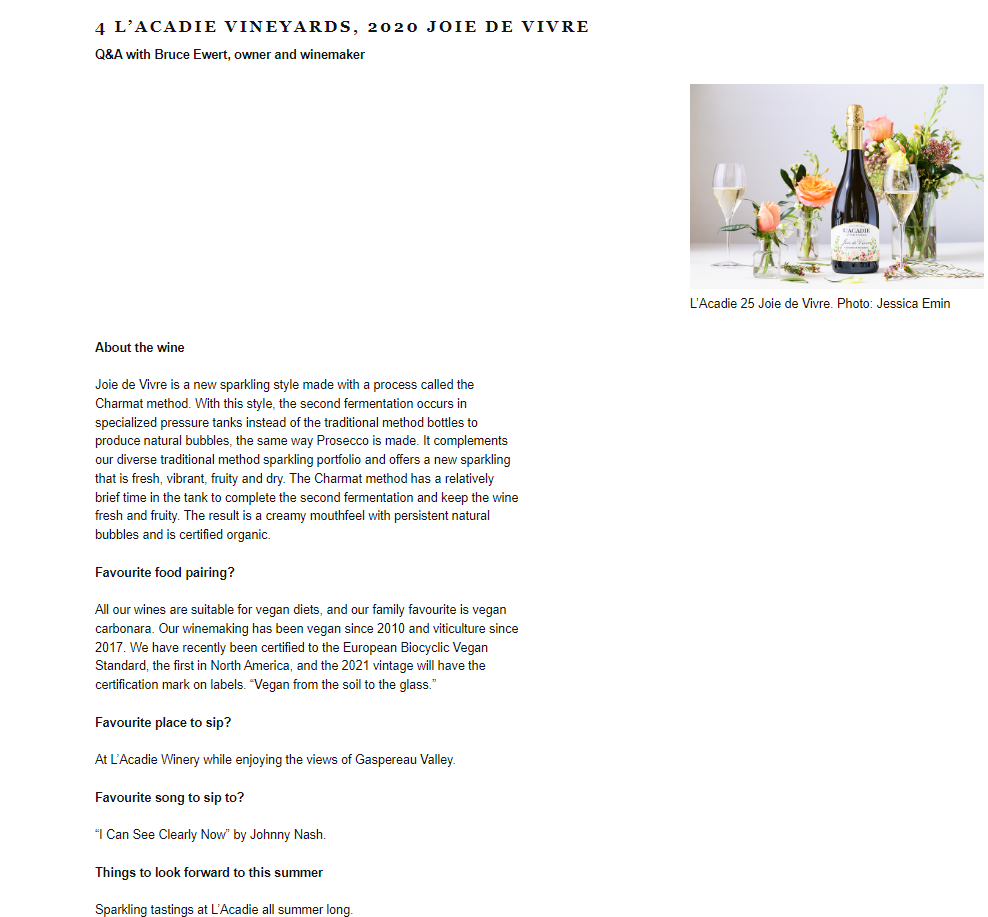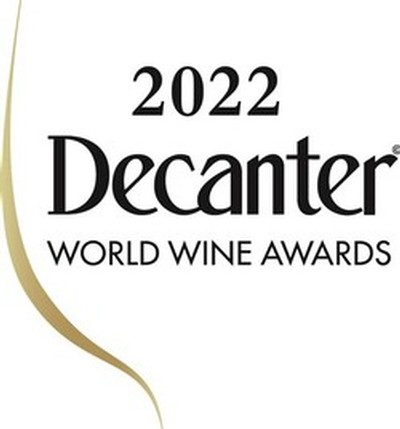 We are pleased that our 2015 Prestige Brut Estate earned a bronze and 88 points at the 2022 Decanter World Wine Awards held in London, England. Scoring in the top 15 sparkling wines in Canada at this prestigious wine competition, this is the third vintage in a row for our certified organic and vegan Prestige Brut Estate to be awarded. Grapes are from the same block of our organic and vegan estate vineyard planted with L'Acadie blanc in 2006 on ancient seabed soil of schist, sandstone and slate gravels.
"We bought our 30 acres of paradise in Gaspereau back in 2004 inspired by the soil and location potential for sparkling wine. It is so satisfying to earn international awards for our sparkling wines that are rooted over a metre deep into organic living soil.", Bruce Ewert, co-owner and winemaker L'Acadie Vineyards.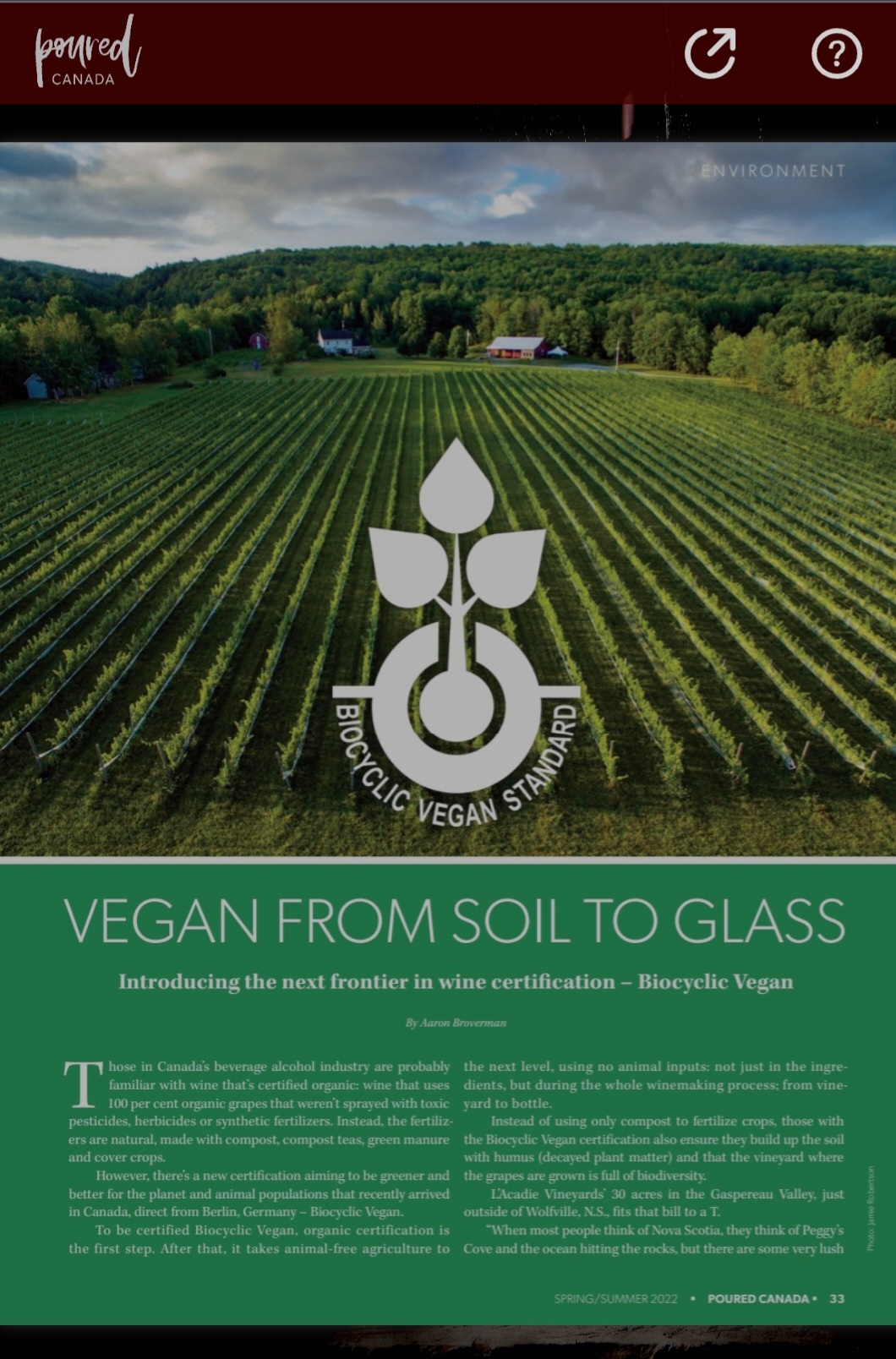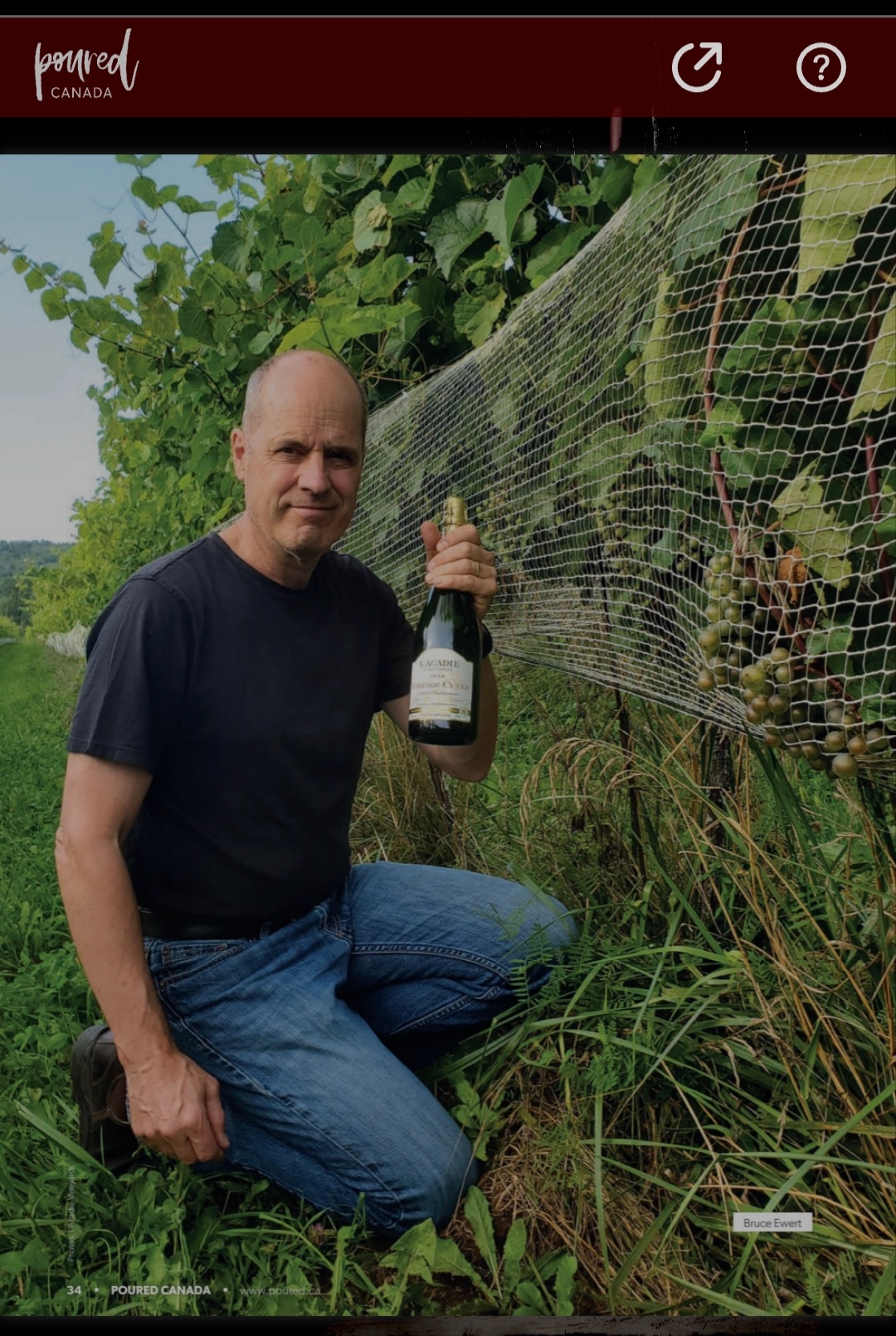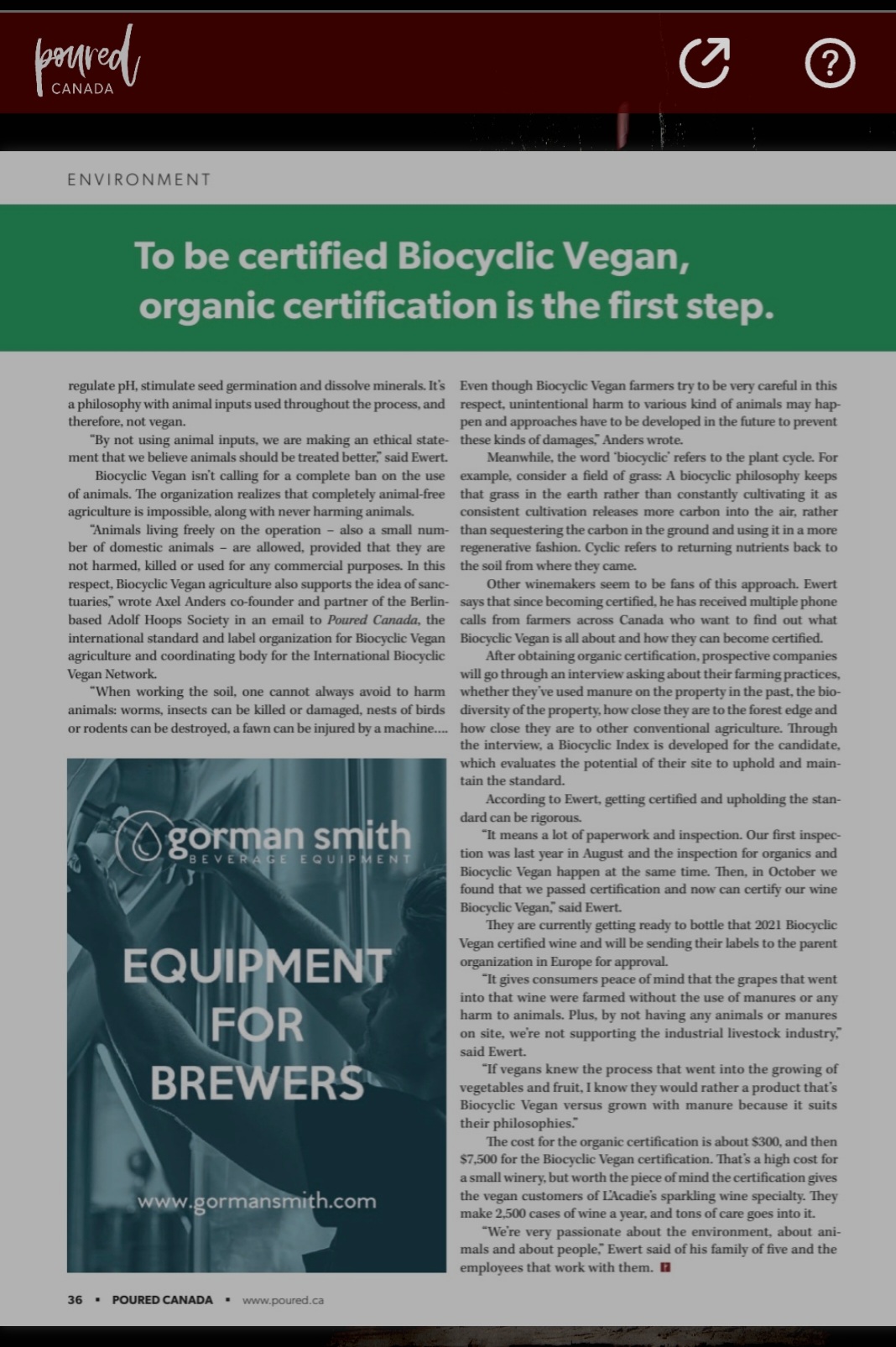 Spring Wineshop Opening
Wineshop and Tastings
Our wineshop at our Gaspereau winery near Wolfville opens May 6, 2022. Wine tastings and wine tours are by appointment and outside again this year to ensure COVID safe and intimate experiences. Masks are required in the wineshop.
Hours: Monday-Saturday 10:30-5pm, Sundays 12-4pm
We are very excited to greet visitors this tourist season with our award winning still and sparkling wines!! Certified organic and vegan, from soil to glass!!
New Releases
2021 Tiday Bay - we join other wineries of Nova Scotia is presenting our style of Tidal Bay, crisp and dry with enhanced minerality from our rocky ancient seabed terroir. Certified organic wine and certified Biocyclic Vegan wine, from soil to glass. Vertical tastings available while our library of 2020 Tidal Bay lasts!
2021 Rose - all of our 2021 vintage wines have the Biocyclic Vegan certifying logo on the label. This year's organic vegan Rose has strawberry and lime aromas and it's dry.
2021 Star - It's back! We haven't released Star for several years, and many will remember this past award-winning white wine. Rich and weighty from skin contact of the ripest vegan and organic grapes from 2021!
2020 Joie de Vivre - our newest sparkling wine, charmat method! A huge crowd pleaser and perfect for spring entertaining with many vegan food pairing options such as fresh salads and cold pasta dishes.
How to Visit Us
There are many ways to visit us in the Gaspereau Valley.
Self Drive - we are about an 8 minute drive from exit 9 off of highway 101. Directions
Tour Partners - book your day of visiting Nova Scotia wineries with any of these incredible wine tour companies,
Grape Escapes Nova Scotia Wine Tours
Magic Winery Bus - on Thursdays and Fridays
Wild Grape Wine Tours - choose Escape Through the Vines tour

This Valentines Day give your loved one a thoughtful gift that shows how much you care. Vegan and organic wine embrace the planet and show that you care for all living beings, and what's in the bottle.
We recommend,
Vintage Cuvee Rose - Traditional Method Sparkling. Aged in bottle 15 months to complete harmony goal with juicy cherry and strawberry flavours and a hint of brioche
Joie de Vivre- Charmat Method Sparkling. Dry with enhanced minerality from estate grapes on ancient seabed soil of schist and sandstone gravels. Concentrated citrus, lime, strawberry and slight toast with long creamy finish.
Available at NSLC, Bishop's Cellar, Harvest Wines and Liquid Assets at the airport.

This is the symbol of love this season. Look for it on our bottles.
Love for the environment, love for animals, and love for people.