L'Acadie Vineyards Blog
Welcome to the L'Acadie Vineyards blog and winery news


We were honoured to receive the Lieutenant Governor's Award of Excellence in Wine today for 2014 Prestige Brut Estate!

And so surprised and thankful for recognition during the ceremony by the Honourable Arthur J LeBlanc for its international award at Decanter World Wine Awards with 92 Points.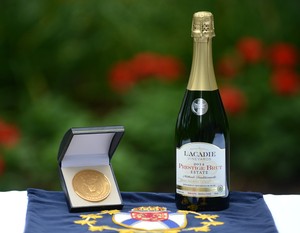 Here's the 30 minute live FB broadcast. The Lieutenant Governor presentation starts arounds 5:15 and mentions our International Decanter Award at 9:30..much to our surprise and delight!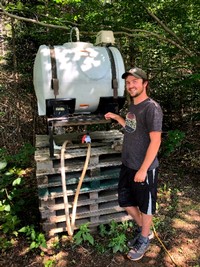 Hello, my name is Matt and I am the Clean Leadership summer intern at L'Acadie Vineyards. Throughout the summer I have learned a lot about growing and maintaining our certified organic Gaspereau vineyard, and how to preserve its natural ecology - which fits well into my recent degree in Biology from Dalhousie University.
One of the many projects I have been working on is the production of grape pomace nutrient tea. The purpose of this tea is to extract the beneficial microorganisms and micronutrients from composted grape skins (pomace) that are composted after each harvest, as well as from forest soils behind the vineyard. After steeping and aerating the mixture, we apply it to our vineyard to help crowd out potentially harmful microorganisms and pathogens with the beneficial ones in the tea. This all-natural, vegan and organic nutrient boost helps to preserve natural ecology of our vineyard including living soils and emphasizes terroir flavours in our grapes.
It has been an amazing 15 weeks here at L'Acadie Vineyards and I am very grateful that I was given the opportunity to work here this summer. I look forward to what the future brings to the Wolfville vineyard and what new and exciting projects will be implemented.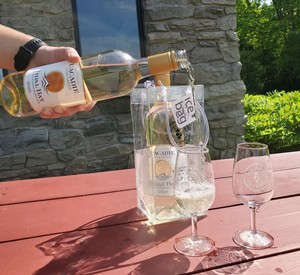 We are celebrating the launch of 2020 Tidal Bay from wineries in Nova Scotia with fun offers from Wine Growers of Nova Scotia! Purchase 6 bottles of our organic wine including at least one bottle of Tidal Bay before the end of June from our website for shipping or curbside pickup to get the following offers,
Receive a voucher for a wine tasting experience for two at our Gaspereau winery. We hope to be opening for tastings in late June in Phase Two of Nova Scotia`s Reopening Plan and our employees have been vaccinated for at least two weeks.
Also receive a Wine Growers of Nova Scotia Ice Bag with shipped orders or two branded wine glasses with curbside pickup orders. While supplies last.
Free Shipping for 6 bottles or more in Canada until end of June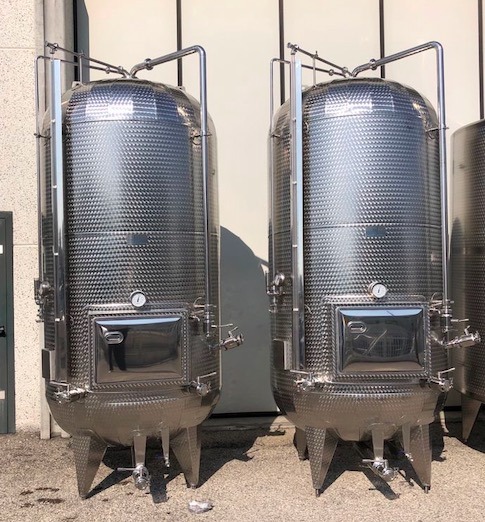 We are excited to announce that we will be releasing Joie de Vivre, a new sparkling style this summer - Charmat Method! The second fermentation will occur in specialized pressure tanks instead traditional method bottles to produce natural bubbles the same way that Prosecco is made.
Joie de Vivre: noun [zwahduh vee-vruh] joy of living; a delight in being alive. We can all use more Joie de Vivre moments in our life and this wine embodies that philosophy, at a price that encourages more life enjoying moments!
This ambitious project has been three years in the making and answers calls from Nova Scotia restaurants, NSLC and other wine trade for a fresh early-release sparkling. Charmat method has a relatively brief time in tank to complete second fermentation and to keep wine fresh and fruity, compared to traditional methods of aging in bottle on its yeast lees for 2+ years. Fresh, creamy persistent natural bubbles and certified organic.
"Charmat method" will be the declared production method on front labels and assures you that it is not produced by artificial carbonation like many wines on our market. It complements our diverse Traditional Method sparkling portfolio and offers a new sparkling that is fresh, vibrant, fruity, and dry.
Charmat tanks are very specialized and our tanks are presently being shipped from the heart of the Prosecco region in Veneto, Italy, where Prosecco charmat production is famous.The project was delayed with the pandemic in hard hit northern Italy but we are thankful for their extra efforts. This specialized sparkling style requires experience and expertise, and winemaker Bruce Ewert worked with the style in Ontario early in his career.
Expected release of Joie de Vivre is June, in time for your barbecues, outdoor living and restaurant patio sipping.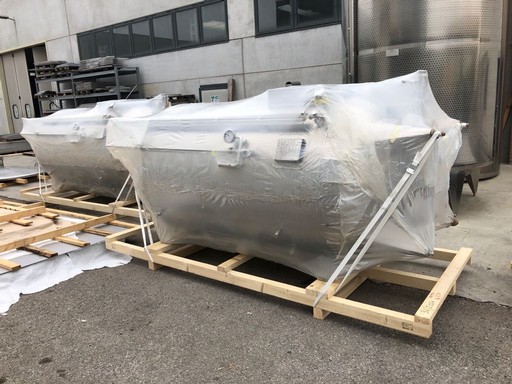 There are high hopes that the 2021 tourist season will be better than 2020. Will we have the famous Atlantic Bubble again or will it be mainly staycations within the province? We don't know, but we are planning on optimism and have many compelling reasons for you to visit our Gaspereau winery this year.
Wine tours of wineries in Nova Scotia are very popular. We are a family run organic vineyard in Gaspereau Valley and our Wolfville winery offers wine tastings, vineyard tours and even encourages visitors to bring their own picnic for food and wine pairings. We are the birthplace of traditional method sparkling wine and offer one of the most diverse sparkling wine portfolios of all the Nova Scotia vineyards and the most certified organic wine. Visit our wineshop and bring a bottle home to relive your day in the heart of wine country.
Wine Tasting and Tour Options – Season starts late May (date to be announced)
All tastings and tours are by appointment, Visit our website to book your tasting now: /Visit-Us
Sparkling Tasting – Four of our sparkling wines including wineshop exclusives, production methods and suggested food pairings
L'Acadie Tasting – an exploration of our diverse organic wines with three still wines and a choice of traditional method sparkling wine
A la Carte Tasting – you decide which wines that you would like to taste
Vineyard Tour – taste three focussed terroir wines while learning about our vineyard practices, organic ethos, terroir and sense of place.
Learn more about our tours and tastings on our website.
Industry partnerships are a valued component to our wine tour program and we are pleased to work with five tour companies in 2021. They also offer custom winery tours in the Wolfville area, so just ask them to include us and they will!

Have you ever imagined that those playful bubbles in your glass of sparkling wine are like stars? Dom Perignon thought so too. He was the blind French monk that is credited with the discovery of fermenting wine in the bottle and was quoted as saying, "I'm sipping stars!". And they have been the iconic symbol of Champagne ever since, including sparkling wines from other regions.
We associate stars with our sparklings based on these traditions. And our relationship with the style is strong: an experienced sparkling winemaker from British Columbia, the first release of traditional method sparkling in Nova Scotia and the province's first international awards. We were honoured when Beppi Crosariol wrote in the Globe and Mail, "Bruce Ewert released Nova Scotia's first Champagne-method sparkling wine back in 2008. The local industry owes much to his foresight" Our present logo boasts one proud star, and our first logo back in 2008 had five stars.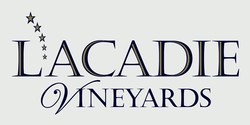 You'll recognize this logo on our road sign at the winery as a continuing homage to sparkling wine and our commitment to its craft in Nova Scotia.

Always chill sparkling wines to fridge temperatures (4C) to enhance retention of bubbles. A flute is ideal but larger glass bowls better coax the aromas from well-aged wines like Prestige Brut Estate . Make sure the glass is clean and doesn't have soap residue. A full serving is 4 ounces (120ml) and to enhance enjoyment of aromas only fill to 1/3 to 1/2 full. No need to swirl - the bubbles will bring the toasty aromas to your nose.
Many seafoods pair well with sparkling wine. Think mussels, lobsters and oysters. But don't stop there - consider any food that has a salty component like potato chips and popcorn. Of course mild chesses are always a hit with guests, especially an assortment of soft cheeses. For curried and spicy dishes, choose our most aromatic sparklings like Rose Brut, or consider trying our traditional method cider, Duncanson Brook Cider