L'Acadie Vineyards Blog
Welcome to the L'Acadie Vineyards blog and winery news

We ship to wine club members in May, August and November. Here is the exciting lineup of organic vegan wine that members are getting this month.


Gold for Vintage Cuvee 92 points!
New release 2020 Vintage Cuveé recently won a gold award with 92 points from Wine Align, the National Wine Awards of Canada! This award marks the fourth year in a row of 90 points or more for our Vintage Cuvée and we are very proud of this long-time favourite.
Here's what the judges are saying:
"Surprising amount of fruit in this Blanc de Blancs based on L'Acadie Blanc with (13 percent) Seyval Blanc. Fine aromatic grip surrounds a mix of stone and also green fruit but what is most special here is the intensity of the bubble and fine purity of the lees. Would never see this as autolytic, oxidative or yeasty but only in terms of salty, marine airy excitement. Oysters are an ideal match. Drink 2023-2029."
~Michael Godel
"Fresh white floral aromatics with an umami lean on the nose. The wine communicates refreshment on the palate with bright, crunchy acidity. Tasty wine, not terribly complex. There is a lot of talk about hybrids these days with climate change and a great example of how the bar is being raised every vintage with these varieties."
~Jenna Briscoe
This top-selling Nova Scotian traditional method sparkling wine is a premium blend of organic Estate L'Acadie Blanc & Seyval Blanc. With characteristic aged brioche from 2 years on the lees, this organic wine displays fine bubbles from natural fermentation in the bottle. Crisp apple & juicy orange with lemon zest on the finish. Pairs well with our famous maritime seafood and as a celebration on its own!
Available for purchase at our Gaspereau winery wineshop & online, as well as at Bishop's Cellar, Harvest Wines, Liquid Assets & select NSLC stores.
Available by the glass in Wolfville at Juniper & Troy, and in Lunenburg at the Grand Banker & Old Fish Factory.
Cheers!

"Zoomed in" to sparkling wine masterclass at Kingston International Wine Festival by Savvy Wine
Winemaker Bruce Ewert talks about our winery, terroir, organic and vegan practices, and why Nova Scotia's climate is ideal for sparkling wine.

Introducing our 2022 Tidal Bay!
This is our third vintage of this appellation wine that eloquently showcases our province's unique ocean-influenced terroir: we chose to highlight our estate-grown L'Acadie Blanc which displays minerality & subtle saline reminiscent of the sea, thanks to our ancient sea-bed soil. Our terroir is displayed cleanly & prominently, largely due to the fact that we are organic and foster a living soil.
We are the first organic vineyard & winery in Nova Scotia and the first Biocyclic Vegan farm & winery in North America. Our Earth-friendly practices follow through from soil to glass. The first pick for this wine in September was from vines traditionally sourced for our Prestige Brut Estate, with a deeper layer of humus-rich topsoil that brings our Tidal Bay a fresh acidity & crisp citrus flavours. A later pick in October from a different vineyard block complements the freshness with richer tropical notes such as mango.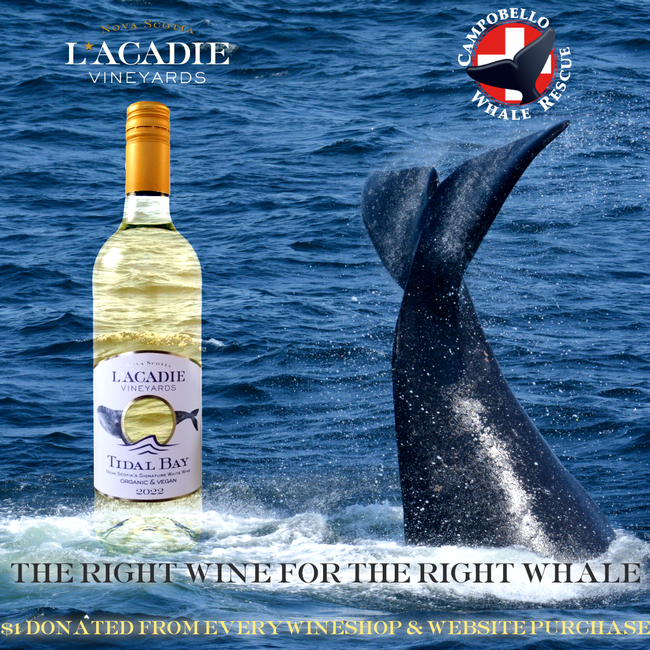 Our wine industry, and subsequently the Tidal Bay appellation, could not exist as it does without our ocean-influence from the Bay of Fundy. This year we have decided to help restore balance in our local marine ecosystem by partnering with the Canadian Whale Institute & Campobello Whale Rescue Team to help save the severely endangered North Atlantic right whale. $1 from every bottle of Tidal Bay sold in our wineshop & on our website will be donated to the Campobello Whale Rescue Team of the Canadian Whale Institute.
"The Campobello Whale Rescue Team of the Canadian Whale Institute is an organization of fishers, scientists and conservationists. They have firsthand knowledge of maritime waters, fishing gear and whale behaviour. Team members are trained in the use of specialized equipment to disentangle large whales from fishing gear, and to work with weir owners to release entrapped whales. The CWRT is licensed and permitted by Fisheries and Oceans Canada (DFO) to disentangle whales in the Maritimes, Gulf of St. Lawrence & Quebec. They work in coordination with DFO, the Marine Animal Response Society (MARS), and the Réseau Québécois d'urgences pour les mammifères marins (RQUMM) in partnership with Équipe de Desempêtrement du Golfe (EDG)."
Pick up a bottle for the weekend & enjoy a glass of wine for a good cause! Order Tidal Bay

We chatted with Portia Clark on CBC Information Morning about our Gold medal win for Prestige Brut Estate at Decanter World Wine Awards. Listen to CBC Info Morning segment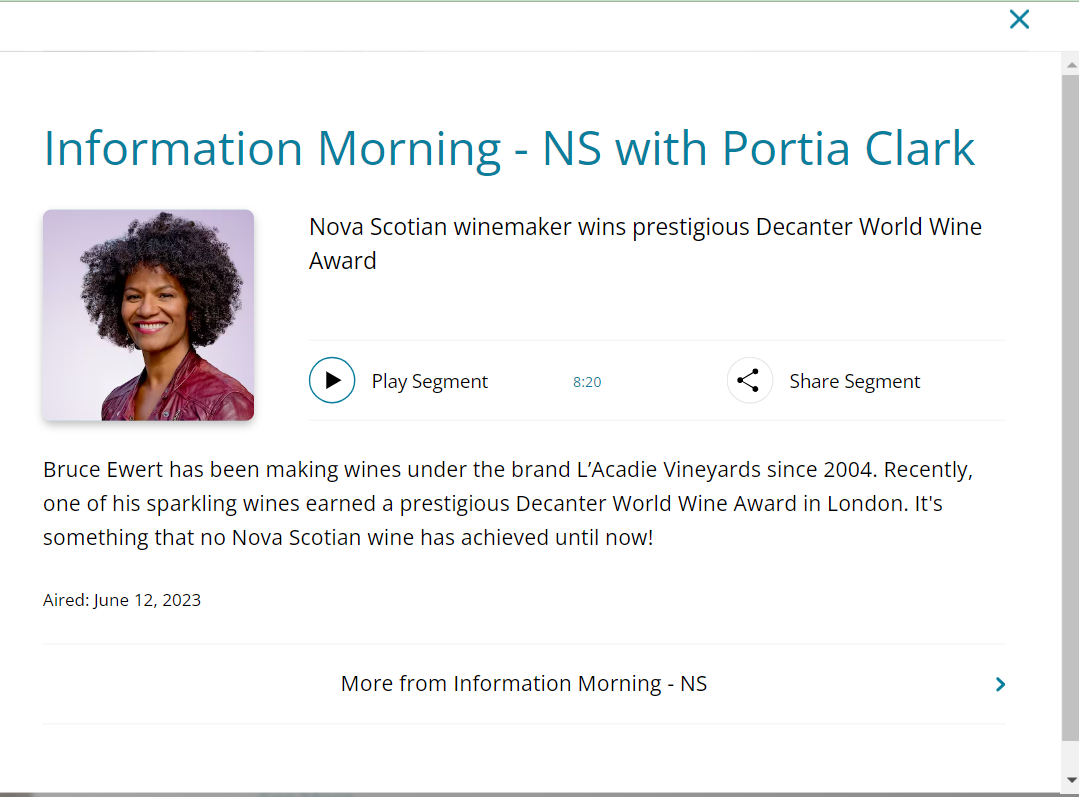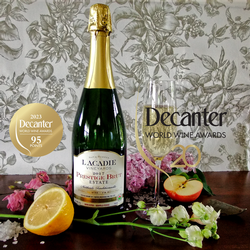 We are proud to announce that Prestige Brut Estate 2017 was awarded Gold and 95 points at Decanter World Wine Awards in London this week. First-ever Decanter gold for Nova Scotia! It is the fourth consecutive vintage of Prestige Brut Estate to win awards at Decanter, adding to a prestigious list of international awards including early vintages winning at Effervescent du Monde in France.
Decanter:
"Canada is a cool climate region that knows a thing or two about the benefits of hybrid grape varieties, and for the first time a single varietal L'Acadie Blanc, a hybrid crossing of Cascade and Seyve-Villard, was awarded a Gold medal in its rendition as a sparkling wine for L'Acadie Vineyards, Prestige Brut 2017 from Gaspereau Valley in Nova Scotia. A noteworthy first-ever Gold for the region too."

Judges' comments:
"Pretty and attractive, with white fruit, honey melon, chalky green apple and lifted floral aromatics lead through to a palate of vibrant acidity, citrus curd and a fine, saline finish."
Bruce Ewert, winemaker, co-owner L'Acadie Vineyards:
"We bought our 30 acres of paradise in Gaspereau back in 2004 inspired by the potential for sparkling wine with its soil and location. It is very exciting to earn international awards for our organic vegan sparkling wines that are rooted over a metre deep into rocky well-drained living soils."
This organic vegan wine is available direct from winery and website in late June. We are waiting for gold medal bottle stickers!

Thanks Onboard Hospitality for featuring our Gaspereau winery in a sustainability article about international sparkling wine and our organic sparkling wine and recent vegan wine certification. Read Guilt Free Bubbly

Great article about our environmental efforts to produce organic and vegan wines!
"L'Acadie's supplier of corks for its bottles of sparkling and still wines has calculated that the Gaspereau Valley winery was responsible for the sequestration of "a whopping" 10 tonnes of carbon dioxide in 2022 because it uses only natural cork."
Full story on Saltwire by Bill Spurr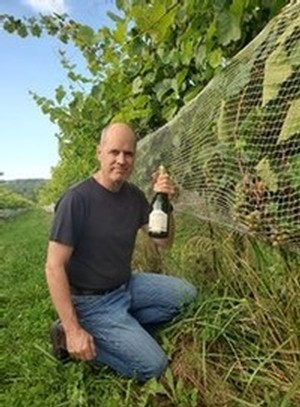 Honoured to receive this award from Amorim Cork, our cork supplier. A whopping 10 tonnes of carbon dioxide sequestered from our use of cork in 2022!
We are proud to give you this honor and please feel free to share with your team or customers your carbon retention number! This number has been independently validated by Pricewaterhouse Coopers and/or Ernest and Young. The findings, are the only ones to date that underwent a multi-closure comparative peer review, indicating when considering sequestration by the ecosystem made feasible by the cyclic extraction of cork, a retention capacity up to 288 grams of CO2 is associated with every natural cork stopper and as much as 562 grams with a sparkling wine stopper, in stark contrast to the CO2 emissions to each plastic stopper (up to 14.8 g/sealant) and to aluminum caps (up to 37.2 g/cap). To find out more about the sustainability studies and on going efforts Amorim is making on your behalf please visit the following link here.