L'Acadie Vineyards Blog
Welcome to the L'Acadie Vineyards blog and winery news

We have been an organic winery from inception and certified vegan vineyard and winery since 2021, although our vegan winemaking goes way back. Biocyclic Vegan is our certifier from soil to glass and our vegan wines from our Gaspereau winery have been turning heads and winning national and international awards for over a decade.
As our vineyard supervisor, Chris, notes in this superb video, vegan vineyards do not use animal manures and instead management nutrients with composted grape pomace left over at the end of every harvest. It nourishes our living soils with organic matter teeming with mycorrhizal fungi that sequesters carbon and does not pollute water systems like animal manures.
Related blogs,
First Biocyclic Vegan winery and farm in North America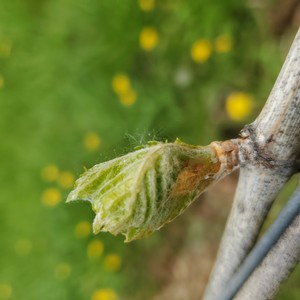 The world of fungi is amazing. I always credit kombucha's yeasty cloudy popularity to wine lovers' rapid acceptance to similarly cloudy Pet Nats. And Hollywood's portrayal of "mind-controlling" fungus in Last of Us has further vaulted fungus to rock star status, a sinister version in this case. Another fungus, a beneficial one, called mycorrhiza lives in soil and has a critical symbiotic relationship with roots to help vines access water and nutrients especially during drought and other climate extremes. This is a true rock star.
When plants made that difficult evolutionary step from a nutrient-rich marine environment to a relatively harsh soil home, they had to make an alliance with microbes in the soil to survive. Mycorrhizal fungi grows into root cells to access carbohydrates from the vine, and in exchange, root zone influence of the vine expands to 3-10 times with a complex network of fungus filaments. I call this microbial terroir. Water, nutrients and "flavours" in soil are more accessible for the vine.
Organic practices at our Gaspereau vineyard encourage this living soil, rather than the conventional approach of ignoring microbes and following a regime of feeding vines directly with readably accessible synthetic fertilizers. They seem to know – decreasing their relationship with the roots, almost sensing that they are not needed to cycle nutrients for the vine. Same outcome with animal manures. Other practices that kill fungi are tilling excessively between vineyard rows rather than using a constant cover crop and using herbicides like glyphosate (Roundup). We make plant-based compost teas, a veganic approach, to inoculate vines with beneficial fungi – crowding out disease organisms on leaves and inoculating roots. It's why we are Biocyclic Vegan
Strengthening our microbial terroir helps our vines be more resilient to climate change. Accessibility to nutrients and water is enhanced and that's especially important with extreme weather events.
Here's an article about research in Portugal,
The microbes that could grapevines from climate change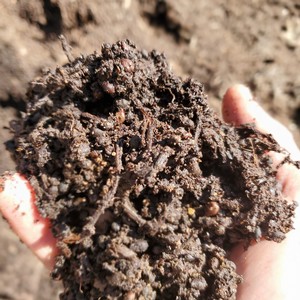 Honoured to receive this award from Amorim Cork, our cork supplier. A whopping 10 tonnes of carbon dioxide sequestered from our use of cork in 2022!
We are proud to give you this honor and please feel free to share with your team or customers your carbon retention number! This number has been independently validated by Pricewaterhouse Coopers and/or Ernest and Young. The findings, are the only ones to date that underwent a multi-closure comparative peer review, indicating when considering sequestration by the ecosystem made feasible by the cyclic extraction of cork, a retention capacity up to 288 grams of CO2 is associated with every natural cork stopper and as much as 562 grams with a sparkling wine stopper, in stark contrast to the CO2 emissions to each plastic stopper (up to 14.8 g/sealant) and to aluminum caps (up to 37.2 g/cap). To find out more about the sustainability studies and on going efforts Amorim is making on your behalf please visit the following link here.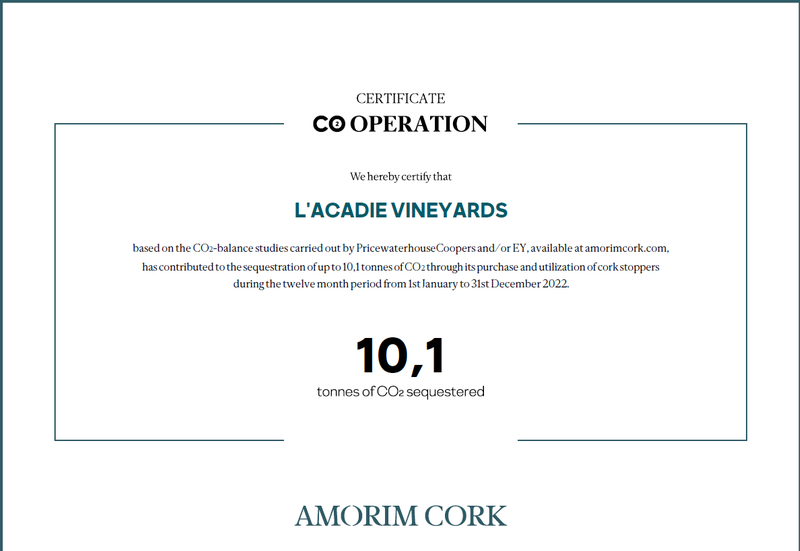 <iframe width="560" height="315" src="https://www.youtube.com/embed/Zh0N38Hnwsg" title="YouTube video player" frameborder="0" allow="accelerometer; autoplay; clipboard-write; encrypted-media; gyroscope; picture-in-picture; web-share" allowfullscreen></iframe>


Transparency and Sustainability: the benefits of choosing certified organic and vegan wines
Welcome to our blog! We are passionate about certified organic and Biocyclic Vegan wines, and committed to sustainability and transparency in everything we do. Discover why our award-winning wines are a must-try for health-conscious wine lovers.
Ingredients
Transparency is a cornerstone of certified organic and certified Biocyclic Vegan wines, backed by rigorous inspections of grape growing and winemaking, to inform you of what is not in your wine. The Canadian Organic Standard prohibits genetically modified ingredients, synthetic pesticides and synthetic fertilizers, and the Biocyclic Vegan International Standard prohibits animal inputs in the vineyard and winemaking. This effectively eliminates many common ingredients and since nutritional information and ingredient declarations are not required for wines, certified organic vegan wines are your only guarantee of what wasn't added to them.
The certification logos on labels are your guide to choose wisely. You can also view our list of organic wines at our certifier's site,

Health
Lower alcohol in cool climate wines offers a health advantage, another benefit of buying local. Add the health benefits of organic wines and you have a winning combination! You avoid synthetic pesticide residues - yes, every spray in the vineyard makes it into your glass, and preservatives such as potassium sorbate. Sulfite is naturally occurring, produced by yeast, and organic winemakers can only adjust sulfite levels to half the maximum in federal standards.
Alcohol and Wine - new Canadian alcohol consumption recommendations
Social Change and Environment
Biocyclic Vegan standards start in the vineyard compared to other vegan certifications that just focus on winemaking. These wines are vegan from soil to glass, and not using animal manures is a clear message to oppose conventional livestock practices. Composted grape pomace, left over after pressing, is alternatively used to create a humus-rich soil teeming with beneficial microbes - a living soil that supports vine health.
Cover crops and no-till practices, a pillar of organic agriculture, promote living soils and better nutrients, and mounting information indicates that carbon-holding benefits can lessen global warming.
Water and air quality benefits from organic practices are well proven. Nanotechnology is prohibited because these engineered substances in food and packaging can add to the problems of plastics in our water systems and our health..
~~In vino veritus

Research on microbial terroir and its impact on wine flavour - play the video
~a collaboration with Saint Mary's University on indigenous microbe populations in our Gaspereau estate vineyard and the resulting flavour of our Pet Nat and other organic wines
SMU Clarissa Sit V2 from Saint Mary's University on Vimeo.
More blogs about our certified organic vegan vineyard: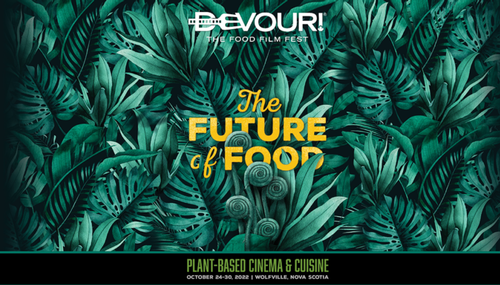 We have been a long-term partner with DEVOUR! Food Film Festival in Wolfville and this year the festival's plant-based theme has us especially intrigued! It's a perfect venue to share our recent Biocyclic Vegan certification news and vegan organic wines by hosting a workshop, sponsoring the Awards Ceremony and partnering with film viewing. We hope you can join us!
Sunday, October 30, Devour! Studios at 360 Main Street and Online, 1:00 p.m. - 2:00 p.m., 100 attendees
L'Acadie Vineyards proprietor & winemaker Bruce Ewert gives us a tasting and workshop exploring the organic wines and terroir of his Gaspereau Valley winery, the first certified Biocyclic Vegan winery in North America.
Sunday, October 30, Devour! Studios at 360 Main Street and Online, 6:30 p.m. - 7:30 p.m., 150 attendees
Join us in celebrating the very best of the 2022 festival at our Devour! Golden Tine Awards Reception where we will present our coveted Golden Tine Awards for this year's films in five categories: Best Animation, Best Short Documentary, Best Short Drama, Best Feature Documentary, and Best Feature Drama. Winners are chosen by our esteemed jury. This reception will also feature L'Acadie Vineyards vegan wines and light bites prepared by Chef Renee Lavallee to announce our 2023 theme.
Thursday, October 27, 1:00pm at Al Whittle Theatre
The End of Medicine exposes the link between our treatment of animals and emerging health threats such as pandemics and antimicrobial resistance. The film sheds light on the largely overlooked impending medical threat warned by CDC and WHO experts, and investigates the role animals play in disease outbreaks and the end of medicine as we know it.
USA, 2022, 70 minutes
Director: Alex Lockwood
Distributor: Lockwood Film
Thursday, October 27, 8 p.m. at the Al Whittle Theatre
Having escaped starvation and tyranny in their homeland of Zimbabwe, four refugees have conquered the odds to become South Africa's top sommeliers. Driven by relentless optimism, a passion for their craft, and unshakeable national pride, they form Zimbabwe's first-ever wine tasting team and set their sights on the coveted title of "World Wine-Tasting Champions". From the moment they arrive in France to compete, this team of mavericks turns an establishment of privilege and tradition on its head.
Australia, 2021, 96 minutes
Directors: Warwick Ross & Rob Coe
Distributor: levelFILM

Making Compost Tea
Compost tea is an important part of our veganic practices, for organic and Biocyclic Vegan wine. Here is a little video.
we compost our grape pomace, no animal manures
Benefits: manage our living soil=better terroir flavours in wine, better disease resistance, micronutrients that activate positive plant responses
For more videos on winemaking and grape growing, see our winemaker's Youtube channel Professor Bubbly