L'Acadie Vineyards Blog
Welcome to the L'Acadie Vineyards blog and winery news

Research on microbial terroir and its impact on wine flavour
~a collaboration with Saint Mary's University on indigenous microbe populations in our Gaspereau estate vineyard and the resulting flavour of our Pet Nat and other organic wines
SMU Clarissa Sit V2 from Saint Mary's University on Vimeo.
More blogs about our certified organic vegan vineyard: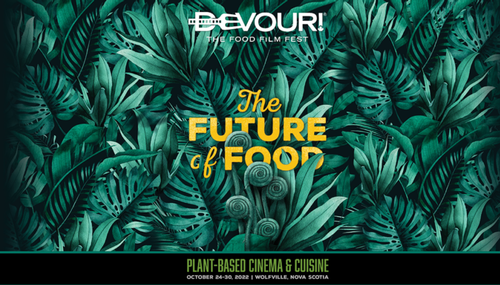 We have been a long-term partner with DEVOUR! Food Film Festival in Wolfville and this year the festival's plant-based theme has us especially intrigued! It's a perfect venue to share our recent Biocyclic Vegan certification news and vegan organic wines by hosting a workshop, sponsoring the Awards Ceremony and partnering with film viewing. We hope you can join us!
Sunday, October 30, Devour! Studios at 360 Main Street and Online, 1:00 p.m. - 2:00 p.m., 100 attendees
L'Acadie Vineyards proprietor & winemaker Bruce Ewert gives us a tasting and workshop exploring the organic wines and terroir of his Gaspereau Valley winery, the first certified Biocyclic Vegan winery in North America.
Sunday, October 30, Devour! Studios at 360 Main Street and Online, 6:30 p.m. - 7:30 p.m., 150 attendees
Join us in celebrating the very best of the 2022 festival at our Devour! Golden Tine Awards Reception where we will present our coveted Golden Tine Awards for this year's films in five categories: Best Animation, Best Short Documentary, Best Short Drama, Best Feature Documentary, and Best Feature Drama. Winners are chosen by our esteemed jury. This reception will also feature L'Acadie Vineyards vegan wines and light bites prepared by Chef Renee Lavallee to announce our 2023 theme.
Thursday, October 27, 1:00pm at Al Whittle Theatre
The End of Medicine exposes the link between our treatment of animals and emerging health threats such as pandemics and antimicrobial resistance. The film sheds light on the largely overlooked impending medical threat warned by CDC and WHO experts, and investigates the role animals play in disease outbreaks and the end of medicine as we know it.
USA, 2022, 70 minutes
Director: Alex Lockwood
Distributor: Lockwood Film
Thursday, October 27, 8 p.m. at the Al Whittle Theatre
Having escaped starvation and tyranny in their homeland of Zimbabwe, four refugees have conquered the odds to become South Africa's top sommeliers. Driven by relentless optimism, a passion for their craft, and unshakeable national pride, they form Zimbabwe's first-ever wine tasting team and set their sights on the coveted title of "World Wine-Tasting Champions". From the moment they arrive in France to compete, this team of mavericks turns an establishment of privilege and tradition on its head.
Australia, 2021, 96 minutes
Directors: Warwick Ross & Rob Coe
Distributor: levelFILM

Making Compost Tea
Compost tea is an important part of our veganic practices, for organic and Biocyclic Vegan wine. Here is a little video.
we compost our grape pomace, no animal manures
Benefits: manage our living soil=better terroir flavours in wine, better disease resistance, micronutrients that activate positive plant responses
For more videos on winemaking and grape growing, see our winemaker's Youtube channel Professor Bubbly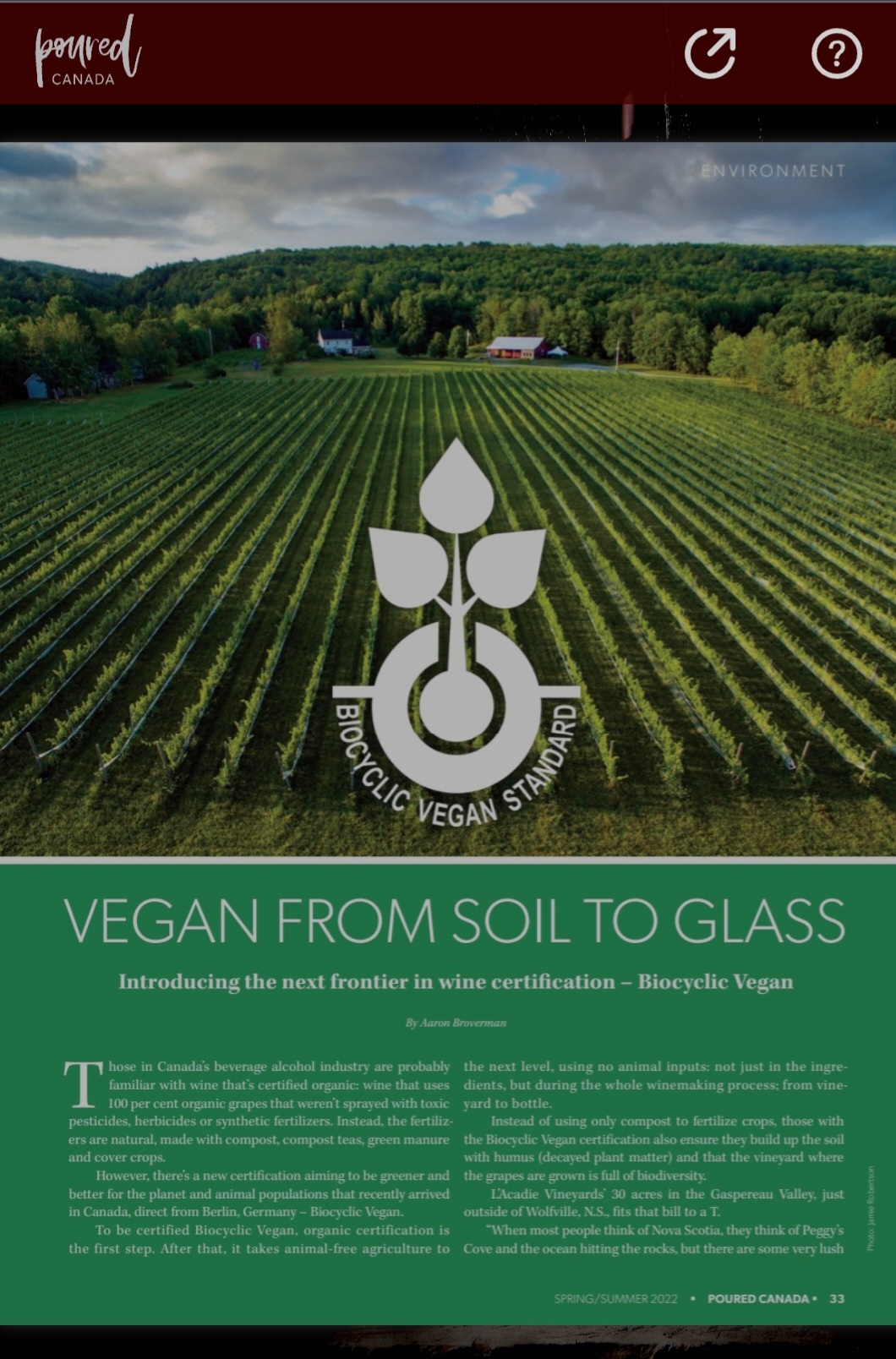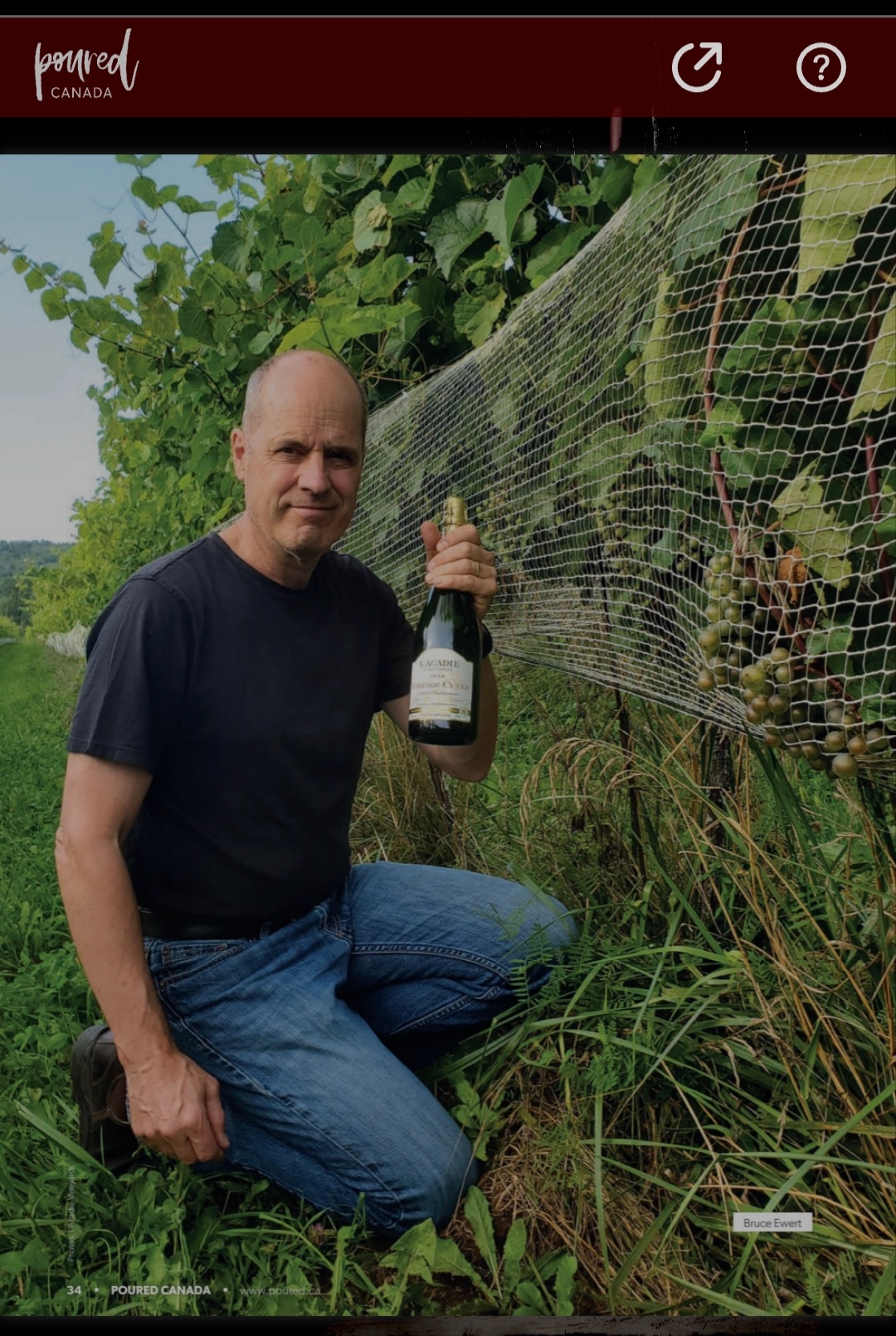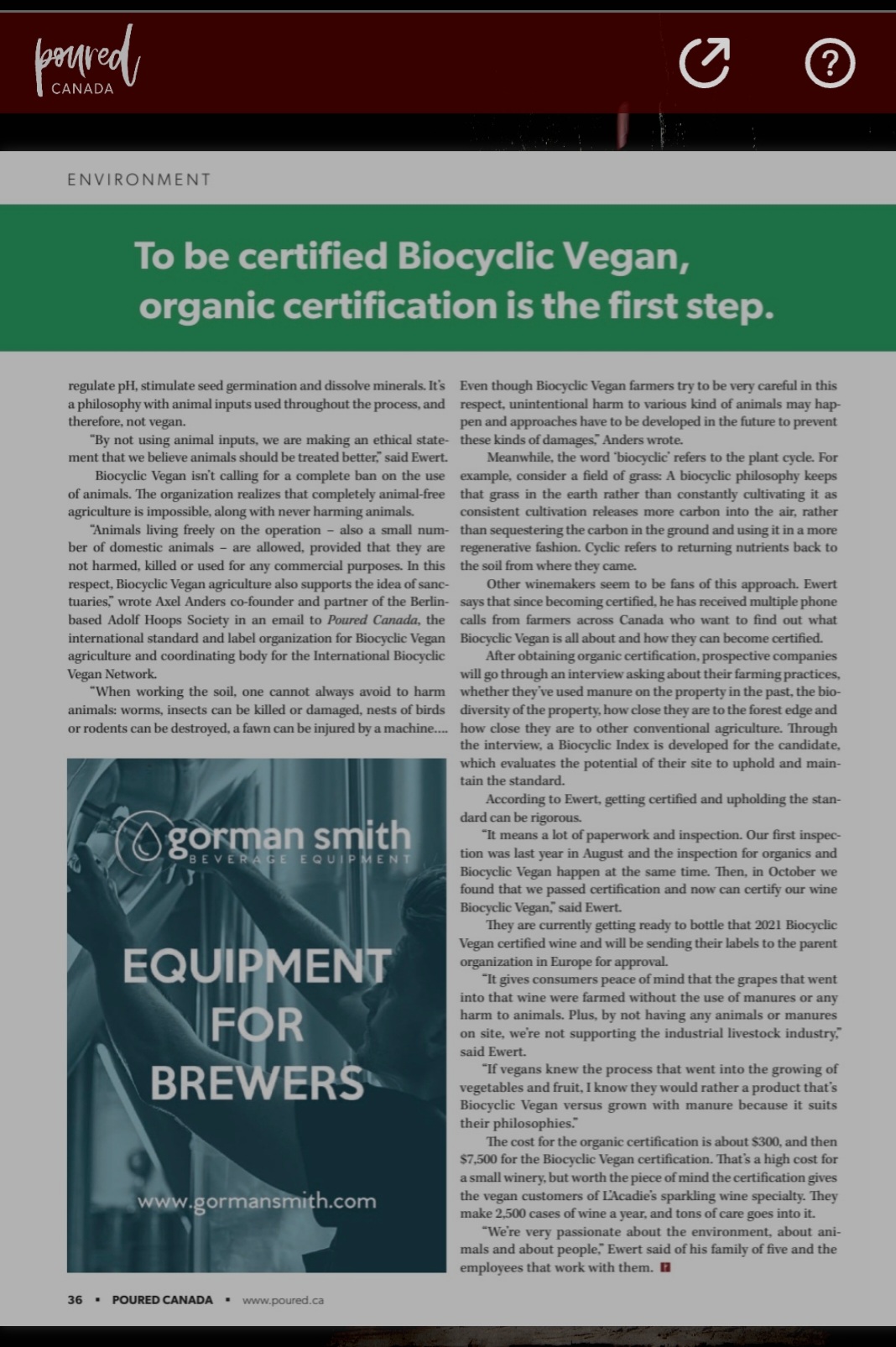 Both names start with "bio" and there are other similarities, but Biodynamic and Biocyclic Vegan practices diverge when it comes to animal use.
Our winery in Gaspereau, Nova Scotia is certified Organic, grape growing and winemaking, and recently also certified Biocyclic Vegan from soil to glass. Our reasons for following these standards are that organic vegan wine is good for the planet, animals and people. Most people are familiar with Organic farming but may not have heard of Biocyclic Vegan or Biodynamic farming. Let's compare all three.
Pesticides
There are many pesticides allowed for grapes, surface and internal acting. Grapes are listed as one of the dirty dozen, a list of heavily sprayed fruits and vegetables published by the Environmental Working Group. Hybrid grapes are fairly disease-resistant but more and more disease-susceptible vinifera grapevines are planted in Nova Scotia every year. Organic production follows the Canadian Organic Standard, the practice of producing food without synthetic pesticides, herbicides or genetically modified organisms (GMO), and certified organic is required to be able to certify your winery to Biodynamic or Biocyclic Vegan Standards.
Living Soil and Fertilizer
All three practices promote healthy microbial life in the soil. The concept is that the farmer manages the soil so that it can provide for the vine, rather than the conventional approach of feeding the vine directly with synthetic fertilizers. Biocyclic Vegan and Biodynamic farming both rely on enriching cover crops between the rows to hold carbon (regenerative agriculture) and to transfer atmospheric nitrogen to the soil. Compost teas, either plant residue or animal manure-based, are used to grow beneficial organisms to increase and stimulate life in the soil and on the vine. This is the first diverging practice - Biocyclic Vegan prohibits anything from animals so only plant residue teas are allowed such as composted grape pomace and there is a reliance on cyclical humus management with composted plant material. A second difference is the spiritual approach of Biodynamic - planting by calendar and using preparations such as burying cow horns filled with manure.
Biodiversity
All three practices promote harmony with nature. They support ecological protection and animal welfare, and the Biocyclic Vegan approach goes further by excluding all animals, both working animals and inputs from them, recognizing that there are deep ethical considerations. Biodiversity practices that follow this ethos strive for a higher level of harmony than Organic. Biodynamic has animal use required and takes into account the rhythms of nature with a more spiritual approach.
Both Biocyclic Vegan and Biodynamic have human development at their core, nuturing the social and economic development of people.
Winemaking
Organic winemaking is the logical final step to shepherd a wine to the bottle. The Canada Organic Standard has a limited list of natural and non-GMO additives that are allowed and the resulting organic logo on the bottle signifies traceability and third party inspections to give consumers confidence. If the wine is not certified organic with the logo on the label, the grapes can be from conventional sources, even if the winery estate vineyard is certified organic. Both Biocyclic Vegan wine and Biodynamic wine have their own additional logo and the same disconnect in traceability happens if they are not on the label. The major difference for the Biocyclic Vegan Standard is that it prohibits all animal inputs in winemaking, which can include gelatin and egg whites.


Environmental
This is where the divide widens considerably in Biocyclic Vegan's favour. By prohibiting all animal inputs, it is not supporting the well documented global warming impact of the livestock industry. Biodynamic farming has animal use as its foundation with manures and preparations using animal organs, but has non-intensive and lower yielding requirements to lessen its environmental impact.
A final note. Our reasons for choosing the Biocyclic Vegan approach from "soil to glass" are rooted in a love for all living beings. As we grow our winery and inspire others, it is important to be informed and know that we all can make a difference.
"When you know better, you do better" ~ Maya Angelou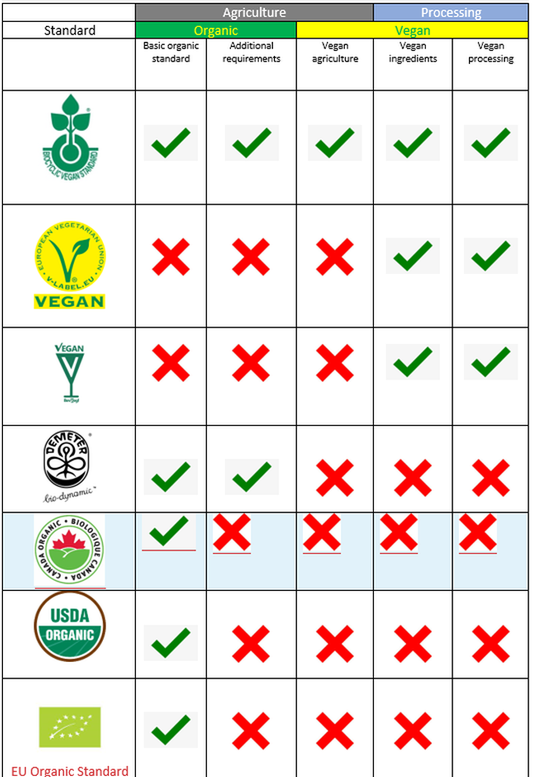 Last year, we achieved certification to the strict Biocyclic Vegan Standard based in Europe, the first farm and winery in North America. This vegan wine certification is a significant addition to our environmental stewardship, scaffolding the benefits of our certified organic status to new heights. Coupled with health benefits and animal welfare, you can see why it is so popular in Europe.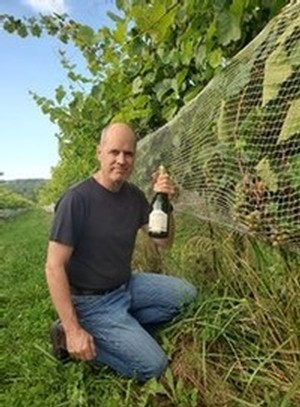 We had been looking for a certification for our vegan wines and were so happy when we found Biocyclic Vegan based out of Germany and Greece. We discovered that they certify the whole operation including the vineyard as well, and ours scored very high because of organic practices, biodiversity and not using animal inputs since 2017. The estate vineyard has been certified organic since inception, the first in Nova Scotia, and we released organic wines in 2008. Compelling reasons are better terroir flavours from living soils, healthy wines avoiding pesticide residues and, more significantly, protecting the environment from pesticides and synthetic petroleum-based fertilizers, both high carbon-generating practices. Biocyclic vegan practices raise the bar even more.

Biocyclic vegan agriculture means purely plant-based organic farming. This form of cultivation excludes all commercial livestock farming of animals and does not use any inputs of animal origin in viticulture or winemaking. Special emphasis is placed on promotion of biodiversity, healthy soil life, closure of organic cycles and on systematic humus build-up. Vegan viticulture enhances our environmental stewardship by avoiding products from the high carbon-generating livestock industry and instead using constant cover crops (also called green manure) between rows for regenerative agriculture carbon management. Composted grape pomace - stems, seeds and skins from every vintage, is significant for further sustainable management of our soil's nutrition and microbial life.
Biocyclic Vegan certification recognizes our extra sustainable efforts and care that are beyond organic, veganic, and we embrace their principles for the good of environment, animals and people.