L'Acadie Vineyards Blog
Welcome to the L'Acadie Vineyards blog and winery news

Introducing our 2022 Tidal Bay!
This is our third vintage of this appellation wine that eloquently showcases our province's unique ocean-influenced terroir: we chose to highlight our estate-grown L'Acadie Blanc which displays minerality & subtle saline reminiscent of the sea, thanks to our ancient sea-bed soil. Our terroir is displayed cleanly & prominently, largely due to the fact that we are organic and foster a living soil.
We are the first organic vineyard & winery in Nova Scotia and the first Biocyclic Vegan farm & winery in North America. Our Earth-friendly practices follow through from soil to glass. The first pick for this wine in September was from vines traditionally sourced for our Prestige Brut Estate, with a deeper layer of humus-rich topsoil that brings our Tidal Bay a fresh acidity & crisp citrus flavours. A later pick in October from a different vineyard block complements the freshness with richer tropical notes such as mango.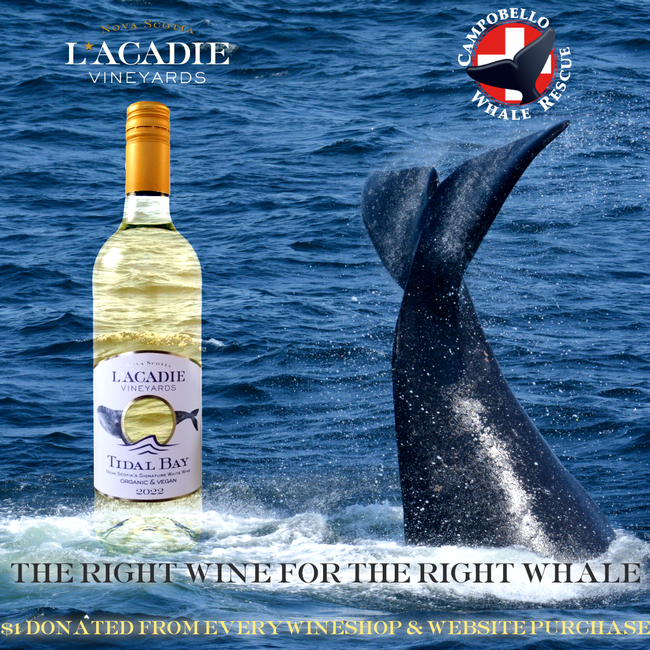 Our wine industry, and subsequently the Tidal Bay appellation, could not exist as it does without our ocean-influence from the Bay of Fundy. This year we have decided to help restore balance in our local marine ecosystem by partnering with the Canadian Whale Institute & Campobello Whale Rescue Team to help save the severely endangered North Atlantic right whale. $1 from every bottle of Tidal Bay sold in our wineshop & on our website will be donated to the Campobello Whale Rescue Team of the Canadian Whale Institute.
"The Campobello Whale Rescue Team of the Canadian Whale Institute is an organization of fishers, scientists and conservationists. They have firsthand knowledge of maritime waters, fishing gear and whale behaviour. Team members are trained in the use of specialized equipment to disentangle large whales from fishing gear, and to work with weir owners to release entrapped whales. The CWRT is licensed and permitted by Fisheries and Oceans Canada (DFO) to disentangle whales in the Maritimes, Gulf of St. Lawrence & Quebec. They work in coordination with DFO, the Marine Animal Response Society (MARS), and the Réseau Québécois d'urgences pour les mammifères marins (RQUMM) in partnership with Équipe de Desempêtrement du Golfe (EDG)."
Pick up a bottle for the weekend & enjoy a glass of wine for a good cause! Order Tidal Bay

Spring Wineshop Opening
Wineshop and Tastings
Our wineshop at our Gaspereau winery near Wolfville opens May 6, 2022. Wine tastings and wine tours are by appointment and outside again this year to ensure COVID safe and intimate experiences. Masks are required in the wineshop.
Hours: Monday-Saturday 10:30-5pm, Sundays 12-4pm
We are very excited to greet visitors this tourist season with our award winning still and sparkling wines!! Organic and vegan, from soil to glass!!
New Releases
2021 Tiday Bay - we join other wineries of Nova Scotia is presenting our style of Tidal Bay, crisp and dry with enhanced minerality from our rocky ancient seabed terroir. Organic wine and certified Biocyclic Vegan wine, from soil to glass. Vertical tastings available while our library of 2020 Tidal Bay lasts!
2021 Rose - all of our 2021 vintage wines have the Biocyclic Vegan certifying logo on the label. This year's organic vegan Rose has strawberry and lime aromas and it's dry.
2021 Star - It's back! We haven't released Star for several years, and many will remember this past award-winning white wine. Rich and weighty from skin contact of the ripest vegan and organic grapes from 2021!
2020 Joie de Vivre - our newest sparkling wine, charmat method! A huge crowd pleaser and perfect for spring entertaining with many vegan food pairing options such as fresh salads and cold pasta dishes.
How to Visit Us
There are many ways to visit us in the Gaspereau Valley.
Self Drive - we are about an 8 minute drive from exit 9 off of highway 101. Directions
Tour Partners - book your day of visiting Nova Scotia wineries with any of these incredible wine tour companies,
Grape Escapes Nova Scotia Wine Tours
Magic Winery Bus - on Thursdays and Fridays
Wild Grape Wine Tours - choose Escape Through the Vines tour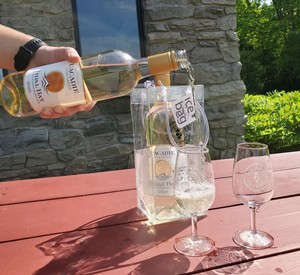 We are celebrating the launch of 2020 Tidal Bay from wineries in Nova Scotia with fun offers from Wine Growers of Nova Scotia! Purchase 6 bottles of our organic wine including at least one bottle of Tidal Bay before the end of June from our website for shipping or curbside pickup to get the following offers,
Receive a voucher for a wine tasting experience for two at our Gaspereau winery. We hope to be opening for tastings in late June in Phase Two of Nova Scotia`s Reopening Plan and our employees have been vaccinated for at least two weeks.
Also receive a Wine Growers of Nova Scotia Ice Bag with shipped orders or two branded wine glasses with curbside pickup orders. While supplies last.
Free Shipping for 6 bottles or more in Canada until end of June

We are releasing our first Tidal Bay in May! Joining a legacy of almost 10 years of previous releases from our Nova Scotia vineyard friends. And we couldn't be more excited about our inaugural blend and new label. If you're a lover of wineries in Nova Scotia you know what I'm talking about, if not, here is a Tidal Bay primer on the Wines of NS website
Why have we not joined the bandwagen in the past? We were not members of the winery association for the past seven years and Tidal Bay is an association initiative. We left the association because of issues with other winery board members in their refusal to protect our region's traditional method sparkling wine image from the growing number of artificially carbonated wines. We wanted better wine standards, they didn't. There are now new government-led wine standards being developed that will protect the image of sparkling wine, resulting largely from our lobbying.
We have built our winemaking reputation on sparkling wine with the first releases for the province and many international awards and accolades. Prestige Brut Estate was even shipped to the embassy in Moscow recently...for the second time! We are a winery that didn't set out to be everything to everybody. But we have been quietly researching and experimenting new styles beyond sparkling, always with the ethos of sustainability and suitability to our climate. Releases that have reflected those efforts are appassimento reds (Passito) and dessert wines, carbonic maceration red, and wines fermented with wild yeasts such as Pet Nat and Orange wine. And we have been doing the same meticulous planning and trial ferments for our new Tidal Bay program.
Our approach - dry and organic. To make sparkling wine you first have to be talented with making base wines that have a sense of place. Our many years of releases of Estate L'Acadie and Prestige Brut Estate show my winemaking style of showcasing our terroir - dry and clear. We planted predominantly L'Acadie blanc on our estate because we were impressed early with its flavours on our many investigative trips to Nova Scotia, Pauline's home province, and saw the potential of matching the unique gravelly terroir of our Gaspereau vineyard with Nova Scotia's signature variety. In fact, enhanced minerality and slight saline from schist, sandstone, an ancient seabed, is our own terroir signature, and getting stronger each year as the roots reach deep, over a metre presently. We approach Tidal Bay with the same lens - dry and the blend is predominantly L'Acadie from our estate.
Organic viticulture has been practiced at our Wolfville winery since inception and our Tidal Bay is a certified organic wine. The blend also has 15% organic Seyval blanc from the Windsor area on typical heavier soils- clay, loam. We are familiar with it from years of blending with Vintage Cuvee and it brings acidity and citrus flavour to the blend, fully complementing the richer tropical notes from L'Acadie. Living soils are prominent in both vineyards, a foundation of organics, with fungal populations helping the vine accentuate its uptake of not only nutrients but also flavours from the soil. A perfect match for a terroir-based wine like our Tidal Bay.
Releasing May 1 on our website and later in May in our wineshop.
UPDATE: As of May 1 you can buy Tidal Bay here