L'Acadie Vineyards Blog
Welcome to the L'Acadie Vineyards blog and winery news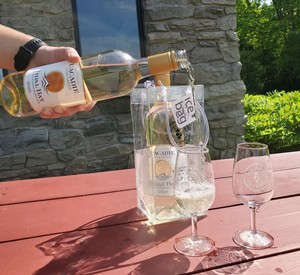 We are celebrating the launch of 2020 Tidal Bay from wineries in Nova Scotia with fun offers from Wine Growers of Nova Scotia! Purchase 6 bottles of our organic wine including at least one bottle of Tidal Bay before the end of June from our website for shipping or curbside pickup to get the following offers,
Receive a voucher for a wine tasting experience for two at our Gaspereau winery. We hope to be opening for tastings in late June in Phase Two of Nova Scotia`s Reopening Plan and our employees have been vaccinated for at least two weeks.
Also receive a Wine Growers of Nova Scotia Ice Bag with shipped orders or two branded wine glasses with curbside pickup orders. While supplies last.
Free Shipping for 6 bottles or more in Canada until end of June

There are high hopes that the 2021 tourist season will be better than 2020. Will we have the famous Atlantic Bubble again or will it be mainly staycations within the province? We don't know, but we are planning on optimism and have many compelling reasons for you to visit our Gaspereau winery this year.
Wine tours of wineries in Nova Scotia are very popular. We are a family run organic vineyard in Gaspereau Valley and our Wolfville winery offers wine tastings, vineyard tours and even encourages visitors to bring their own picnic for food and wine pairings. We are the birthplace of traditional method sparkling wine and offer one of the most diverse sparkling wine portfolios of all the Nova Scotia vineyards and the most certified organic wine. Visit our wineshop and bring a bottle home to relive your day in the heart of wine country.
Wine Tasting and Tour Options – Season starts late May (date to be announced)
All tastings and tours are by appointment, Visit our website to book your tasting now: /Visit-Us
Sparkling Tasting – Four of our sparkling wines including wineshop exclusives, production methods and suggested food pairings
L'Acadie Tasting – an exploration of our diverse organic wines with three still wines and a choice of traditional method sparkling wine
A la Carte Tasting – you decide which wines that you would like to taste
Vineyard Tour – taste three focussed terroir wines while learning about our vineyard practices, organic ethos, terroir and sense of place.
Learn more about our tours and tastings on our website.
Industry partnerships are a valued component to our wine tour program and we are pleased to work with five tour companies in 2021. They also offer custom winery tours in the Wolfville area, so just ask them to include us and they will!