July 2, 2023 | Getting to Know our Wine, White wines | L'Acadie Vineyards
The Right Wine for the Right Whale
Introducing our 2022 Tidal Bay!
This is our third vintage of this appellation wine that eloquently showcases our province's unique ocean-influenced terroir: we chose to highlight our estate-grown L'Acadie Blanc which displays minerality & subtle saline reminiscent of the sea, thanks to our ancient sea-bed soil. Our terroir is displayed cleanly & prominently, largely due to the fact that we are organic and foster a living soil.
We are the first organic vineyard & winery in Nova Scotia and the first Biocyclic Vegan farm & winery in North America. Our Earth-friendly practices follow through from soil to glass. The first pick for this wine in September was from vines traditionally sourced for our Prestige Brut Estate, with a deeper layer of humus-rich topsoil that brings our Tidal Bay a fresh acidity & crisp citrus flavours. A later pick in October from a different vineyard block complements the freshness with richer tropical notes such as mango.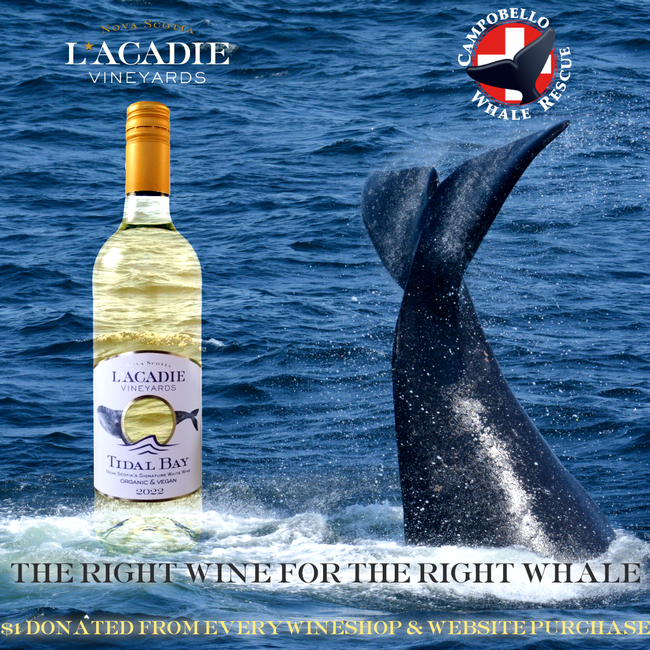 Our wine industry, and subsequently the Tidal Bay appellation, could not exist as it does without our ocean-influence from the Bay of Fundy. This year we have decided to help restore balance in our local marine ecosystem by partnering with the Canadian Whale Institute & Campobello Whale Rescue Team to help save the severely endangered North Atlantic right whale. $1 from every bottle of Tidal Bay sold in our wineshop & on our website will be donated to the Campobello Whale Rescue Team of the Canadian Whale Institute.
"The Campobello Whale Rescue Team of the Canadian Whale Institute is an organization of fishers, scientists and conservationists. They have firsthand knowledge of maritime waters, fishing gear and whale behaviour. Team members are trained in the use of specialized equipment to disentangle large whales from fishing gear, and to work with weir owners to release entrapped whales. The CWRT is licensed and permitted by Fisheries and Oceans Canada (DFO) to disentangle whales in the Maritimes, Gulf of St. Lawrence & Quebec. They work in coordination with DFO, the Marine Animal Response Society (MARS), and the Réseau Québécois d'urgences pour les mammifères marins (RQUMM) in partnership with Équipe de Desempêtrement du Golfe (EDG)."
Pick up a bottle for the weekend & enjoy a glass of wine for a good cause! Order Tidal Bay
Comments
Commenting has been turned off.