December 4, 2022 | Getting to Know our Wine, Recipes and Wine Pairings, Sparkling Wine | L'Acadie Vineyards
How to Serve Sparkling Wine
Tips for serving traditional method and charmat sparkling wine,
Opening
Keep your hand on the cork! Release the cage with one hand and keep the other hand on the cork. Hold it and twist the bottle until you feel the pressure pushing it out. Get the perfect "pffftt" like a master sommelier, or a crowd pleasing "pop!" by letting it come out slower or faster. This video from our friends at Taste of Nova Scotia is a good primer on opening a bottle of sparkling,
Pouring
Always chill sparkling wines to fridge temperatures (4C) to enhance retention of bubbles. A flute is ideal but larger glass bowls better coax the aromas from well-aged wines like Prestige Brut Estate . Make sure the glass is clean and doesn't have soap residue. A full serving is 4 ounces (120ml) and to enhance enjoyment of aromas only fill to 1/3 to 1/2 full....and fill more often. Pro tip: tilt the glass and gently pour to preserve bubbles. No need to swirl - the bubbles will bring the toasty aromas to your nose.
Storing
Use a champagne stopper that secures onto the glass ring of the bottle, the same area that the wire cage held onto.....avoid expanding-style of stoppers - they can become rockets if too much pressure builds. Should keep for 3-5 days in fridge.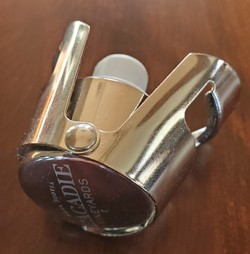 Champagne stopper available in our wineshop
Food Pairings
Many seafoods pair well with sparkling wine - "what grows together, goes together" is a favourite maritime expression. Think mussels, lobsters and oysters. But don't stop there - consider any food that has a salty component like potato chips and popcorn. Of course mild chesses are always a hit with guests, especially an assortment of soft cheeses. For curried and spicy dishes, choose our most aromatic sparklings like Rose Brut, or consider trying our traditional method cider, Duncanson Brook Cider
Visit our Recipe page for ideas such as Vegan Carbonara paired with Joie de Vivre charmat sparkling
Comments
Commenting has been turned off.