September 16, 2023 | From Our Winemaker | Bruce Ewert
Hybrid vs. vinifera - let's market our region instead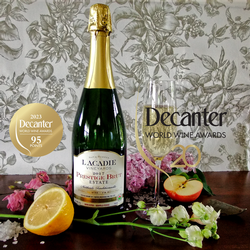 Our wine region is based on hybrid grapes, grape varieties originating from plant breeding programs that blended the winemaking characteristics of European varieties called vinifera with North American varieties known for winter hardiness and disease resistance. An example of vinifera is Chardonnay and a local hybrid is L'Acadie Blanc, Nova Scotia's signature grape variety. Many hybrid varieties were pulled out in other warmer regions of Canada in the 1980's and replanted with vinifera, almost all grapes in BC and less in Ontario, and they were known for high cropping and a quality level that suited consumer preferences of the day – I was in BC at this time in my early winemaking career making Hochtaler and Baby Duck. Myth and stigma continues for hybrid grapes but wines in cool climates like our region are high quality from excellent viticulture and turning heads, and we have to learn to market them without making excuses.
L'Acadie Vineyards recently earned a Gold medal and 95 points at Decanter World Wine Awards in London for a 100% L'Acadie Blanc sparkling wine called Prestige Brut Estate. It has been three months since the announcement and our Gaspereau winery is having an enjoyable ride of media coverage and sales. After a period of reflection my opinion is that Decanter's take on the win is similar to when a California wine first won at this prestigious European wine competition in the 1970's, dramatized in the film Bottle Shock. Very much appreciate their words about us, but the focus is tilted towards hybrids,
"Canada is a cool climate region that knows a thing or two about the benefits of hybrid grape varieties, and for the first time a single varietal L'Acadie Blanc, a hybrid crossing of Cascade and Seyve-Villard, was awarded a Gold medal in its rendition as a sparkling wine for L'Acadie Vineyards, Prestige Brut 2017 from Gaspereau Valley in Nova Scotia. A noteworthy first-ever Gold for the region too." Olivia Mason, Decanter June 7, 2023.
They focussed on a hybrid grape winning but isn't the real news, the "bottle shock", that Nova Scotia won? Or our winery, our organic wine. It's feeding the myth of less quality hybrids but with notable exceptions like this one bubbling up from the bottom now and then. If a wine from Portugal's Douro Valley appellation won a similar award would the news be about a relatively obscure regional varietal like Gouveio, Malvasia Fina, Rabigato, and Viosinho or would it simply be the Douro region? I think the latter and much better for marketing the region especially since they rarely label their wines by varietal. And what if a Tidal Bay wine won a big international award? Would the focus be on the hybrid varieties in the blend? Much better marketing for our region would be to promote the appellation wine and Nova Scotia.
How do we change the narrative? Let's start close to home. I have heard it so many times from wineries in Nova Scotia,
"we have the hybrids pruned and now starting the viniferas"
"how much do you pay for hybrids?"
And more recently, "congratulations on your Decanter gold, especially since it is for a hybrid"
Let's start talking about varieties as just that, varieties, without categorizing them into a class system. Each variety has unique winter hardiness and disease resistance and we even saw an exception to the myth rule this past winter after the polar vortex - Riesling fared better than New York Muscat.
There has been much effort to plant vinifera varieties in the last 10 years under the impression that wine trade will take our region more seriously if we produce varietals such as Pinot Noir and Chardonnay. The polar vortex was a sobering call and perhaps it's time to change our mindset, and change wine trade's narrative. And there are individuals in wine trade that are already our "freedom riders",
"I'd rather have a ripe Marechal Foch than an underripe Pinot Noir", well known local wine lover Jeff Pinhey
Comments
Commenting has been turned off.