October 28, 2023 | L'Acadie Vineyards
Vintage Cuvee wins at Canada's Great Kitchen Party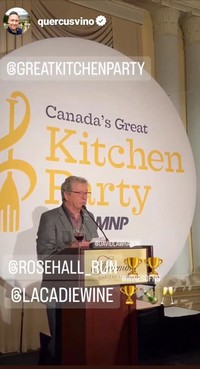 We are delighted to announce that Vintage Cuvee has earned a spot at the Canadian Culinary Championships after winning at Canada's Great Kitchen Party in multiple cities!
Canada'a Great Kitchen Party, aka Canadian Culinary Championships, is an unforgettable gourmet experience held in cities across Canada of thrilling battles for top spot on the podium and earning a spot at the national championship. Guests savour dishes at each competing chef's station, along with beverage pairings showcasing some of the finest Canadian wines, craft beers, and spirits. Only gold medal winning wines were asked to compete this year.
Vintage Cuvee is a gold medal award winning wine earning 92 points at the National Wine Awards earlier this year, and has earned 90 points or more for four consecutive vintages. An organic wine and vegan wine that has become Canada's ambassador for Nova Scotia wineries.
"Surprising amount of fruit in this Blanc de Blancs based on L'Acadie Blanc with (13 percent) Seyval Blanc. Fine aromatic grip surrounds a mix of stone and also green fruit but what is most special here is the intensity of the bubble and fine purity of the lees. Would never see this as autolytic, oxidative or yeasty but only in terms of salty, marine airy excitement. Oysters are an ideal match. Drink 2023-2029." Michael Godel
"Fresh white floral aromatics with an umami lean on the nose. The wine communicates refreshment on the palate with bright, crunchy acidity. There is a lot of talk about hybrids these days with climate change and a great example of how the bar is being raised every vintage with these varieties." Jenna Briscoe
David Lawrason, influential wine advisor for the events at cities across Canada, describes in a post from Vancouver, "It's on a coast-to-coast mission to impress"
Canada's Great Kitchen Party 2023 wine awards for Vintage Cuvee:
Gold in Vancouver
Silver in Ottawa
Secured spot at the culinary championships in February.

Here is what David had to say about Vintage Cuvee in Ottawa,
"One of the most important sparkling wines Canada has ever produced", David Lawrason, wine judge, wine advisor for Canada's Great Kitchen Party.
Short video of David's podium speech, https://youtube.com/shorts/gNqkvIC9_Zk?feature=share
Comments
Commenting has been turned off.