October 19, 2022 | Biocyclic vegan | L'Acadie Vineyards
Devour Food Film Festival 2022 - Plant-Based Theme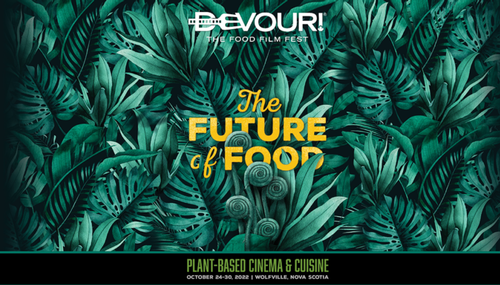 We have been a long-term partner with DEVOUR! Food Film Festival in Wolfville and this year the festival's plant-based theme has us especially intrigued! It's a perfect venue to share our recent Biocyclic Vegan certification news and vegan organic wines by hosting a workshop, sponsoring the Awards Ceremony and partnering with film viewing. We hope you can join us!
Sunday, October 30, Devour! Studios at 360 Main Street and Online, 1:00 p.m. - 2:00 p.m., 100 attendees
L'Acadie Vineyards proprietor & winemaker Bruce Ewert gives us a tasting and workshop exploring the organic wines and terroir of his Gaspereau Valley winery, the first certified Biocyclic Vegan winery in North America.
Sunday, October 30, Devour! Studios at 360 Main Street and Online, 6:30 p.m. - 7:30 p.m., 150 attendees
Join us in celebrating the very best of the 2022 festival at our Devour! Golden Tine Awards Reception where we will present our coveted Golden Tine Awards for this year's films in five categories: Best Animation, Best Short Documentary, Best Short Drama, Best Feature Documentary, and Best Feature Drama. Winners are chosen by our esteemed jury. This reception will also feature L'Acadie Vineyards vegan wines and light bites prepared by Chef Renee Lavallee to announce our 2023 theme.
Thursday, October 27, 1:00pm at Al Whittle Theatre
The End of Medicine exposes the link between our treatment of animals and emerging health threats such as pandemics and antimicrobial resistance. The film sheds light on the largely overlooked impending medical threat warned by CDC and WHO experts, and investigates the role animals play in disease outbreaks and the end of medicine as we know it.
USA, 2022, 70 minutes
Director: Alex Lockwood
Distributor: Lockwood Film
Thursday, October 27, 8 p.m. at the Al Whittle Theatre
Having escaped starvation and tyranny in their homeland of Zimbabwe, four refugees have conquered the odds to become South Africa's top sommeliers. Driven by relentless optimism, a passion for their craft, and unshakeable national pride, they form Zimbabwe's first-ever wine tasting team and set their sights on the coveted title of "World Wine-Tasting Champions". From the moment they arrive in France to compete, this team of mavericks turns an establishment of privilege and tradition on its head.
Australia, 2021, 96 minutes
Directors: Warwick Ross & Rob Coe
Distributor: levelFILM
Comments
Commenting has been turned off.