September 9, 2021 | L'Acadie Vineyards
Prestige Brut Estate Wins 2021 Lieutenant Governor's Award of Excellence in Nova Scotia Wine

We were honoured to receive the Lieutenant Governor's Award of Excellence in Wine today for 2014 Prestige Brut Estate!

And so surprised and thankful for recognition during the ceremony by the Honourable Arthur J LeBlanc for its international award at Decanter World Wine Awards with 92 Points.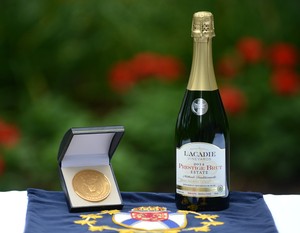 Here's the 30 minute live FB broadcast. The Lieutenant Governor presentation starts arounds 5:15 and mentions our International Decanter Award at 9:30..much to our surprise and delight!
Comments
Commenting has been turned off.