February 2, 2021 | Sparkling Wine | L'Acadie Vineyards
Sipping Stars
Have you ever imagined that those playful bubbles in your glass of sparkling wine are like stars? Dom Perignon thought so too. He was the blind French monk that is credited with the discovery of fermenting wine in the bottle and was quoted as saying, "I'm sipping stars!". And they have been the iconic symbol of Champagne ever since, including sparkling wines from other regions.
We associate stars with our sparklings based on these traditions. And our relationship with the style is strong: an experienced sparkling winemaker from British Columbia, the first release of traditional method sparkling in Nova Scotia and the province's first international awards. We were honoured when Beppi Crosariol wrote in the Globe and Mail, "Bruce Ewert released Nova Scotia's first Champagne-method sparkling wine back in 2008. The local industry owes much to his foresight" Our present logo boasts one proud star, and our first logo back in 2008 had five stars.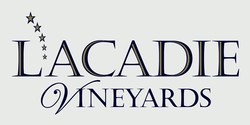 You'll recognize this logo on our road sign at the winery as a continuing homage to sparkling wine and our commitment to its craft in Nova Scotia.
Comments
Commenting has been turned off.