November 13, 2022 | From Our Winemaker | Bruce Ewert
Vintage 2022 and Climate Change in Nova Scotia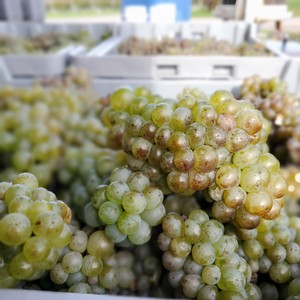 Vintage 2022 is now complete and amid these record-breaking warm November temperatures it is time to reflect on how climate change is affecting our wine region and our Gaspereau winery. But first, let's compare another wine region, the Okanagan Valley in British Columbia.
I made sparkling wine in the Okanagan as head winemaker at See You Later Ranch winery and then Summerhill Pyramid winery for eight years before we moved back to Nova Scotia in 2004. It's hot there. Quite often 40C hot. I had to make many compromises to produce sparkling wine in that heat, quite often having to pick grapes early to avoid too much sugar accumulation, to avoid boozy alcoholic base wines. But the problem was the flavours weren't always there yet – the seeds were green.
We moved to Nova Scotia to eventually release the province's first traditional method sparkling wines and I felt like we had found sparkling paradise. Compromises were in my rear-view window – I bragged to my winemaking friends in BC about the moderate sugar levels, acid retention and perfectly ripe grapes, with lignified brown seeds. These are ideal conditions for a world-class sparkling region!
There is a warming trend in Nova Scotia, especially since 2020, and we have been watching grape acidity levels more closely and harvesting earlier for perfect freshness. Vintage 2022 was the warmest season in three years and we picked early, in September, but it's important to note that our characteristic flavours from our unique terroir didn't change. A potential impact with a shorter growing season that we are not seeing yet.
Other Effects
Other effects of climate change in our wine region can be viewed as negative, and sometimes cautiously positive. Hurricanes can damage fragile grapevine shoots and even break trellis posts, especially is they occur when there is full foliage acting like a sail in the wind. Droughts can cause vine stress for our non-irrigated farming systems. Extreme weather is scary. Milder winters can allow more insects to survive, and there are new vineyard pests on our doorstep that could flourish.
It is hard to pull benefits from global warming, but milder winters and more heat units in the growing season could allow Nova Scotia to grow more sensitive grape varieties such as Chardonnay.
So How Can We Adapt?
We planted Chardonnay, Pinot Noir and Sauvignon blanc in 2019 on our Gaspereau Valley estate, and made sure to use drought resistant root stocks as much as possible. These are planned for sparkling wine styles with expected higher acidity retention, and wouldn't it be great to produce a racy Sancerre-style still wine in the warm years.
We invested in a very ambitious charmat sparkling project in 2019 and after pandemic-related delays with equipment delivery from Italy we released Joie de Vivre in 2021. It complements our iconic traditional method sparkling line-up with an earlier-release, fruitier sparkling wine. Very popular. And adaptable to future warmer growing seasons.
Certified organic production, and now also certified Biocyclic Vegan from soil to glass, gives us more resilience to drought and pest pressures. Our practices of encouraging living soils with high fungal composted grape pomace, coupled with cover crops to keep carbon in the soil and encouraging biodiversity sets up a favourable environment for extreme weather. In this way, we are also doing our part to not add to global warming by producing organic wines and vegan wines.
Comments
Commenting has been turned off.