L'Acadie Vineyards Blog
Welcome to the L'Acadie Vineyards blog and winery news

Have you ever imagined that those playful bubbles in your glass of sparkling wine are like stars? Dom Perignon thought so too. He was the blind French monk that is credited with the discovery of fermenting wine in the bottle and was quoted as saying, "I'm sipping stars!". And they have been the iconic symbol of Champagne ever since, including sparkling wines from other regions.
We associate stars with our sparklings based on these traditions. And our relationship with the style is strong: an experienced sparkling winemaker from British Columbia, the first release of traditional method sparkling in Nova Scotia and the province's first international awards. We were honoured when Beppi Crosariol wrote in the Globe and Mail, "Bruce Ewert released Nova Scotia's first Champagne-method sparkling wine back in 2008. The local industry owes much to his foresight" Our present logo boasts one proud star, and our first logo back in 2008 had five stars.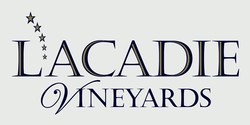 You'll recognize this logo on our road sign at the winery as a continuing homage to sparkling wine and our commitment to its craft in Nova Scotia.

Always chill sparkling wines to fridge temperatures (4C) to enhance retention of bubbles. A flute is ideal but larger glass bowls better coax the aromas from well-aged wines like Prestige Brut Estate . Make sure the glass is clean and doesn't have soap residue. A full serving is 4 ounces (120ml) and to enhance enjoyment of aromas only fill to 1/3 to 1/2 full. No need to swirl - the bubbles will bring the toasty aromas to your nose.
Many seafoods pair well with sparkling wine. Think mussels, lobsters and oysters. But don't stop there - consider any food that has a salty component like potato chips and popcorn. Of course mild chesses are always a hit with guests, especially an assortment of soft cheeses. For curried and spicy dishes, choose our most aromatic sparklings like Rose Brut, or consider trying our traditional method cider, Duncanson Brook Cider


Ferments are finishing and vintage is winding down, making this a good time to review vintage through a winemaker's lens. Vintage 2020 was a shining star in contrast to the dismal pandemic backdrop, and Nova Scotia winemakers needed it after the 2018 June frost and very cool 2019 season. A mild winter and record heat units in 2020 made it a growing season to remember, the most grapes we have had from the Estate. Many days shattered the 30C window and it was dry, but with enough well-timed rain for our established blocks of L'Acadie and Leon Millot. These 10 year old vines have worked hard over the years to extend their roots metres deep in well drained gravels of schist and sandstone, depths that show fair resistance to drought conditions. In contrast, new blocks of two year old Chardonnay, Sauvignon blanc and Pinot Noir needed irrigation almost every two weeks.
We pruned sparkling blocks to 20-24 buds/vine last winter and yields were 8 tonnes/hectare…if you are comparing us to Champagne (which we happily encourage) their yields are up to 10 tonnes/ha. A hurricane forecast jump started harvest on September 17 but luckily we were not affected, and we continued the sparkling pick for four weeks with an awesome group of local pickers, many that have been with us since the beginning. During that time acids only decreased minimally in true Nova Scotia fashion and the happy result is that we have many tanks of diverse sparkling bases to create our sparkling blends – some with steely acidity, some richer with more of a citrus direction. As always, seeds were brown and lignified, physiologically ripe, and bragging rights to other sparkling wine regions We pruned other blocks for Estate L'Acadie and picked ripe golden sun exposed grapes before Thanksgiving and either crushed for skin contact, or pressed whole cluster for a Tidal Bay blend, our first! The blend will be about 15% Seyval from one of our growers in Falmouth on heavier soils. Appassimento techniques for a small amount of red continue in the cellar and we expect to finish pressing this week. Yields were low in the Leon Millot block and birds outsmarted our netting - wish we had more. Be prepared to be wowed with Nova Scotia 2020 reds, released in a couple of years. It was a pleasure to have an intern from the NSCC Cool Climate Wine and Viticulture program with us for vintage -she helped with small lots, did most of the lab work and press loading and emptying. Very passionate about wine and a keen learner...expect to see more of her in our industry in the future.
Vineyard activities will continue into December with Caitlin busy rock picking and hilling the lower blocks, turning the soil under the L'Acadie and starting to prune. You might have noticed us renewing our cover crop if you visited this year. Timothy was chosen for its shallow roots and compatibility, and we will continue planting it every other row in the spring. Organic principles are to avoid bare soil for extended periods and cover crops are significant. Vegan agriculture is a part of our certified organic ethos and excludes all commercial livestock, harming of animals and inputs of animal origin. Stay tuned for more blogs about that!


L'Acadie Vineyards: Nova Scotia's Sparkling Stalwart
I'm intrigued (and inspired) by winemakers who really do 'push the envelope.' And Bruce Ewert is one of those winemakers. Ever since Ewert left BC for Nova Scotia to make wine in Nova Scotia's Annapolis Valley I've been following his progress—and, in particular, L'Acadie Vineyards' success in sparkling wine.
Born in Prince George, and a graduate of UBC, Ewert cut his viticultural teeth working across the country in various winemaking capacities for Andrés Wines. He started out in Port Moody, BC, before heading to Winona, Ontario and Truro, Nova Scotia. Along the way he worked vintages in Australia and California and returned to BC in 1995.
In those early days Ewert consulted to Sumac Ridge and Hawthorne Mountain (now SYL Ranch) and went on to explore sparkling wine at Summerhill. His wife, Pauline Scott, hails from Nova Scotia. Hence, he says, when it came to looking for affordable land on which to launch L'Acadie Vineyards (in 2004), then still emerging Annapolis Valley was an obvious choice.
Ewert was determined to follow the mantra "the right grape for the right site." In this case he felt strongly that the right grape was l'Acadie Blanc. It's a Canadian, cold-hardy hybrid of Seibel and Villard which is now widely planted in Nova Scotia. And he knew that the ancient seabed of the Gaspereau Valley—defined by schist and sandstone—was the perfect site.
Bruce Ewert
The winemaker was also drawn to L'Acadie Blanc's higher acid, less fruit-driven profile. Noting at the time that nobody in Nova Scotia was making bubble he was convinced it would make "a wonderful sparkling wine." Moreover, when it came to sparkling, Bruce was definitely bullish on Annapolis Valley rather than the Okanagan. There he reckoned (even over a decade ago) that consistently higher sugars were proving too challenging for sparkling.
As it turned out, he was likely witnessing the early signs of what we have now come to understand more urgently as climate change. On an already brief cycle of the vine, no one is immune to its impact, he notes. "Bud break now sometimes comes later than usual, and first frost possibly earlier. And even though winters may be getting milder, it's not a certainty."
Overall, though, his observation that Nova Scotia has considerably less heat units more than paid off in terms of consistently seeing more moderate sugar levels and good acid retention. And the L'Acadie grape has adapted, he says, "amazingly well, shortened its cycle through flowering and veraison, and still ripens for sparkling."
In conclusion, it's truly rewarding to see L'Acadie Vineyards making a name for itself—especially building the reputation of Canadian Traditional Method sparkling. It's surely one of our most under-appreciated styles with plenty of potential—and sites not yet explored.
L'Acadie Vintage Cuvée 2017 (Annapolis Valley)
[L'Acadie Vineyards Vintage Cuvée 2017]
This blend of 92% estate-grown L'Acadie Blanc with 8% Annapolis Valley Seyval Blanc is certified organic and aged on the lees for before its first disgorging in June 2019. Here the L'Acadie and its suitability to sparkling truly shines through. Forward citrus, apple and toasty notes with anise hints, a stream of fine bubbles with persistent mousse, quite creamy and citrus on the palate with mineral undertones, excellent structure and zesty notes to close. Excellent now but also should evolve nicely in the bottle. 92 pts. $30.26 (winery). Also at some BC private stores.
L'Acadie Vintage Cuvée Rosé 2017 (Annapolis Valley & Cape Breton)
[L'Acadie Vineyards Vintage Cuvée Rosé 2017]
A blend of L'Acadie Blanc (36%) and Marechal Foch (55%), with 7% Leon Millot and 1% Luci Kuhlman from Cape Breton, plus 1% Seyval. Pale to medium salmon coloured with inviting, vibrant red berries and some sage and earthy hints. Fine bubbles and a gentle mousse lead to a crisp palate wrapped in appealing acidity, with rhubarb, strawberry and cherry notes, with some minerality in the background and that lively acidity—which just keeps on going, makes it very food flexible. Certified organic. 90 pts. $30.26 (winery). Also at some BC private stores.
Prestige Brut Estate 2014 (Annapolis Valley)
[L'Acadie Vineyards Prestige Brut Rosé 2014]
Made entirely with estate fruit from the initial 2005 plantings on schist, sandstone and sand, the soils really come through on this very Champagne-like sparkling wine, which lures with definite brioche, almond and toasty notes before a textured, mouth-filling palate of stonefruit and apple, above mineral undertones. Almost six years on lees delivers impressive but elegant heft and full-bodied character through a lengthy end. Certified organic. 91 pts. $43.30 (winery) BCLS (2013) $55.99.
[The Ewert family]
The Ewert Family
Full article click here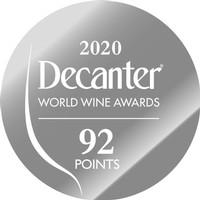 2020 Decanter World Wine Awards in London, England awarded new release 2014 Prestige Brut Estate silver AND 92 points!! By our count, it is the highest scoring sparkling wine across Canada (tied with Fitzpatrick Winery in British Columbia) And succeeds the sold out 2013 Prestige Brut Estate that also earned silver and 92 points at the 2018 competition.
Learn More /product/2014-Prestige-Brut-Estate?pageID=3C720078-D6DD-45E4-9F04-68F6B4CD5FAA&sortBy=DisplayOrder&maxRows=12&

The grapevines that grow at L'Acadie Vineyards would tell you that they've had to work hard to get where they are today and that they are extremely proud of the flavours that they extract from the warm, dry, rocky, sometimes inhospitable conditions that they grew up in. Now in their 15th year their roots reach over a metre deep and the deeper they go the more minerals, flavours and water they can access that give our Estate wines their unique character. Helping them along the way is a complex ecosystem of fungi, worms and bacteria that our organic practices have been carefully managing and nurturing. It is this link between terroir and organics that the best wines of the world are based on.
We chose our site for the rocks back in 2004. I had been making traditional method sparkling in Okanagan for years, and before that in Ontario, California and Australia, and we were looking for a site to produce the first sparkling wine for Nova Scotia. And we wanted to do it organically after my head was turned, and my path changed, at Summerhill Pyramid winery in Kelowna, an organic winery. As head winemaker, I saw the better flavours from grapes farmed organically, after many years working with conventional grapes. Our Nova Scotia vineyard search started in the 90's on working vacations returning to Pauline's home province of 9 generations. The Annapolis Valley was the focus with it's climate moderated by the Bay of Fundy, and the Gaspereau Valley sub-appellation was intriguing for both it's proximity to the bay, and shelter with the Wolfville ridge. The mantra at the time was "south slope, south slope…" but we found a ribbon of ancient seabed along the base of the south mountain, facing north west, that was calling to us. The south-facing other side of the valley had clay loam, typical for Nova Scotia, but I thought a better soil for sparkling was rocky and well drained, making it warmer in the spring and mineral rich from the fractured schist and sandstone deposits. Another plus was that the property had been fallow for decades, used for grazing horses, and we could skip the usual three year transition to be certified organic.
Plants weren't always on land -their origins are in the sea being bathed in nutrients constantly, a nice gig. When they made their hardy evolutionary step to land they had to form an alliance with soil organisms to survive, a symbiosis. In exchange for a small amount of nutritious sap, the organisms living around their roots help them breakdown and make all sorts of nutrients and minerals available to the vines. But these microbes are delicate and the rise of pesticide-focused agriculture in the 1950's reduced their populations significantly. The result is dead soil where the plants have to be fed fertilizers directly… an old adage in organic farming, "in organics you feed the soil, in conventional farming you feed the plant" But with this conventional approach the vines are also unable to extract flavour from the soil, resulting in wines with less terroir flavours, less sense of place, less soul.
We have farmed our site organically from inception, largely to promote a living soil for better terroir flavours. We planted with cuttings propagated in an organic mixture of peat moss, alfalfa and lime, and to decrease weed competition, used a dead mulch of wood shavings and later a living mulch of clover under the vines. Composts teas are brewed in our 300 litre brew tank with composted pomace from the winery, managed with aeration to encourage a fungal-dominant compost. An organic inspector once told me that they were convinced that compost tea and kelp foliars are all a plant needs to thrive in a living soil, by both stimulating growth and encouraging a healthy soil. Foliar teas also help disease control by crowding out opportunistic disease organisms on the leaves and clusters with beneficial organisms. Our recent participation in a three year provincial Terroir Study helped us understand more about our soil- prompting us to renew our cover crop of fescue with cultivation. Benefits are aeration and nutrient release and we are investigating new cover crops to match our terroir. Further studies with several universities are qualifying the types of organisms present in our soil, on our leaves and clusters, and in our wild ferments.
There are transitions to organics happening around the wine world, recently from British Columbia's gigantic Mission Hill and their growing list of winery holdings, and large French wineries such as Roederer. A quote from their winemaker about the iconic, and expensive, champagne Cristal, " At that price, I just don't feel comfortable not being organic." The organic practices at L'Acadie Vineyards encourage the terroir signature of our estate – minerality and slight saline flavours from schist and sandstone, and I am confident that future generations of our family will be producing estate wines such as Prestige Brut Estate and Estate L'Acadie with those flavours for years to come.

Making sparkling wines on the fringe of possibility has its rewards and risks. On the positive side of the equation is world class sparkling wine with ripe grapes at enviable acid levels and moderate sugars. We are right on the cusp of not being able to do what we do, but grapes seem to react to the stresses and reward us with our signature cool climate flavours. It's been 15 years since planting our estate vineyard with L'Acadie blanc and we have seen remarkable adaptation and resilience to the rigours of a cool climate. And those risks are many – winter damage if temperatures dip below-20C , frosts on either end of the growing season and attaining enough heat units to ripen in our short growing season.
But is our region being affected by global warming? Is it getting easier? That's a question posed to me recently by a wine writer. My answer: A guarded yes. Yes, when you look at how our climate has warmed over the last 50 years when research scientists at Agriculture Canada in Kentville determined it was too cold in Nova Scotia to support a wine industry. And yes, to the possibilities of vinifera growing here. But our region's cooler personality can still rear it's ugly head, like the 2018 spring frost, or described by many as a spring freeze. Temperatures dropped to -2.8C at our estate on June 4 and damaged 80% of our young primary shoots. This was a first for the region's relatively young grape industry and affected some crops levels severely. We had a second bud burst in late June and those secondary shoots made up for lost time and showed remarkable growth, racing to achieve flowering and verasion at the historical benchmarks and ripening grapes for sparkling wine. An amazing adaptation to a 120 day season compared to our normal 180 frost free days. Crop levels were low, which was beneficial for future growth considering the stresses that the vines endured. We had to adjust distribution for our small production of 2018 still wines and NSLC was accommodating to allow us to restrict their shelf space for a year, so that we could sell direct.
So should we expect more fluctuations in weather, more extreme events? Is that the compromise to the benefits of a warming trend? A look at historical harvest information for sparkling – dates, sugars, acids, is an interesting exercise to see the effects. Champagne has heaps of data for this type of analysis and they have shown that harvest dates have been getting earlier to achieve optimal balance of moderate sugars and enough acidity in their warming climate. I experienced this when I was making sparkling in BC's Okanagan Valley where the sugar accumulation outpaced ripening in +35C heat and I had to pick before sugars were too high and acid dropped out. But unripe grapes are not ideal for quality sparkling wine and just picking earlier in not always the answer. We've had enviable ripeness at our estate for 10 years, including last year. The seeds are lignified, brown, and there are ripe flavours. And harvest dates don't seem to be trending earlier significantly, as shown in the 10-year harvest record below. And not major fluctuations either. It's a small sample set compared to Champagne's 100+ years of data, but significant for our emerging region. Hopefully these enviable quality indicators will continue for many future vintages, in our "cooler climate".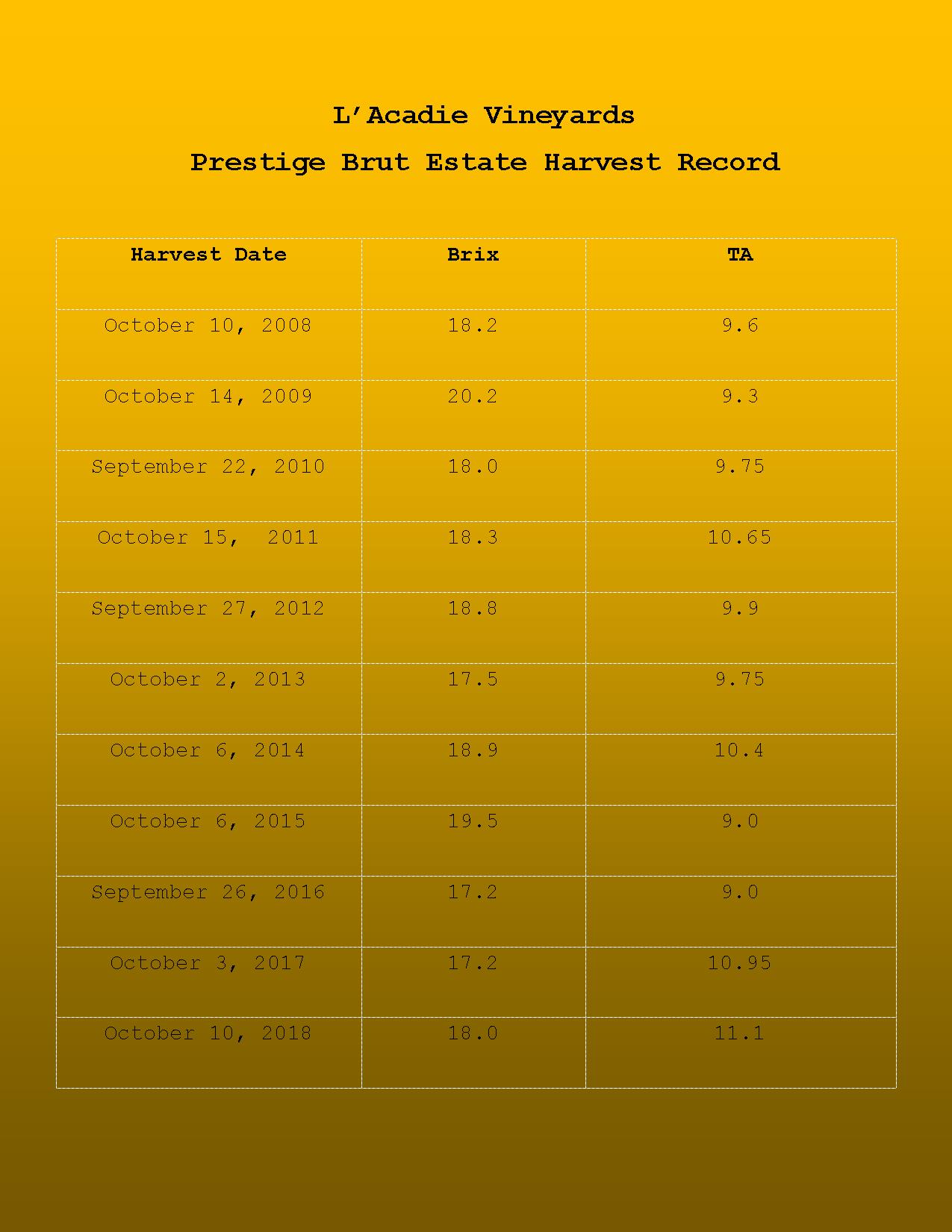 Do you know where the wine in your glass was grown? A winery can choose to use an appellation designation to give you validated information, and of course there is the required country of origin on the label, or wineries can simply share unverified vineyard sources on back labels. Much like appellation systems control a region's wines, the Canadian Organic Standard controls organic wines and can be trusted to ensure the organic grape content in the bottle through rigorous inspections.
The Canada Organic symbol on a bottle of organic wine is controlled by the Canadian Food Inspection Agency and is the only validation to consumers of organic grapes, organic wine production and no GMO products – all inspected by a certifying body. The traceability audit is one of the many facets of an organic winery's operations that are scrutinized on an annual basis. Record keeping has to be exemplary for the inspector to trace wines back to specific parcels of vineyards, and to ensure proper chain of custody and non-contamination. And each grower that supplies grapes must be certified organic themselves, providing a vital record for the wine audit. This traceability is one of the major foundations behind the organic symbol on the bottle.
Scrutiny in food production has steadily increased for food safety, sustainable efforts and consumer demand. The pandemic has intensified that consumer demand, with authenticity and local origin catapulting to the main stage. Traceability is becoming more important to wine drinkers to ensure authenticity and avoid counterfeit wines, a problem associated with high end prestige wines that is now creeping into lower price points. Solutions such as Blockchain, a transparent and secure record system that is most famous for Bitcoin transactions, are starting to be applied to build trust between wineries and consumers. Is the future QR codes on bottles that trace the wine right to the grape source? Perhaps, but right now consumers can trust a symbol that is transparent, validated and authentic and that is the Canada Organic symbol.