L'Acadie Vineyards Blog
Welcome to the L'Acadie Vineyards blog and winery news

This Valentines Day give your loved one a thoughtful gift that shows how much you care. Vegan and organic wine embrace the planet and show that you care for all living beings, and what's in the bottle.
We recommend,
Vintage Cuvee Rose - Traditional Method Sparkling. Aged in bottle 15 months to complete harmony goal with juicy cherry and strawberry flavours and a hint of brioche
Joie de Vivre- Charmat Method Sparkling. Dry with enhanced minerality from estate grapes on ancient seabed soil of schist and sandstone gravels. Concentrated citrus, lime, strawberry and slight toast with long creamy finish.
Available at NSLC, Bishop's Cellar, Harvest Wines and Liquid Assets at the airport.

This is the symbol of love this season. Look for it on our bottles.
Love for the environment, love for animals, and love for people.

The cycle of a winemaker's year is very apparent in the non-winter months with bottling and opening wineshops in the spring, grape growing in the summer, and harvest and vintage in the fall. But what does a winemaker do in the winter? It's more than you think,

Yes, winemaker activity closely follows the cycle of the vine, illustrated above from an article by Wine & Spirit Education Trust. But a winemaker is definitely not dormant like the vine in winter. Here are typical activities that keep me busy in January, February and March.
January
Fermentation – most ferments are finished by December but we quite often have several wines still popping away in January. The old saying is you need to know more to do less and shepherding the wines to their potential means lots of monitoring!
Filtration – we use a cellulose pad filter to clarify wines and those finished cloudy, yeasty ferments get ample time to settle before we progressively filter them to finer and finer levels.
Bentonite – a natural clay called bentonite helps clarify and protein stabilize wines. It is an important part of making vegan wine. Each wine has a bench trial in the lab to determine its individual bentonite requirement before it is added in the cellar.
Blend Trials – harvest and vintage is a very busy time in the cellar and we try keep as many options open as possible so that we can measure, taste, calculate and blend (repeat) later. It starts in December when we have the most family palates available to give opinions on sparkling blends, Tidal Bay and many other blends. We usually submit a tank sample for the Tidal Bay taste panel in January. And order our sparkling bottles from France.
Excise and other compliance requirements – count, count, count: inventories of tiraged sparkling, bulk tanks and finished wines and tonnage from previous year for Excise, NSLC and NS Agriculture reports. These reports become an important part of traceability audits for our certified organic wine inspections. Many permits are due for renewal this month.
February
This is the time of year when Mother Nature gives Nova Scotia a full-on winter. The influential "warm" Bay of Fundy gets chilled to 5-6C and we feel it. Our vineyard manager and crew start pruning our Gaspereau vineyard on the best days, and tanks and barrels of wine in the cellar chill naturally.
Wine Shows – luckily wine trade understands the cycle of a winemaker and many festivals, trade shows and educational symposiums are scheduled in February. We went to the Vancouver Wine Festival three years in a row before the pandemic, my home province.
Packaging – planning, and ordering, labels, closures, cartons, shippers. We start bottling new vintage wines in April.
Disgorging – even if we disgorge traditional method sparkling every week in November/December we usually need to do it again in February for orders. And for wine competitions, especially international.
March
Wineshop and Tasting Room – start hiring and planning for the season opening of our wineshop, wine tastings and wine tours. This always seems to come early, and as the shoulder season gets busier in our emerging wine region perhaps late April opening will be normal in the future.
Organic and Biocyclic Vegan certification renewal – we submit our plans for the whole year of winemaking and viticulture activities and inputs. It is a lot of work by myself and our vineyard manager as we reflect on the past year's successes and areas for improvements. We follow the plan all season, document everything and get inspected in the fall.
Online Store and Wine Clubs – we open our online store and ship across Canada weather permitting. We start planning allotments for wine club members – three shipments/year, May, August and November.
Bottle Charmat Method sparkling – this is new for our winery and the cycles of sparkling production in our two specialized charmat tanks include a March bottling after sitting on its yeast lees for 3-4 months.

Last year, we achieved certification to the strict Biocyclic Vegan Standard based in Europe, the first farm and winery in North America. This vegan wine certification is a significant addition to our environmental stewardship, scaffolding the benefits of our certified organic status to new heights. Coupled with health benefits and animal welfare, you can see why it is so popular in Europe.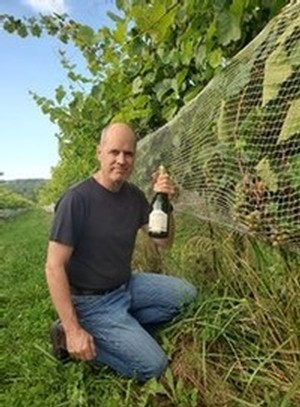 We had been looking for a certification for our vegan wines and were so happy when we found Biocyclic Vegan based out of Germany and Greece. We discovered that they certify the whole operation including the vineyard as well, and ours scored very high because of organic practices, biodiversity and not using animal inputs since 2017. The estate vineyard has been certified organic since inception, the first in Nova Scotia, and we released organic wines in 2008. Compelling reasons are better terroir flavours from living soils, healthy wines avoiding pesticide residues and, more significantly, protecting the environment from pesticides and synthetic petroleum-based fertilizers, both high carbon-generating practices. Biocyclic vegan practices raise the bar even more.

Biocyclic vegan agriculture means purely plant-based organic farming. This form of cultivation excludes all commercial livestock farming of animals and does not use any inputs of animal origin in viticulture or winemaking. Special emphasis is placed on promotion of biodiversity, healthy soil life, closure of organic cycles and on systematic humus build-up. Vegan viticulture enhances our environmental stewardship by avoiding products from the high carbon-generating livestock industry and instead using constant cover crops (also called green manure) between rows for regenerative agriculture carbon management. Composted grape pomace - stems, seeds and skins from every vintage, is significant for further sustainable management of our soil's nutrition and microbial life.
Biocyclic Vegan certification recognizes our extra sustainable efforts and care that are beyond organic, veganic, and we embrace their principles for the good of environment, animals and people.

2021 National Wine Awards of Canada results
2018 Vintage Cuvee
Gold medal, 93 points, results

Wine critic and judge Michael Godel,
"Brilliant autolysis in sparkling wine that speaks in the glacial till vernacular of Nova Scotia bubbles. A cogent yet balanced stick of Annapolis Valley dynamite, cumulative of salinity, fruit and bitters. Last tasted blind at NWAC2021, October 2021.
From the frost year (June 5th), a blend of l'acadie and seyval blanc in a sparkling wine that shows the formers's resilience, having raced out to meet bloom, veraison and harvest dates. In a 30 per cent crop but vines that bounced back the following year for a full yield out of harvest. A wine that meets the LV twain, somewhere between the fruit first sparklers and those of the longest tirage. The length of this is more than surprisingly impressive from a wine that looks for a new slate in every vintage. A wine of trials, investigations and experiments. Not at the toast ceiling but consistently malolactic and in that 8-12 g/L dosage. Truly a Brut style and middle of the road in the most complimentary way. Drink 2022-2026. Tasted September 2021."
Wine critic and judge Michell Bouffard,
"Rich and toasty on the nose and the palate with notes brioche and lemon rind mingling. Tangy acid with chalky texture. Very good. Dosage well integrated."
Bronze medal, 89 points, results

Wine critic and judge Michael Godel,
"Just about properly picked early to preserve acidity and not allow the soft, cloying and flabby nature of a late harvested l'acadie to gain traction. Expressive of the intense nature of the early ripened grape so that fruit remains, vitality persists and balance hangs in the mid-palate. What still l'acadie can be though picking just a day or two earlier would have really sealed the deal. Drink 2021-2023. Tasted blind at NWAC2021, October 2021."
National Wine Awards of Canada Judges. Penticton, British Columbia. October 2021

Great timely article by sommelier and wine judge Janet Dorozynski on Canadian sparkling wine. 2014 Prestige Brut Estate, our organic and vegan wine, is recommended!! Especially significant considering the world shortage of sparkling wine this season. Choose local wine, from wineries in Nova Scotia.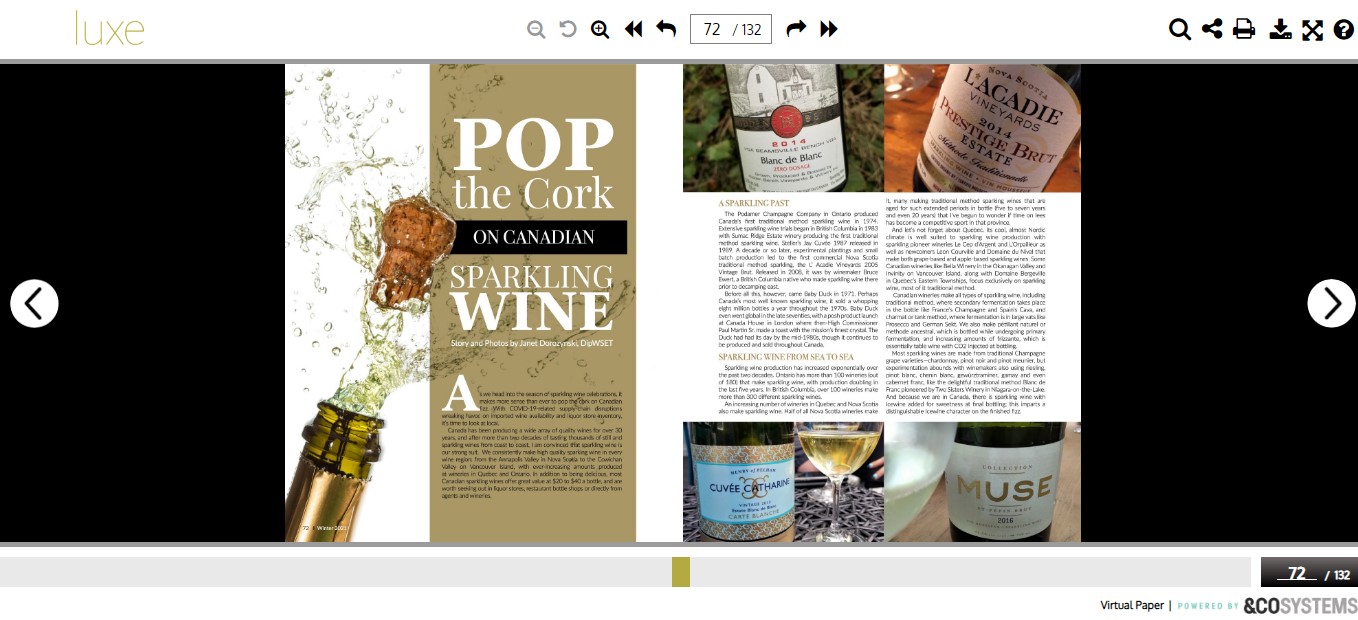 Here's her wine review when 2014 Prestige Brut Estate was released last year,
"The 2014 Prestige Brut Estate from @lacadiewine is a thrilling and elegant traditional method #fizz made from 100 % L"Acadie Blanc that is aged sur lie for 69 months (long aging is a competitive sport among sparkling winemakers in Nova Scotia [🥂] ). Intense citrus, flinty and saline aromatics with a touch of toastiness. Bone dry and lively, with well defined and integrated acidity and fine bubbles. A perfect #sparklingwine for lovers of Brut Nature or zero dosage with 2g/litre residual sugar. If the 2014 is anything like past vintages I've tasted it will continue to develop and improve for a decade and then some. Certified #organic by Procert and #veganfriendly. Well done Bruce and team!"

She is a wine critic on Wine Align and rated it 94 points, and it also received 92 points at Decanter World Wine Awards. 2021 award winner of the Lieutenant Governor's Award of Excellence


2019 was an excellent year for sparkling wine! It was a wet cool growing season with low heat units (960 compared to usually 1100), a delayed budbreak for 18 days, and further aggravated by Hurricane Dorian in September which snapped several end posts but left the vineyard relatively unscathed. Thankfully a long frost-free fall fully ripened grapes for sparkling. We didn't make any red wines in 2019, and instead dried grapes (appassimento) for a new vintage of Soleil, a recioto sweet red dessert wine dried to 40 Brix releasing in November 2021.
As we release new 2019 sparklings from our Gaspereau winery tirage cellar, you will be continually amazed at the quality, freshness and focus of these wines. There is richness, pillows of richness, embracing an often steely acidity that finishes well beyond 10 "steamboats" (playground tag football term). Dosage levels are slightly higher than usual to balance acidity, and Rose Brut was encouraged through malolactic fermentation to soften acidity. These are wines that are expected to age very well on the cork, but as our customary approach, we encourage enjoyment of fresh, recently disgorged offerings from us direct.
Enjoy these gifts from an excellent growing season for sparkling wine, Nova Scotia's signature style to the world! ~be
Release schedule:
2019 Joie de Vivre - a new charmat method sparkling released in August 2021
2019 Sparkling Rose - August 2021
2019 Vintage Cuvee - November 2021
2019 Rose Brut - Club Exclusive November 2021. General release January 2022
2019 Vintage Cuvee Rose - November 2021

It's Wine Club month! Our L'Acadie Club is curated by winemaker Bruce Ewert and includes these exciting organic vegan wines being shipped in November from our Gaspereau winery, many of them new releases!
New Release 2019 Vintage Cuvee
2019 Joie de Vivre - our new charmat method sparkling
New Release 2016 Alchemy - dry appassimento red wine
2017 Passito - dry ripasso method red wine
2020 Estate L'Acadie - from our signature schist and slate soils
New Release 2019 Soleil - A new vintage of this favourite recioto sweet dessert style. Grapes dried to 40 Brix.

L'Acadie Vineyards has been certified to the strict Biocyclic Vegan Standard popular in Europe, making them the first farm and winery in North America. Biocyclic Vegan agriculture means purely plant-based organic farming. This form of cultivation excludes all commercial livestock farming of animals and does not use any inputs of animal origin in viticulture and winemaking. Special emphasis is placed on the promotion of biodiversity, healthy soil life, the closure of organic cycles and on systematic humus build-up.
L'Acadie Vineyards is the first organic winery in Nova Scotia since its inception in 2004 and their operations go beyond organic with no animal inputs in their estate vineyard since 2017 and sustainable practices such as composted plant residue teas and cover crops, and encouraging biodiversity and soils that are living and regenerative.
"All of our wines have been made vegan wines for over a decade and this certification gives our customers confidence that no animal inputs are used in our vineyard and in our wines. Biocyclic Vegan certification recognizes our extra sustainable efforts and care that are beyond organic, veganic, and we embrace their principles for the good of environment, animals and people." says Bruce Ewert, founder & owner.
--------------------------------------------------------------------------------------------------------------------
L'Acadie Vineyards was established in 2004 by well-known Canadian winemaker Bruce Ewert and his family in Gaspereau, Nova Scotia. Bruce has been a professional winemaker for over thirty years for wineries in Canada's Okanagan Valley and Niagara Peninsula as well as in Sonoma, California, and Hunter Valley and Padthaway in Australia, and now Canada's emerging wine region, Nova Scotia. He has been head winemaker responsible for 400,000 cases and has made over a half a million bottles of traditional method sparkling in his career. He is integral in establishing Nova Scotia as a sparkling wine region. L'Acadie Vineyards is the first winery in Nova Scotia to release traditional method sparkling wines receiving international awards.


We were honoured to receive the Lieutenant Governor's Award of Excellence in Wine today for 2014 Prestige Brut Estate!

And so surprised and thankful for recognition during the ceremony by the Honourable Arthur J LeBlanc for its international award at Decanter World Wine Awards with 92 Points.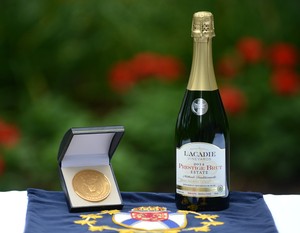 Here's the 30 minute live FB broadcast. The Lieutenant Governor presentation starts arounds 5:15 and mentions our International Decanter Award at 9:30..much to our surprise and delight!

The real beauty of our Gaspereau winery is not only the incredible valley views but also what you don't see. Here are several unseen underground assets that are a part of our sustainable, natural and environmentally-friendly ethos, and could make your wine tastings or wine tours even more special!
Geothermal Cooling, Heating and Hot Water
Summer temperatures are off the charts and we are very thankful for our winery geothermal heating and cooling system that we installed when we built in 2007. As you drive into our parking lot you might not know that deep below you is a network of coils that keeps us warm in winter and cool in summer, and give us hot water. In summer, the heat pump moves heat from the winery, wineshop and tasting room to dissipate 6 feet underground - very efficient cooling using a fraction of power compared to other methods.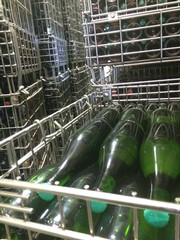 Tirage Cellar
Our tirage cellar for aging sparkling wine is half underground to keep a more constant temperature, critical for our internationally awarded wine quality. Energy efficient construction is also highlighted with insulated concrete form walls, north orientation and an infrared reflecting roof.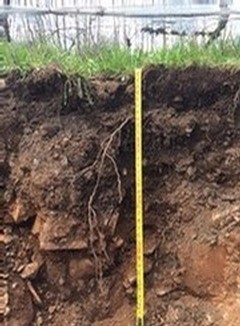 Living Soils
Encouraging a living soil around our vine roots is our main farming goal. Our organic vineyard is grown without conventional pesticides, with natural fertilizers to preserve the ecosystem. Biodiversity is our life blood and organisms live symbiotically with the vine helping it absorb nutrients and, perhaps even more intriguing, extract terroir flavours from schist, slate well-drained soil.